Sports > WSU basketball
Washington State, Idaho bring contrasting styles, winning records into 273rd Battle of the Palouse
Dec. 5, 2017 Updated Tue., Dec. 5, 2017 at 10:14 p.m.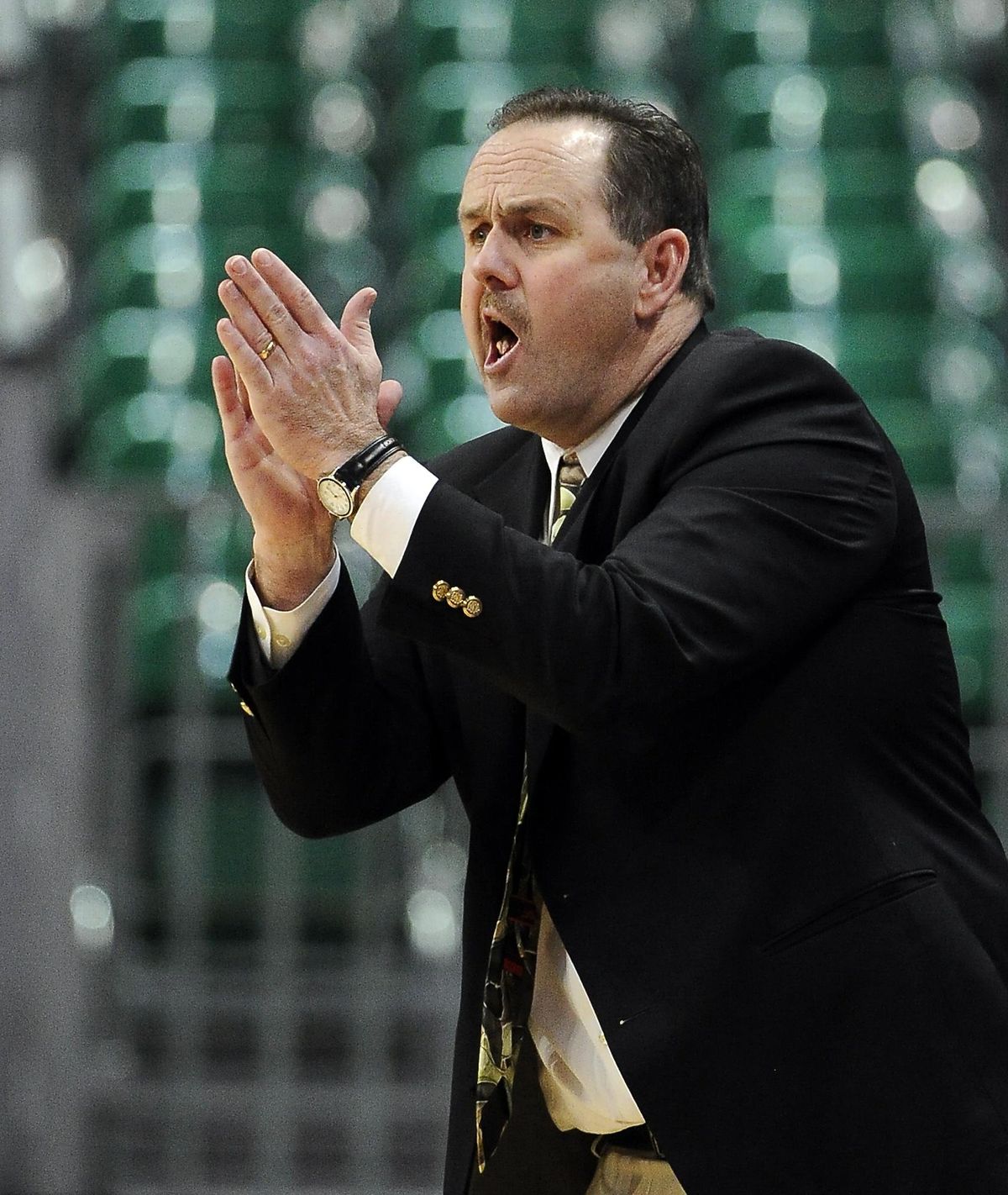 Idaho coach Don Verlin applauds his team during the second half of an NCAA college men's basketball game against Utah Valley in the semifinals of the West Athletic Conference tournament Friday, March 14, 2014, in Las Vegas. Idaho won 74-69. (AP Photo/David Becker) (David Becker / AP)
PULLMAN – Even as a freshman last season who'd yet to play in the Battle of the Palouse, Washington State's Jeff Pollard probably could have given a better scouting report on the Idaho Vandals than a few of his teammates.
Pollard's Utah upbringing has something to do with that.
His hometown of Bountiful, Utah, isn't more than 75 miles south of Logan, where former Utah State coach Stew Morrill etched out more wins (402) during his 17-year run than anyone else who's held a clipboard for one of the state's three major basketball institutions (Utah and BYU being the others).
"I mean Stew Morrill, you hear about him whether you're a basketball fan or not," said Pollard, now a sophomore forward at WSU. "He's just one of those guys you hear about."
And those who really are in tune with the Utah State teams of the late 1990s/early 2000s would probably know that Idaho's current coach, Don Verlin, worked in Logan for 10 years as one of Morrill's top assistants.
Pollard spent enough time watching Morrill's Aggies that he feels he has a pretty good beat on Verlin's Vandals, who host the Cougars on Wednesday at 7 p.m. in the Cowan Spectrum. WSU brings a 6-1 record into the oldest rivalry west of the Mississippi River. Idaho is 5-2.
The Vandals are in the 10th year of Verlin's tenure, but Pollard expects they'll try to win Wednesday's game doing many of the same things Morrill's teams did when Idaho's coach was still on the Utah State bench.
"They're both kind of bring it down the floor, run sets until you get an open look," Pollard said. "They definitely run in transition, but it's more of the old-school come down, run sets. The fundamentals kind of thing and just get an open look."
Wednesday's game projects to be one of contrasting offensive schemes, because the Cougars are all about speeding the game up. They get their own open looks by playing stiff defense on one end, grabbing the rebound and jetting downcourt to set up an uncontested shot.
Playing different brands of basketball to get the same thing, UI and WSU are right around the national average in field-goal percentage – the Vandals are at 44.8, the Cougars are at 45.6 – and if the Cougars (80.3 points per game) are scoring better than the Vandals (73.3), it's probably because their tempo and willingness to fire within the first 10-15 seconds of the shot clock nets them seven more attempts per game.
Idaho won't hoist as many shots, but the Vandals are statistically better on defense, allowing 65.9 ppg compared to 74.6 from the Cougars. In a four-day span, they'll have run into two of 46 teams in college basketball that have attempted at least 220 long balls this season.
"One of our big focuses going into this week with Nicholls State, who was making 13 3-pointers per game, Washington State, making 12 3-pointers per game, is making it tough on people," Verlin said on Tuesday.
Sunday's game against Nicholls could be a good omen for the Vandals. They passed their first test, holding the Colonels to 1 of 20 (5 percent) from beyond the arc – the lowest opponent 3-point percentage of the Verlin era.
To ace Wednesday's test, the Vandals will have to find an answer for Robert Franks, WSU's 6-foot-7 stretch forward who shoots 50 percent from 3-point land and had the best scoring game of his career on Saturday in a loss to UC Davis, finishing 5 of 9 from beyond the arc for 32 points.
Likewise, it's in WSU's best interest to keep a body on Idaho's Victor Sanders whenever the senior from Portland is lurking behind the 3-point line. Sanders shoots 46.7 percent from downtown.
Only 55 players in college basketball are scoring better than 20 points per game and two of them will be on the same court Wednesday. Franks is WSU's scoring leader with 20.4 ppg. Idaho's Sanders is a hair better, at 20.9.
"We just want to limit their touches and make sure we're on them as soon as they catch the ball and make sure they don't get easy looks," Cougars guard Viont'e Daniels said.
Idaho's plan for Franks is throwing multiple bodies at the junior, because just one won't be good enough.
"You can't just guard him with one guy," Verlin said. "He's a special player."
The game will be the 273rd meeting between the border rivals and it marks the 113th consecutive season the teams have met. WSU holds the series lead at 163-109 and won last year's game in Beasley Coliseum, though Idaho was missing one of its elite players, guard Perrion Callandret (11.7 ppg).
Local journalism is essential.
Give directly to The Spokesman-Review's Northwest Passages community forums series -- which helps to offset the costs of several reporter and editor positions at the newspaper -- by using the easy options below. Gifts processed in this system are not tax deductible, but are predominately used to help meet the local financial requirements needed to receive national matching-grant funds.
Subscribe to the sports newsletter
Get the day's top sports headlines and breaking news delivered to your inbox by subscribing here.
---