Sports
NBA Capsules: Cavaliers beat Kings 101-95 for 13th straight win
Wed., Dec. 6, 2017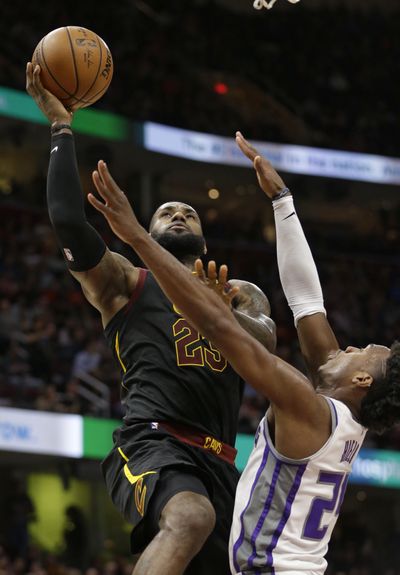 CLEVELAND – LeBron James drained a 3-pointer with 15 seconds left and finished with 32 points as the Cleveland Cavaliers tied a franchise record with their 13th straight win, 101-95 over the Sacramento Kings on Wednesday night.
James, who changed his sneakers three times, also had 11 rebounds and nine assists, helping the Cavs rally from a 14-point deficit in the third quarter to remain unbeaten since Nov. 11. His decisive 3-pointer in the final minute was in the face of JaKarr Sampson, who had jawed with James earlier.
Cleveland also won 13 straight in the 2008-09 and 2009-10 seasons. The Cavs will try for the team record Friday at Indiana.
This one wasn't easy. The Kings gave the Cavs everything they had, but couldn't contain James in the clutch.
Zach Randolph had 18 points and 10 rebounds and Buddy Hield added 17 points for the Kings. Sampson grabbed 16 rebounds in his first start this season.
Warriors 101, Hornets 87
CHARLOTTE, N.C. – Kevin Durant had 35 points, 11 rebounds and 10 assists, and Golden State beat Charlotte without Stephen Curry and Draymond Green.
It was Durant's first triple-double of the season and his second since joining the Warriors before last season.
Klay Thompson scored seven of his 22 points in the fourth quarter for the Warriors, who have won five straight overall and seven in a row against the Hornets.
Curry will be sidelined for about two weeks with a sprained ankle, while Green is nursing a sore shoulder.
Kemba Walker led the Hornets with 24 points.
Charlotte's two big men off the bench – Cody Zeller and Frank Kaminsky – left with injuries. Kaminsky injured his ankle in the first quarter, and Zeller left in the fourth with a strained left knee.
Pelicans 123, Nuggets 114
NEW ORLEANS – DeMarcus Cousins had 40 points, 22 rebounds and four blocks, and the Pelicans won for the second time in three games without Anthony Davis.
Jrue Holiday scored 27 points for New Orleans, which shot 53.5 percent (46 of 86).
Davis missed his third straight game with a strained left adductor. His status for New Orleans' next game remains unclear.
Gary Harris scored 24 for the short-handed Nuggets, who remained without recently injured frontcourt stalwarts Nikola Jokic and Paul Millsap.
Celtics 97, Mavericks 90
BOSTON – Kyrie Irving scored 23 points and Jayson Tatum had 17 points and 10 rebounds, helping the short-handed Celtics to their fourth straight victory.
Boston's Al Horford added 17 points, eight rebounds and eight assists.
The Celtics played without Jaylen Brown and Marcus Morris. Brown sat with an inflamed right eye, while Morris was out due to left knee soreness.
Harrison Barnes led the Mavericks with 19 points and seven rebounds. Dirk Nowitzki added 16 points and six rebounds.
Timberwolves 113, Clippers 107
LOS ANGELES – Karl-Anthony Towns had 21 points and 12 rebounds, powering the Timberwolves to the road win.
Jimmy Butler and Jeff Teague each scored 19 points for the Timberwolves (15-11), who placed six players in double figures. Taj Gibson had 16 points and 14 rebounds.
Los Angeles dropped its fourth straight game despite an impressive performance by DeAndre Jordan, who had 18 points and 21 rebounds. Lou Williams and Austin Rivers each scored 23 points for the Clippers (8-15).
Knicks 99, Grizzlies 88
NEW YORK – Courtney Lee scored 24 points and Kristaps Porzingis had 18 after a slow start in his return to the lineup, leading the Knicks to the win.
Moving from forward back to shooting guard in Tim Hardaway Jr.'s absence, Lee fell just shy of his season high and was the catalyst in a big run to open the second half that largely determined the game.
Porzingis came back from his sprained right ankle and illness, but the Knicks announced Tuesday that Hardaway had a stress injury in his lower left leg and had begun a treatment and rehabilitation plan. He will be re-evaluated in two weeks.
Marc Gasol had 17 points for the Grizzlies, who were playing for the first time since ending their 11-game skid with a victory over Minnesota on Monday.
Bucks 104, Pistons 100
MILWAUKEE – Giannis Antetokounmpo had 25 points and nine rebounds, and Milwaukee won for the fourth time in five games.
Khris Middleton had 21 points for the Bucks, including four free throws in the final 20 seconds.
The Bucks opened the fourth with a 14-1 run to lead 90-77 after Malcolm Brogdon's jumper with 6:42 left.
Detroit lost its fourth straight. Andre Drummond led the Pistons with 27 points and 20 rebounds.
Spurs 117, Heat 105
SAN ANTONIO – LaMarcus Aldridge scored 18 points, leading San Antonio to its sixth win in seven games.
The Spurs shot 52.9 percent from the field and had seven players score in double figures. Bryn Forbes had 17 points, and Rudy Gay finished with 16 in San Antonio's eighth straight win over Miami.
With Kawhi Leonard's return looming from a season-long absence due to a quadriceps injury, Aldridge led the Spurs in scoring for the 20th time in 25 games.
Tyler Johnson led Miami with 25 points, and Dion Waiters had 22.
Pacers 98, Bulls 96
INDIANAPOLIS – Victor Oladipo scored 27 points, including a clutch 3-pointer with 31.1 seconds left that lifted the Pacers to the comeback victory.
Bojan Bogdanovic had 17 points for Indiana (14-11), and Darren Collison finished with 14. Myles Turner had 11 points and blocked four shots, and Thaddeus Young finished with 10 points and nine rebounds.
The lowly Bulls led by as many as 17, but couldn't hold off the Pacers in the final moments. Oladipo's 3 gave Indiana its first lead at 97-96, and he tacked on a free throw with 12.8 seconds left.
Lauri Markkanen missed a potential game-winning 3-pointer in the final seconds of Chicago's 10th straight loss.
Kris Dunn had 18 points, six rebounds and six assists for the Bulls (3-20), and Robin Lopez scored 16 points.
Magic 110, Hawks 106, OT
ORLANDO, Fla. – Evan Fournier scored 27 points before departing with a right ankle injury, and the Magic rallied for the overtime win.
Aaron Gordon had 24 points and 15 rebounds for Orlando, and Nikola Vucevic added 22 points and 16 rebounds.
Fournier, the team's second-leading scorer, left after falling on Vucevic's foot on the first possession in overtime.
Dennis Schroder led Atlanta with 26 points and seven assists. Taurean Prince had 19 points. The Magic hit 6 of 10 shots in overtime, five of them layups against a tired and ineffective defense.
Local journalism is essential.
Give directly to The Spokesman-Review's Northwest Passages community forums series -- which helps to offset the costs of several reporter and editor positions at the newspaper -- by using the easy options below. Gifts processed in this system are not tax deductible, but are predominately used to help meet the local financial requirements needed to receive national matching-grant funds.
Subscribe to the sports newsletter
Get the day's top sports headlines and breaking news delivered to your inbox by subscribing here.
---