A&E > Food
The List: When dessert's on the holiday menu, these Spokane bakers have you covered
Dec. 6, 2017 Updated Wed., Dec. 6, 2017 at 2:45 p.m.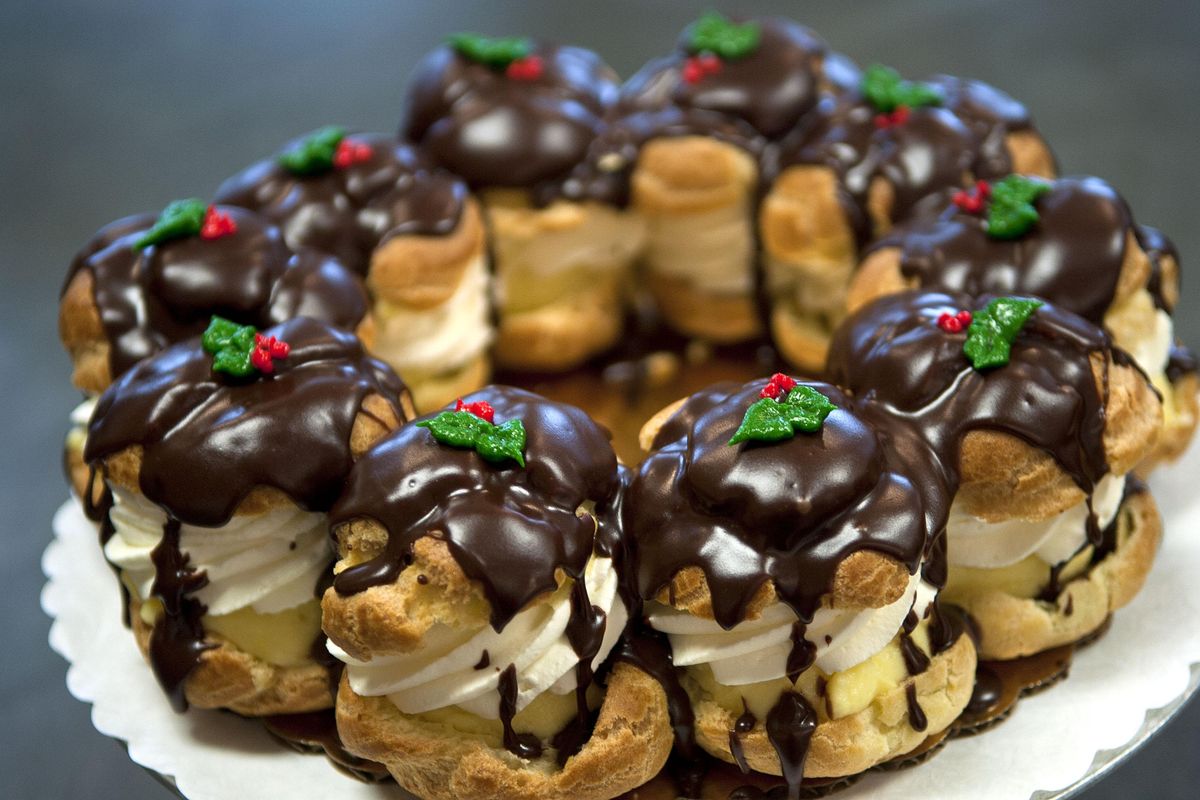 Just American Deserts has offered its signature cream-puff wreath for the holidays since the bake shop opened in 1986. (Kathy Plonka / The Spokesman-Review)
If visions of sugar plums are stressing you out, there's another option.
During these December holidays, consider enlisting the help of professionals – and saving more time for friends and family.
Here's a look at the holiday desserts offered by several local bake shops.
Common Crumb Artisan Bakery
This small downtown bake shop, tucked into a back corner of the Saranac Commons building, is offering four flavors of yule log cake by special order this holiday season. The classic French Christmas dessert, also called buche de noel, features a rolled cake with filling, icing and edible sylvan decorations. The chocolate-hazelnut version includes hazelnut cake rolled with a layer of crunchy praline and creamy chocolate mousse. It's covered with hazelnut butter cream and decorated with almond-paste mushrooms, crushed pistachios and a pine cone fashioned from almond slivers and almond paste. It comes in other flavors – triple chocolate, vanilla, lilikoi (passionfruit) meringue – too. Common Crumb is also offering the same assortment of pies as it did for Thanksgiving – pumpkin, pecan, apple and lemon-meringue – as well as eggnog cheesecake for Christmas. Also available: custom cakes and assorted French macarons in seasonal flavors such as eggnog, hot chocolate, Mexican hot chocolate and peppermint. Orders must be placed at least two days in advance, and the last day for ordering to get goods in time for Christmas is Dec. 20. The bakery closes at 2 p.m. Dec. 24 and won't be open on Christmas Day. Common Crumb is at 19 W. Main Ave. (509) 315-4948. commoncrumb.com.
Just American Desserts
This longtime bakery in Spokane Valley offers several signature desserts that some loyal customers have incorporated into their holiday traditions for the past three decades. A classic yule log cake, along with the shop's edible Christmas wreath, top the seasonal offerings. The wreath makes for an especially dramatic-looking dessert. It features 10 choux pastry puffs filled with egg custard and whipped cream, covered in chocolate glaze, and decorated with a holly-berry design. The yule log features hot-milk sponge cake filled with vanilla custard and frosted with chocolate butter cream. It's decorated with handmade meringue mushrooms that are filled with semi-sweet chocolate. "For a lot of families, these desserts are a tradition. I do them for them every year," said proprietor Eva Roberts, who started the bake shop in 1986. Specialties include wedding and custom and specialty cakes, such as her popular tuxedo cake – with three layers of chocolate fudge cake and sour cream white cake and choice of filling – as well as tarts, pies and cheesecakes. Her holiday cookies are made from cream cheese-based sugar cookie dough and decorated with white chocolate in a variety of colors. Roberts has been known to turn orders around with 24 hours' notice, but she prefers orders a couple days in advance, and that means getting Christmas orders in by Dec. 21 "if possible." Just American Desserts is open 9 a.m. to 6 p.m. Dec. 23 and 9 a.m. to 2 p.m. Christmas Eve. 213 S. University Road. (509) 927-2253. www.justamericandesserts.net/.
Batch Bakeshop
Holiday desserts must be pre-ordered and pre-paid for online at this charming West Central shop, which specializes in scratch-made special occasion cakes. Owner and baker Mika Maloney lives in the neighborhood and uses real butter, Pacific Northwest flour and nothing artificial. Her popular holiday cookie boxes are returning this season with three-dozen assorted cookies such as spice snaps, ginger molasses cookies, eggnog macarons, chocolate-dipped shortbread and more. She's also offering her cranberry crunch cake – a staple that's popular at Thanksgiving, too – as well as a rustically elegant apple-caramel tart and eggnog-butterscotch layer cake. Her vanilla-orange-chocolate yule log cake features chocolate ganache filling and frosting, orange-spice filling, orange syrup and vanilla-bean cake. It's decorated with candied orange slices, leaf-shaped cookies and meringue mushrooms. Customers have until Dec. 17 to place an order. The shop will be open for pick-ups Dec. 22 and Dec. 23. The bake shop is typically closed to the public, but opens for special events and classes as well as pop-ups. During December, Batch will be open from noon to 5:30 p.m. Fridays to sell assorted cookies, bars, brownies and pastries. Dec. 15, Sweet Annie's Artisan Creamery will be on hand to scoop seasonal ice cream flavors. And, Dec. 23, the shop will be open 10 a.m. to 3 p.m. Plan ahead: Maloney plans to increase her offerings of baking classes come January from one or two a month to three or four a month. 2023 W. Dean Ave. www.batch-bakeshop.com.
miFlavour
Fans of the film "Frozen" will recognize the name. But miFlavour's Elsa isn't a princess; rather, it's the name of the bake shop's holiday cake. Elsa features four layers of vanilla sponge cake with eggnog chai latte filling made from French butter cream with chai tea spices. They're blended in-house using a recipe from Joaquin Levitt, a barista at &Kupp, a coffee shop in downtown Spokane, and include ginger, black pepper, cloves, cinnamon, cardamom, allspice and star anise. Baker and proprietor Ella Piskun adds nutmeg, too, in order to evoke the flavor of eggnog. She and her husband, Maximus, own and operate the business, which bakes out of the commercial kitchen at the Montvale Event Center in downtown Spokane. They started miFlavour as an online-only bakery not quite a year ago and focus on high-end, scratch-made, creative cakes, macarons and other specialty desserts. Elsa is decorated with colored fondant – blue, green, red – in the shape of ornaments, trees and snowmen. Speaking of snowmen, miFlavour's seasonal macaron is eggnog chai latte in the shape of one. It's called Mr. Snowman. All of miFlavour's desserts have names – some of the whimsical, many of them women's. Order special-occasion cakes online. Delivery is free with orders of $150 or more. Otherwise, pick-up is at the Montvale Event Center, 1017 W. First Ave. (509) 426-5596. miflavour.com.
Bean and Pie
This boutique bake shop – it operates out of the proprietors' home in Post Falls – offers fruit pies made in small batches. The goal is to eventually open a drive-thru "that serves killer coffee and farm-to-table pie," according to its website. Meantime, customers can pick up orders at the home of owners Katy and Ethan Bean. (Directions will be provided after an order is placed and payment is received in an email confirmation.) They don't use fillers or preservatives. Main ingredients are butter, flour, sugar and fruit, which is sourced locally and seasonally when possible. Current flavors are berry crumb and cran-raspberry crumb. For Christmas, customers can expect two or three different fruit pies as well as a savory breakfast pie. The last day to order is Dec. 20, and the last day for pick-up is Dec. 23. Don't dally; their first Thanksgiving last month was a sell-out. beanandpie.com.
Sweet Frostings
Cupcakes are the top-seller at this pastel-trimmed bake shop, also known for its specialty cakes. Flavors seem endless: German chocolate, chocolate peppermint, apple pie, caramel apple pie, red velvet, chocolate salted caramel, chocolate snowball, chocolate sugar cookie, chocolate peanut butter, chocolate raspberry, chocolate decadence, mochaccino, minty cookies and cream, and more. Sweet Frostings recently expanded, adding cheesecakes and pies to its repertoire. Pie crust is a mix of butter and lard, and options are classic, spiced, crumble, double, lattice and cookie cutter. Pie flavors are pumpkin, pecan, apple, Dutch apple, chocolate silk and more. Look, also, for pumpkin cheesecake and spiced cheesecake with apple crisp, crumb topping and caramel sauce – among other flavors, such as classic New York style, and eggnog. Cheesecake crust options are gingersnap, graham cracker and chocolate graham cracker. Sweet Frostings also features assorted seasonal French macarons, cookies, muffins, scones, maple bars and cinnamon rolls. Sweet Frostings has four locations. Wandermere: 12501 N. Division St., Suite 3. (509) 368-9811. Downtown: 15 S. Washington St. (509) 242-3845. Spokane Valley Mall: 14700 E. Indiana Ave. NorthTown Mall: 4750 N. Division St. www.sweetfrostingsbakeshop.com.
Boots Bakery and Lounge
This eclectic downtown bake shop – part coffee shop, part cafe, part cocktail lounge – specializes in vegan and gluten-free fare. For the holidays, offerings include butter-free shortbread cookies covered with butter-free butter cream frosting. Customers can also request them plain "for kids to decorate at home," said Alison Collins, who owns the eatery and bake shop with her husband, Arden Pete. Other assorted holiday cookies and treats – ginger crinkles, Russian tea cakes, boozy brownie bites and mini chocolate-peppermint cupcakes – are also available. Of course, regular-size chocolate-peppermint cupcakes are, too. So are eggnog cupcakes and cranberry-orange muffins. Popular specialty cakes this time of year include German chocolate, eggnog and chocolate-peppermint. The triple chocolate cake features peppermint butter-free butter cream, chocolate ganache and crushed peppermint. Boots also makes jam tarts. And, for Christmas morning, save on prep by buying the batter for Boots' famous pumpkin waffles, along with butter-free chai butter, whipped with brown sugar and spices. It's available by the serving from anywhere from two servings to more than 100. The biggest order for Boots' pumpkin-waffle batter, Collins said, was for 120. Collins asks customers to place holiday orders by Dec. 18 and arrange to pick up items on or before Christmas Eve. Boots will be open from 6 a.m. to 4 p.m. Dec. 24. 24 W. Main Ave. (509) 703-7223. bootsbakery.com.
Cole's Bakery and Cafe
Allow at least three days for custom orders at this gluten-free and peanut-free bake shop in North Spokane. There's so much from which to choose: English scones, cupcakes, cookies, cakes and cheesecakes, in a variety of flavors. Plus, there are brownies, cream puffs and eclairs, too. Saturdays, cinnamon rolls and doughnuts are also available. Home bakers can also pick up the shop's own secret signature blend of gluten-free flour. Cole's opened in 2014 as a gluten-free bakery and has since expanded into a full-service restaurant as well as bake shop. Cole's serves breakfast, lunch and dinner daily. It also features dairy-free and vegan fare. 521 E. Holland, Suite 20. (509) 413-1739. colesbakerandcafe.com.
Marsells Cakes and Desserts
This local bake shop won the best dessert category at the most recent Epicurean Delight event for its Rose Petal Petit Four and Lavender Petit Four. Those flavors aren't particularly associated with Christmas. But that doesn't matter. Marsells is known for custom orders and specialty cakes, including its single-serving pineapple upside-down cakes. Also available: iced sugar and other cookies, cupcakes, whoopie pies, brownies, macaroons and more. Call to place an order. (509) 448-2512. marsellscakes.com.
Lilac City Bakery
This new bakery in Spokane's University District serves as the production facility for its sister Celebrations shops, which specialize in cupcakes and special occasion cakes (see below). Lilac City features expanded offerings, including seasonal pies and pastries. Holiday pies include dark chocolate peppermint cream pie, cranberry apple crumble pie and eggnog cream pie with brandy, nutmeg pastry cream, and spiced whipped cream. Also available: peppermint bark cheesecake, gingerbread muffins and frost-bite quick bread. That is, dark chocolate mint. Lilac City is also offering holiday gift boxes that include sugar cookies, candied nuts, gourmet caramel corn and chocolate-dipped pretzels. 1215 N. Ruby St. (509) 315-4958.
Celebrations
This bake shop specializes in cupcakes in seasonal flavors such as hot cocoa and peppermint patty. Custom orders are also available. They require three days' notice and a minimum of one dozen of each particular flavor. Also available: sugar cookies, molasses crinkle cookies and sugar cookie cake pops. Garland District: 713 W. Garland Ave. (509) 327-3471. Spokane Valley: 315 S. Sullivan Road. (509) 315-5973. www.celebrationssweetboutique.com/.
Madeleine's Cafe and Patisserie
This charming downtown bakery, done in soft gray and off-white, specializes in assorted French-inspired baked goods. Macarons, almond croissants, napoleons, tarts and croque monsieurs can regularly be found inside its glass-fronted pastry case. This time of year, the shop also takes orders for its chocolate yule log cake, adorned with meringue mushrooms and holly-berry decorations. Pre-ordering is going on now. 415 W. Main Ave. (509) 624-2253. www.facebook.com/madeleines.cafepatisserie/
Local journalism is essential.
Give directly to The Spokesman-Review's Northwest Passages community forums series -- which helps to offset the costs of several reporter and editor positions at the newspaper -- by using the easy options below. Gifts processed in this system are not tax deductible, but are predominately used to help meet the local financial requirements needed to receive national matching-grant funds.
Subscribe to the Spokane7 email newsletter
Get the day's top entertainment headlines delivered to your inbox every morning.
---