Sports > Area sports
Republic's Shania Graham hopes to win another title at CC Spokane
Thu., Dec. 7, 2017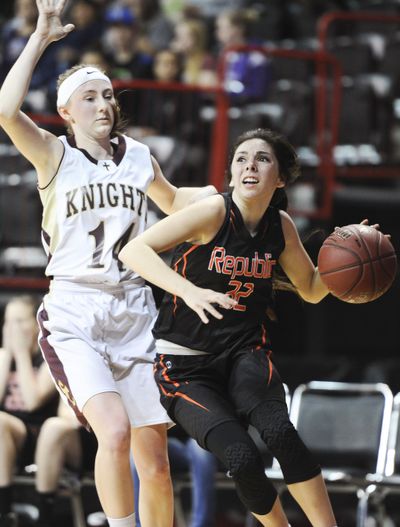 Taking home the State basketball title was on the short list of things Shania Graham wanted to accomplish before leaving Republic High.
At the time, it seemed like an impossible feat for a 1B team that hadn't raised a championship trophy in 36 years, but Graham defied the odds. The standout point guard led her team of Tigers to a 25-2 record last season, including their stunning 51-29 win over Almira/Coulee-Hartline for the 1B State crown.
Graham posted a game-high 23 points, nine rebounds and four steals – good enough to get her on the 1B first-team all-state.
"It's one of those things where I always wish I could go back in time and be in that moment again because it was just so much fun," said Graham, who was later named 1B player of the year.
Graham's luck last season seemed to have spread across the state to CC Spokane, where the Sasquatch were also looking for their first Northwest Athletic Conference title in more than three decades.
Just a few weeks after Republic's win, CCS took the conference title in a 76-73 win over Walla Walla. It was the first women's basketball title for the Sasquatch since 1984.
It was Bruce Johnson's first title since he took the head coaching job 29 years ago. After winning the title, "we could kind of breathe a sigh of relief," Johnson said last month.
"We were almost kind of (in) a state of shock … because I've been so close so many times," Johnson said.
Now Graham wants to join Johnson in another title showing. She wants to check off another championship title at the college level, and help Johnson bring home his second NWAC crown in what will be his 30th season coaching the Sasquatch.
In just two games this season, Graham has already worked her way into a starting role as a shooting guard alongside sophomore guard Shaye Swannack. She posted 17 points in CC Spokane's most recent win over Fairchild Air Force Base on Tuesday, hitting all five of her field goals from 3-point range.
Her strengths aren't limited to one side of the court. Throughout her senior season at Republic and in the first week of play in Spokane, the 5-8 freshman has roughed up her opponents on defense, forcing turnovers and swatting away shots from the 6-footers at the rim.
Her quick feet and athleticism stems from her busy life at Republic, where she worked as a four-sport athlete. Along with basketball, Graham also played volleyball, cross country and track and field.
Unlike her other three sports, Graham played basketball all four years of high school. She took a spot on the varsity squad her freshman year and captained the team all four seasons.
After last year's long-awaited victory in her Republic uniform, Graham's hoping for another big season in her new Sasquatch colors.
But it won't be an easy task.
The Sasquatch squad features a 10-player roster this season, with only two returning sophomores. The young crew has put CCS at a slight disadvantage heading into conference in January, but the underdog mentality is nothing new to Graham.
Republic dominated the Northeast 1B North league, but the Tigers consistently found themselves struggling to keep up with noticeably stronger teams at the State tournament.
The Tigers were finally able to open a new chapter, and experience a stunning season that had escaped their school for so many years. It was a kind a season Graham said she hopes to experience again in Spokane before she moves on to a four-year school.
"Winning a championship in anything is just an extraordinary feeling … because it's something you're passionate about and you're working hard for," Graham said. "When you get it, you just feel so accomplished and proud of yourself. It's like all your hard work is paying off."
Local journalism is essential.
Give directly to The Spokesman-Review's Northwest Passages community forums series -- which helps to offset the costs of several reporter and editor positions at the newspaper -- by using the easy options below. Gifts processed in this system are not tax deductible, but are predominately used to help meet the local financial requirements needed to receive national matching-grant funds.
Subscribe to the sports newsletter
Get the day's top sports headlines and breaking news delivered to your inbox by subscribing here.
---