Sports
Women's Top 25 Capsules: Durr, No. 4 Louisville shut down Vanderbilt 79-57
Thu., Dec. 7, 2017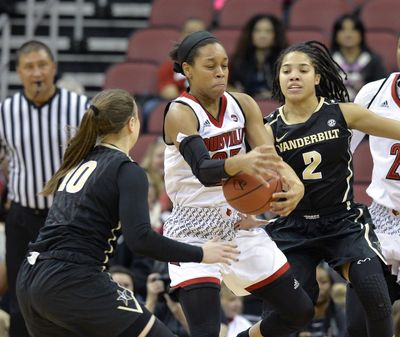 LOUISVILLE, Ky. – Asia Durr scored 25 points and No. 4 Louisville overcame a first-half lull to beat Vanderbilt 79-57 on Thursday night.
The Cardinals (10-0) held the Commodores scoreless for more than a quarter, turning a 33-29 deficit with 4:38 left in the first half into a 24-point lead with 3:56 left in the third. Rachel Bell made a 3-pointer with 3:28 left in the third period to end the Commodores' drought.
Durr scored 14 points in the third quarter as the Cardinals built a 31-point lead late in the period.
Bell scored 16 of her 21 points in the third quarter.
No. 10 West Virginia 73, Pittsburgh 52
MORGANTOWN, W.Va. – Teana Muldrow had 20 points and 11 rebounds as West Virginia beat archrival Pittsburgh in the first matchup between the schools since 2012.
The Mountaineers (8-0) cruised to the victory after opening the game on a 12-0 run.
Pitt (5-4) was outscored 26-13 in the first quarter, but battled back to bring the game within six points, 29-23, halfway through the second quarter.
West Virginia closed the half on a 7-0 run to take a 36-23 lead and the Panthers never recovered.
Katrina Pardee added 15 points for the Mountaineers, all on 3-pointers.
Yacine Diop led Pitt with 18 points and seven rebounds.
No. 13 Florida State 84, Stetson 39
TALLAHASEE, Fla. – AJ Alix hit five 3-pointers and scored 19 points as Florida State cruised.
Nicki Ekhomu added 16 points, Imani Wright had 13, and Chatrice White and Ama Degbeon added 12 points apiece for the Seminoles (9-0). White also had 11 rebounds and five blocks.
Brittney Chambers scored 19 points for Stetson (6-5).
No. 14 Duke 85, UNC Greensboro 54
DURHAM, N.C. – Erin Mathias scored a career-high 24 points and Lexie Brown was close to a quadruple-double for Duke.
Mathias was 12 of 18 from the field for the Blue Devils (7-2), who shot a season-high 62 percent in the first half and finished at 57 percent for the game. Brown had 20 points, nine assists, eight steals, which tied her career high, and seven rebounds.
Alexus Willey had 15 points for the Spartans (4-5), who shot 31 percent and trailed 44-29 at the half.
No. 24 Michigan 82, Marquette 76
ANN ARBOR, Mich. – Katelynn Flaherty scored seven of her 27 points in the final 2 minutes for Michigan.
Marquette (4-4) led by as many as nine points in the second quarter but the Wolverines (7-2) scored the last five points to close within 33-29. The run continued for another seven points in the third quarter.
Hallie Thome had 17 points for Michigan and Jillian Dunston had 14 rebounds.
Erika Davenport led Marquette with 23 points, matching her career high, Allazia Blockton had 19 points and 11 rebounds and Danielle King scored 19.
No. 25 California 89, San Diego 64
BERKELEY, Calif. – Kristine Anigwe scored 26 points on 11-of-14 shooting for California in coach Lindsey Gottlieb's 200th win.
The Golden Bears (6-2), who have won three straight, shot 69.1 percent (38 of 55), just shy of the school record of 69.3, but didn't put the Toreros away until going 12 of 16 in the fourth quarter.
Gottlieb's career record is 200-106, 144-67 in her seven seasons at Cal after three years at UC Santa Barbara.
Sydney Williams scored 18 points for San Diego (5-3), which has lost three straight since Cindy Fisher won her 300th game.
Local journalism is essential.
Give directly to The Spokesman-Review's Northwest Passages community forums series -- which helps to offset the costs of several reporter and editor positions at the newspaper -- by using the easy options below. Gifts processed in this system are not tax deductible, but are predominately used to help meet the local financial requirements needed to receive national matching-grant funds.
Subscribe to the sports newsletter
Get the day's top sports headlines and breaking news delivered to your inbox by subscribing here.
---