News > Nation
California lawmaker resigns after bathroom sex assault claim
UPDATED: Fri., Dec. 8, 2017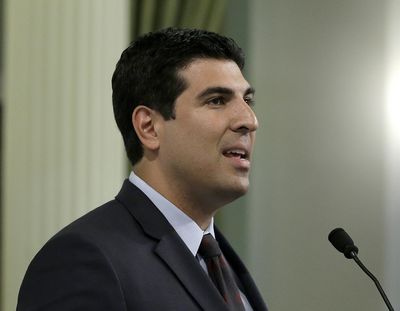 SACRAMENTO, Calif. – California Assemblyman Matt Dababneh announced Friday that he's resigning amid an investigation into a lobbyist's allegation he sexually assaulted her in a bathroom last year.
Dababneh again denied the allegation in his resignation letter, but said he no longer believes he can effectively serve his Los Angeles district. He is the second Democratic California lawmaker to step down following allegations of sexual misconduct. He said he'll cooperate with an ongoing Assembly investigation into the claim.
"Beyond the salacious headlines, I am confident that the completed investigation will bring to light and into focus the significant and persuasive evidence of my innocence," Dababneh wrote.
Pamela Lopez, the lobbyist, said his resignation means little without an apology.
"He's not attempting to atone for his behavior," Lopez told The Associated Press.
Lopez alleged at a Monday news conference Dababneh pushed her into a single-stall bathroom during a Las Vegas social event in 2016 and masturbated in front of her while asking her to touch him. She also outlined the alleged incident in a letter to the Assembly committee tasked with handling misconduct complaints.
That committee will continue its investigation into the allegation despite Dababneh's pending resignation, effective Jan. 1. Democratic Assemblyman Raul Bocanegra, also of Los Angeles, resigned in November after multiple women accused him of kissing or groping them without consent.
Nearly 150 women launched a reckoning of sorts in California's Capitol when they published an Oct. 17 letter alleging "pervasive" sexual harassment in the Legislature amid a national anti-harassment movement that's brought down once-powerful figures in entertainment, media and politics.
Without Dababneh and Bocanegra, Democrats will no longer have a two-thirds supermajority in the Assembly, which allows them to raise taxes, suspend legislative rules and pass emergency legislation without Republican votes.
The Senate, meanwhile, is investigating Democratic Sen. Tony Mendoza for accusations of inappropriate contact with several young women who worked for him, including one who said she was invited to his home. He denies knowingly acting inappropriately. If he were to leave office, Democrats would lose their Senate supermajority as well.
Dababneh, 36 and not married, is a former aide to U.S. Rep Brad Sherman. He was elected to the Assembly in as 2013 special election.
Lopez is the only woman to make a formal complaint against Dababneh as a lawmaker, but another alleged inappropriate conduct while he worked for Sherman from 2005-2013, including as the district chief of staff.
Jessica Yas Barker joined Lopez at the news conference to allege frequent inappropriate comments by Dababneh when they worked together. Dababneh spoke about sex and his sexual exploits and showed her condoms in his desk drawer, she said.
Dababneh did not directly address Barker's claims in his resignation letter.
Instead, he said he is "inspired by the many brave women" who have come forward with stories of harassment, even as he maintained his innocence against Lopez's claim.
"As we battle for change, we must remember that due process exists for a reason," he wrote. "We should never fight injustice with injustice."
Lopez said she wants the Legislature to keep working to "heal and restore" women who have been victimized.
"We have a lot to do in order to put something in place that protects victims of sexual assault and sexual harassment," she said.
The two women suggested that Dababneh donate his remaining campaign funds to organizations fighting violence against women or other women's rights groups.
Assembly Speaker Anthony Rendon said the chamber will keep working "to make the Legislature an institution where people are safe, survivors are helped, and perpetrators are held accountable."
Local journalism is essential.
Give directly to The Spokesman-Review's Northwest Passages community forums series -- which helps to offset the costs of several reporter and editor positions at the newspaper -- by using the easy options below. Gifts processed in this system are not tax deductible, but are predominately used to help meet the local financial requirements needed to receive national matching-grant funds.
Subscribe now to get breaking news alerts in your email inbox
Get breaking news delivered to your inbox as it happens.
---