News > Spokane
Long lines greet first day of the Christmas Bureau
UPDATED: Fri., Dec. 8, 2017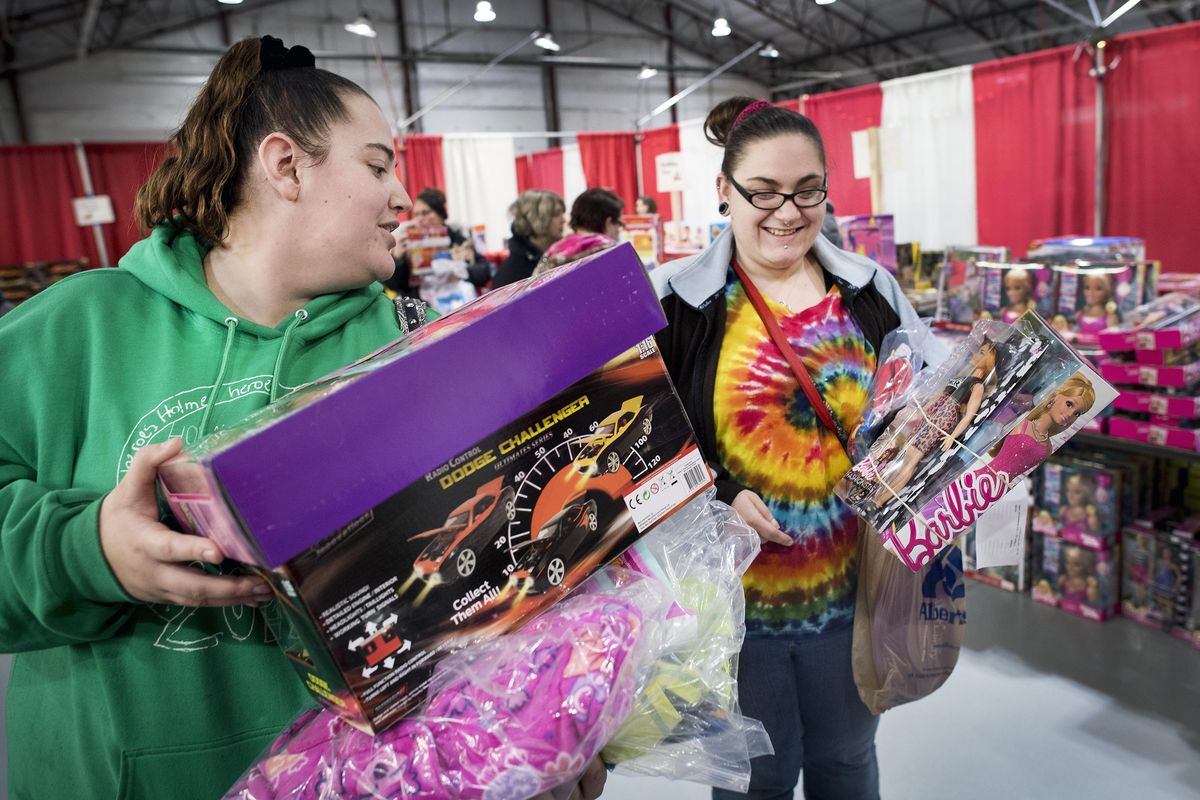 In the toy room, Amber Squires, left, and Jamie Wilson find the perfect gifts for their children on the opening day of the Christmas Bureau , Friday, Dec. 8, 2017, at the Spokane Fair And Expo Center. (Colin Mulvany / The Spokesman-Review)
Christmas Bureau recipients began lining up at the Spokane County Fairgrounds long before the doors were scheduled to open at 10 a.m., and volunteers worked hard to bring the crowd in early out of the cold.
Among those in line were Bill Navratil and his longtime partner, Toni Boone. Navratil is missing all his left toes and his right leg below the knee due to an infection, originally in his foot, that spread through his body. "I got an infection going fishing, believe it or not," he said. "I just about died."
Seven surgeries later, Navratil is looking forward to getting fitted for a prosthetic leg next week.
Even before he got sick and went on disability, Navratil would come to the Christmas Bureau for toys for his two sons. They're now 23 and 17.
"We come pretty much every year," he said. "It means a lot. It's very helpful. It's one less stress in the moment."
Each family receives a food voucher, and parents can pick a toy and a book for each child. There are also a limited amount of pajamas for younger children that will be handed out while supplies last.
Bonnie Johnson was helping her daughter, Samantha Sattleen, pick out pajamas and toys for Sattleen's three boys. Johnson said her daughter and grandchildren recently moved in with her after a divorce, and Sattleen is currently the only one in the house with an income.
They drove from Usk early Friday morning to get in line for the Christmas Bureau. After picking out pajamas for the boys they exclaimed over the piles of toys, debating and analyzing before finally settling on just the right gifts. "It's really awesome," Sattleen said.
Johnson said she was grateful for the help. "It means a lot," she said. "It really does. Everyone has been so kind."
Jamie Wilson, who was searching for a toy for her 7-year-old daughter, was thrilled to find a full-figured Barbie to wrap up for Christmas day.
"They've never made Barbies that look like real people," she said. "I don't want my daughter to feel like she needs to be skinny to be pretty."
Wilson said she's been coming to the Bureau every year since her daughter was born. "Sometimes it's the only way to get her a present," she said.
As grateful parents left with full bags for the parking lot, a long line of people still waited to get inside to pick out their Christmas items. By the end of the day, the Bureau had served 1,053 households and 2,218 children.
New donations of $10,515 have brought the year to date total to $155,995.95. The goal this year is to collect $525,000.
Ronald Schoenberger donated $5,000 in memory of his wife, Shirley.
"Shirley Schoenberger loved Christmas and she also appreciated the wonderful jobs of all the volunteers working behind the scenes at the Bureau," he wrote. "For over 22 years Shirley and I contributed to the Bureau, each year increasing our contribution by 10 percent. I am attaching my contribution in the amount of $5,000 in Shirley's memory so others may enjoy this wonderful season."
Steve and Rene' Goebel of Nine Mile Falls donated $1,500. Rhea Dow of Spokane gave $500, as did Steven and Lorrie McNutt of Spokane. Cheryl and Charles Fox of Bonners Ferry, Idaho, sent $500. Bob and Lois Banta of Liberty Lake donated $300 in memory of Jim Shively.
Francis Goodman of Spokane donated $250 via Pay Pal. An anonymous Spokane donor also sent $250. Tim and Darlene Holliday donated $200 in memory of their son, Russell "Air Hoss" Holliday. Steve and Peggy Koehler of Spokane gave $200.
Janet and Charles Watkins of Newport, Washington, gave $150. Thomas Bryan of Spokane donated $125 in memory of his wife, Mary Anna Bryan, who died earlier this year.
Janet Culbertson of Spokane donated $100 "in memory of my father, Don Culbertson, who supported my volunteering efforts at the Christmas Bureau." The Griffith Living Trust donated $100.
Karen and William Davis of Spokane contributed $100, as did Klea and Ray Copeland of Spokane. Joel and Joan Rogers of Spokane also gave $100. Gary and Cheryl Allen of Spokane Valley donated $100. An anonymous Nine Mile Falls donor sent $100 along with a note that read: "As a child during the Great Depression, I feel privileged to be able to give back every year to such a worthy cause. Thank you and all the volunteers for all you do."
Marlene Westhoff gave $75 in memory of her husband, Werner Westhoff. "Thank you for your help to so many," she wrote. Gary and Jan Huguenin of Spokane donated $50 in memory of Judy Huguenin. Sabian Arrian of Spokane gave $50 via Pay Pal. An anonymous donor gave $50 in memory of "C and C."
Nancy Kuch donated $40 via Pay Pal in memory of Bill Kuch, a longtime Christmas Bureau volunteer who died last year. Karen and Kelly Ryan donated $30 in memory of Pat Ryan. "Thank you for your good work," they wrote. An anonymous donor gave $25. Ronald Coyle and Susan Walker gave $20.
For donations made through PayPal, The Spokesman-Review contributed the processing fee.
Local journalism is essential.
Give directly to The Spokesman-Review's Northwest Passages community forums series -- which helps to offset the costs of several reporter and editor positions at the newspaper -- by using the easy options below. Gifts processed in this system are not tax deductible, but are predominately used to help meet the local financial requirements needed to receive national matching-grant funds.
Subscribe now to get breaking news alerts in your email inbox
Get breaking news delivered to your inbox as it happens.
---