News > Crime/Public Safety
Multiple arrests after bust of suspected Spokane Valley drug house
UPDATED: Fri., Dec. 8, 2017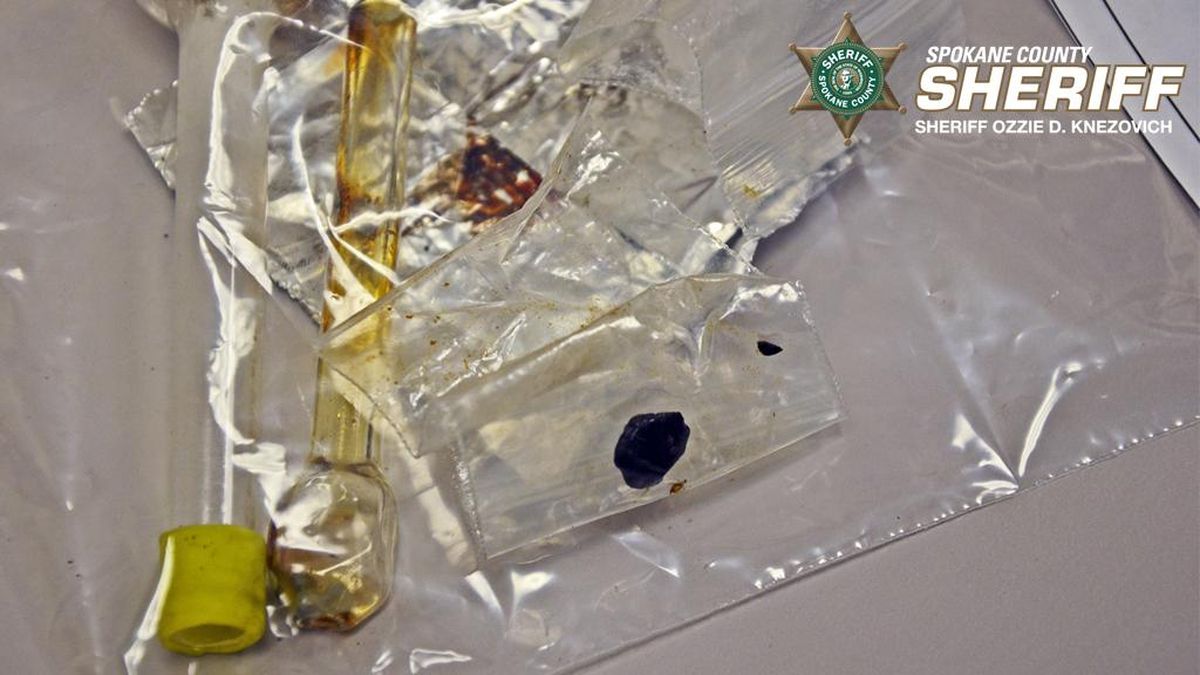 Heroin and drug paraphernalia recovered in the course of an operation in Spokane Valley earlier this month. (Spokane County Sheriff's Office)
Several individuals face charges of possession with intent to distribute following the bust of a suspected drug house in Spokane Valley last week.
Multiple law enforcement agencies – including Spokane Valley Police and the Spokane County Sheriff's Office, with assistance from K-9 units, SWAT and aerial support – descended on the residence, on McCabe Road just north of Sprague Avenue, shortly before 5 p.m. Dec. 1, according to a news release by the Spokane Valley Police Department.
As SWAT deployed around the residence, two men – identified as Casey E. Hartman, 47, and Colton P. Kilgallen, 26 – exited and fled, according to the release. Kilgallen was intercepted quickly by detectives and taken into custody.
Hartman ran, but found his path blocked by Deputy Clay Hilton and his K-9 partner, Bane. Hartman ignored Hilton's commands to get on the ground, changing course and pulling a handgun from his waistband. The gun slipped, however, and dropped as he ran.
As Hartman continued to ignore the deputy, Hilton released Bane, who charged the suspect and took him to the ground. He was taken into custody without further incident, the release says.
Upon retrieving the pistol, law enforcement found it was a pellet gun. Hartman claimed he had been trying to dispose of it as he fled.
SWAT proceeded to secure the residence, and detectives began a search of the area. In the course of the operation, 57-year-old Chris D. Bain – described by the release as the primary focus of the investigation – was arrested. He was booked into Spokane County Jail on six counts of possession of a controlled substance with intent to deliver. He since has been released on his own recognizance.
Kilgallen, found to be in possession of both meth and heroin at the time of his arrest, also faces charges of possession with intent to deliver, as does Shayla K. Grafe, 28, who was arrested this week following the search of a vehicle seized at the residence.
Hartman has not been charged, according to court records. However, the release notes the "investigation is ongoing and additional arrests and charges are possible."
Local journalism is essential.
Give directly to The Spokesman-Review's Northwest Passages community forums series -- which helps to offset the costs of several reporter and editor positions at the newspaper -- by using the easy options below. Gifts processed in this system are not tax deductible, but are predominately used to help meet the local financial requirements needed to receive national matching-grant funds.
Subscribe now to get breaking news alerts in your email inbox
Get breaking news delivered to your inbox as it happens.
---