News > WA Government
Murray, Cantwell named to tax conference committee
UPDATED: Fri., Dec. 8, 2017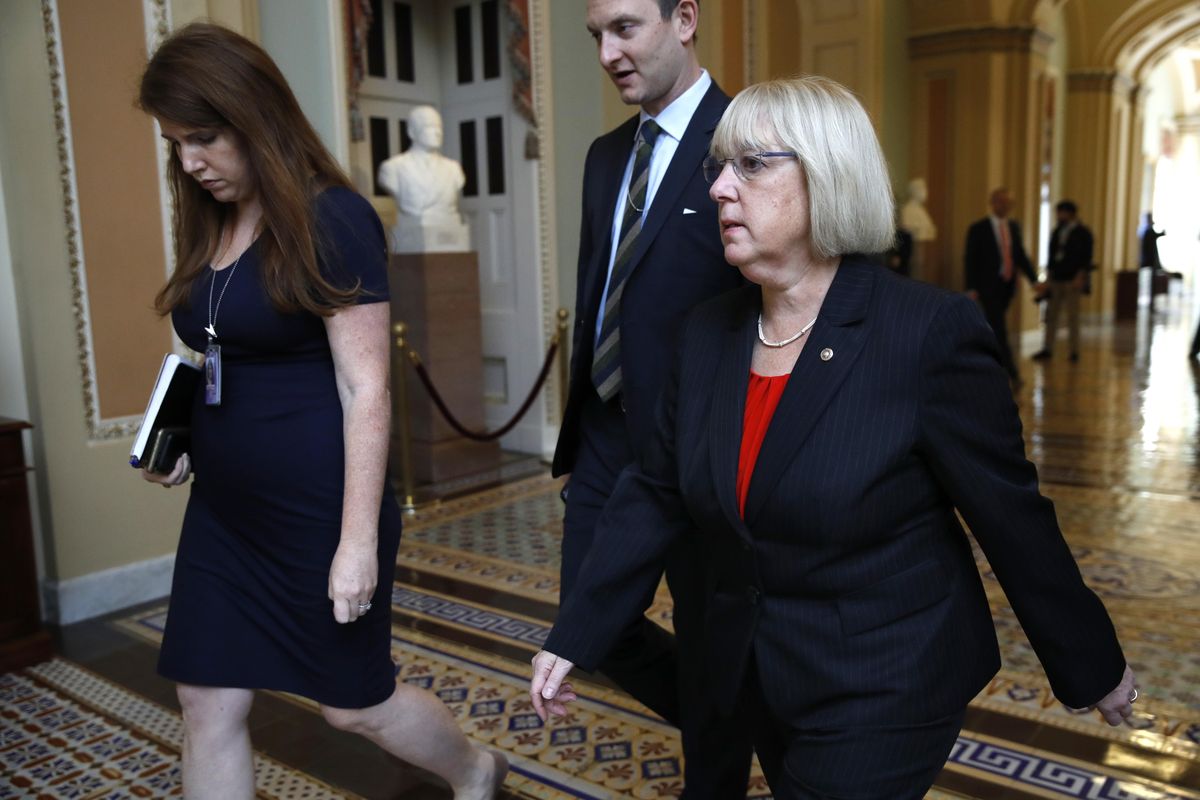 Sen. Patty Murray, D-Wash., right, walks through the Capitol, Dec. 1, 2017, on Capitol Hill in Washington. (Jacquelyn Martin / AP)
Washington will have both senators on the special committee trying to come up with a compromise tax bill that will pass Congress.
Democrats Patty Murray and Maria Cantwell were named by Democratic Senate leaders this week to a conference committee that will try to reconcile the differences between the tax bill passed by the House of Representatives in November and the Senate bill passed Dec. 2.
They are the only Washington members of Congress from either party named to the committee, which Republican leaders hope can produce a compromise bill able to pass both chambers and go to President Donald Trump by Christmas.
Murray serves on the Budget Committee and was chairwoman of that panel when Democrats had the Senate majority. Cantwell serves on the Finance Committee.
"This bill needs to slow down," Cantwell said this week, adding she sees it as a plan to give corporations money to pay stockholder dividends, not to help the economy and increase jobs. "We need to focus on the investment that middle-class families need to stay in their home, to make education affordable, to pay for health care and to have communities work."
Murray and Cantwell both have been highly critical of the two tax proposals and joined all Democrats and one Republican senator in voting against the Senate bill last weekend. Among their criticisms is the proposal to end the ability of people who file for deductions to lower their taxes to claim state and local taxes they pay during the year.
Although Washington doesn't have a state income tax, the two senators have worked for years to ensure residents can deduct payment of the state's high sales tax.
The Senate bill also proposes a "backdoor" attempt to drill in the Arctic National Wildlife Refuge and would cause some people to see health rates go up or lose insurance from the Affordable Care Act, Murray said.
"It's not too late for Republicans to walk away from their appalling, lopsided plan," Murray said after her appointment to the committee. "If they step back from the precipice, I am ready to get to work."
Local journalism is essential.
Give directly to The Spokesman-Review's Northwest Passages community forums series -- which helps to offset the costs of several reporter and editor positions at the newspaper -- by using the easy options below. Gifts processed in this system are not tax deductible, but are predominately used to help meet the local financial requirements needed to receive national matching-grant funds.
Subscribe now to get breaking news alerts in your email inbox
Get breaking news delivered to your inbox as it happens.
---