Sports
NBA Capsules: Victor Oladipo, Pacers end Cavaliers' 13-game winning streak
Fri., Dec. 8, 2017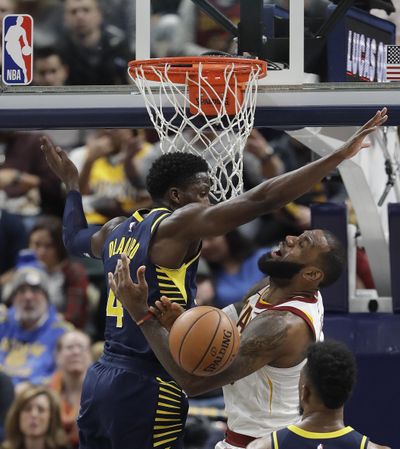 INDIANAPOLIS – Victor Oladipo had 33 points and eight rebounds and the Indiana Pacers beat Cleveland 106-102 on Friday night to end the Cavaliers' winning streak at 13 games.
Indiana has won three straight, nine of 12 and is the first team to beat Cleveland twice this season.
LeBron James had 29 points, 10 rebounds and eight assists for Cleveland, and Kevin Love added 20 points. The Cavs lost for the first time since Nov. 9 at Houston. They had won seven straight on the road.
The Pacers used an 11-2 run late in the third quarter to retake the lead
Cleveland trailed 93-86 with 9:43 to play and fought fiercely to extend the streak. The Cavs got as close as 96-95 on J.R. Smith's 3-pointer with 2:48 left.
But Bojan Bogdanovic answered with a 3, Oladipo made one of two free throws and hit down another 3 to extend the lead it 103-97 with 1:01 left.
The Cavs again made it a one-possession on Smith's 3 with 10 seconds to go. This time, Corey Joseph made two free throws, Love missed a 3, and Myles Turner grabbed the rebound to seal the win.
Warriors 102, Pistons 98
DETROIT – Kevin Durant scored 13 of his 36 points in the third quarter and Golden State beat Detroit to complete an undefeated trip.
The Warriors went 6-0 on the trip, playing the final two games without Stephen Curry, who is out with a sprained right ankle.
Detroit had a chance to tie it in the final seconds, but Reggie Jackson's wild drive to the basket did not lead to a good shot, and Klay Thompson made two free throws with 5.3 seconds left for the final margin. Avery Bradley scored 25 points for the Pistons. They have lost five straight.
Spurs 105, Celtics 102
SAN ANTONIO – Manu Ginobili hit a 3-pointer with 5 seconds remaining and the San Antonio Spurs overcame Kyrie Irving's 36-point effort snap Boston's four-game winning streak.
Ginobili set up the winning basket by sneaking into the paint for an offensive rebound with 25 seconds left. LaMarcus Aldridge had 27 points and 10 rebounds for San Antonio.
Irving, who scored a career-high 57 points against San Antonio in 2015 while with Cleveland, created havoc again at the AT&T Center. Irving finished 13 for 21, including 6 for 10 on 3-pointers, but missed his final two 3s. His final 3-pointer rattled in and out as the buzzer sounded.
The Spurs, already without Kawhi Leonard and Kyle Anderson, lost Danny Green in the first half. Green left with tightness in his left groin. There was no update on the severity of the injury.
Bucks 109, Mavericks 102
MILWAUKEE – Khris Middleton scored 12 of his 31 points in the final 4:38 and Giannis Antetokounmpo had 27 points and 11 rebounds in Milwaukee's victory over Dallas.
Eric Bledsoe added 24 points for the Bucks. They erased an 11-point deficit late in the third quarter to pick up their fifth victory in six games.
Wesley Matthews had a season-high 29 points for Dallas.
Kings 116, Pelicans 109, OT
NEW ORLEANS – Zach Randolph scored a season-high 35 points, Buddy Hield led a fourth-quarter rally against his former team and Sacramento beat New Orleans.
Randolph made two of his career-high five 3-pointers in overtime and added 13 rebounds. Hield made a 3-pointer with 34 seconds left in regulation to force overtime and finished with 18 points.
DeMarcus Cousins, the main piece in a trade between the teams in February, led New Orleans with 38 points and 11 rebounds. Anthony Davis, returning from a three-game absence with an adductor strain, had 18 points.
Bulls 119, Hornets 111, OT
CHARLOTTE, N.C. – Rookie Lauri Markkanen had 24 points and 12 rebounds and Chicago beat Charlotte to snap a 10-game losing streak.
Markkanen made half of Chicago's six three-pointers, and the Bulls (4-20) held on in a back-and-forth game that featured 17 lead changes and 20 ties. Neither team led by more than eight.
Kris Dunn scored 20 points, and Robin Lopez had 19 points and 10 rebounds for Chicago. Dwight Howard led Charlotte with 25 points and 20 rebounds.
Raptors 116, Grizzlies 107
MEMPHIS, Tenn. – DeMar DeRozan scored 26 points, Serge Ibaka matched his season high with 21 and Toronto pulled away in the fourth quarter to beat Memphis.
Kyle Lowry added 16 points and eight assists, and Fred VanVleet had 12 points to help the Raptors win their fifth straight. Tyreke Evans led the Grizzlies with 27 points, and Marc Gasol had 20Memphis lost for the 13th time in its last 14.
Nuggets 103, Magic 89
ORLANDO, Fla. – Kenneth Faried scored 20 points to help Denver beat Orlando.
Will Barton added 19 points, Emmanuel Mudiay had 18 and Malik Beasley 12 for Denver.
After scoring only 14 points in the first quarter, the Nuggets (14-11) dominated the rest of the game, shooting 61 percent (28 for 46) in the second and third quarters. Denver had a 53-16 advantage in bench scoring en route to its second road victory since Oct. 29.
Nikola Vucevic led the Magic with 21 points and 17 rebounds.
Local journalism is essential.
Give directly to The Spokesman-Review's Northwest Passages community forums series -- which helps to offset the costs of several reporter and editor positions at the newspaper -- by using the easy options below. Gifts processed in this system are not tax deductible, but are predominately used to help meet the local financial requirements needed to receive national matching-grant funds.
Subscribe to the sports newsletter
Get the day's top sports headlines and breaking news delivered to your inbox by subscribing here.
---