Sports > National sports
Seattle Sounders set to face Toronto FC in MLS Cup Final
UPDATED: Fri., Dec. 8, 2017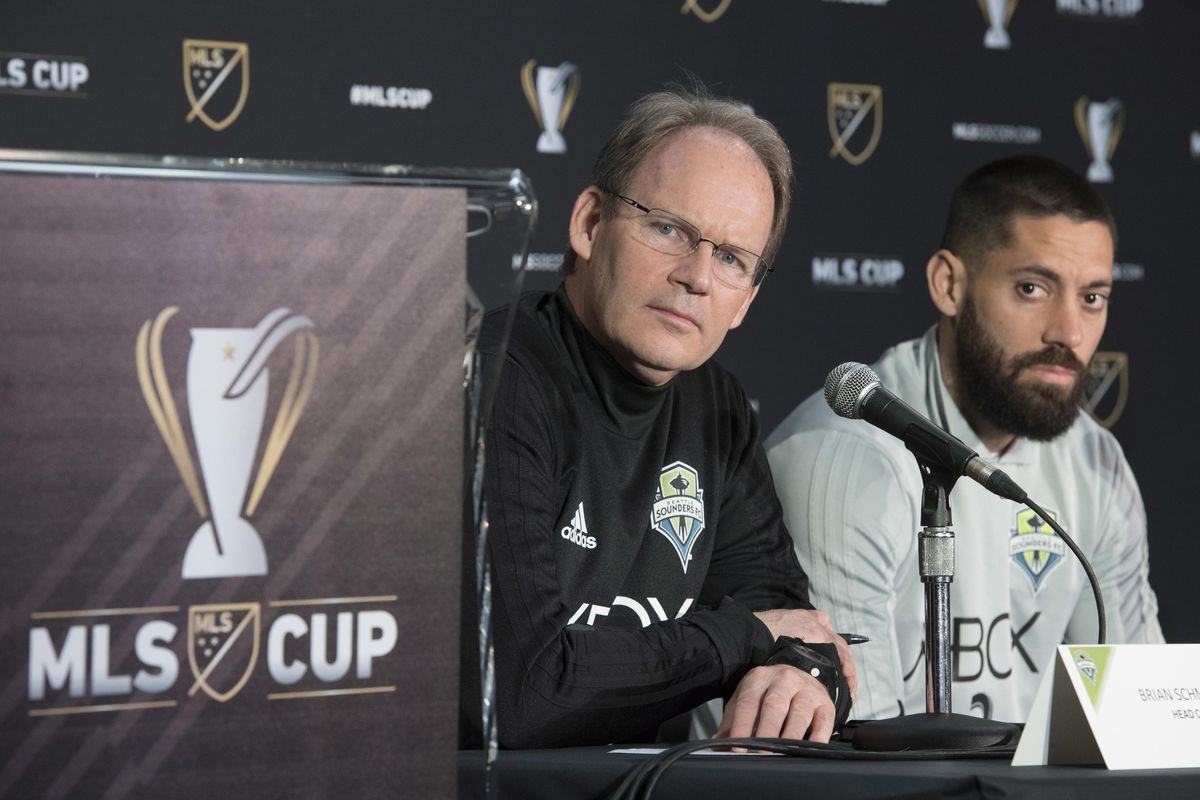 Sounders coach Brian Schmetzer, left, and forward Clint Dempsey listen to a question during a news conference in Toronto on Thursday. The Sounders face Toronto FC in the MLS Cup soccer final on Saturday. (Frank Gunn / Associated Press)
TORONTO – Sounders rookie Nouhou said he owes plenty of thanks to teammate Joevin Jones for helping familiarize him with the professional nuances of the left-back position.
And Nouhou's rapid development since has enabled the Sounders to start him at left back this entire postseason while pushing Jones up to an attacking-winger role. That's provided a devastating two-way game up and down both sides of the field, helping the Sounders to obliterate Houston in the conference final and advance to Saturday's MLS Cup final against Toronto FC a second straight year.
And it makes for a difficult choice for Sounders coach Brian Schmetzer, who needs an odd-man-out someplace now that midfielder Victor Rodriguez is healthy and center back Roman Torres is returning off his red-card suspension. Schmetzer must decide whether his Nouhou-Jones combination along the left side is worth benching a high-priced and productive midfielder like Rodriguez for a crucial game when his team is finally firing on all cylinders.
Thing is, the Nouhou-Jones combo has been worth every penny thus far.
"It's gotten more and more easy playing together with him," Nouhou said Thursday of Jones as the Sounders finished training at Toronto FC's indoor facility. "Me, I'm stronger defensively and he's stronger offensively. So when we work together, we can do a lot of good things. I'm very happy with what's going on between us out on the field."
The Sounders are as well.
With Nouhou and Jones locking down the left side and Kelvin Leerdam and Rodriguez controlling the right, the overmatched Dynamo never knew what hit them. The Sounders won the series 5-0 on aggregate, and it could have been far worse.
They've outscored opponents 8-0 in the playoffs and 14-0 the past six matches with the Nouhou-Jones duo opening things up.
But Schmetzer isn't going to get out of resolving this issue without some anguish. With Osvaldo Alonso not playing, his natural replacement is veteran Gustav Svensson, who has come up huge in critical games for the Sounders.
Schmetzer could opt to sit Svensson and drop Nicolas Lodeiro back a notch to fill Alonso's role – freeing up an extra winger's spot for Rodriguez. But against a lethal attack like Toronto's, having the imposing Svensson out there to slow the onrushing Reds is almost a must.
That leaves Rodriguez as potentially the bench guy. The notion would have been unfathomable last summer, when the Sounders brought him over from Spain for Targeted Allocation Money.
Rodriguez looked great by season's end but didn't start the first three playoff games as he recovered from a quad problem. But when he did get on the field as a substitute, he was effective, setting up a Clint Dempsey goal late in a playoff elimination of the Vancouver Whitecaps.
Then, in his first playoff start in the second leg against Houston, Rodriguez opened the scoring early to set up a 3-0 rout that followed.
But somebody has got to sit.
"What I'm going to do first is take our team into consideration and do what's best for our group," Schmetzer said. "I think that's the way we always approach things here. Our process that we do is we're going to try to dictate to opposite teams. We don't want to have lineup choices that are based on our opponents."
The game could very well be won or lost on the flanks. Toronto FC boasts its own speed game out wide with left back Justin Morrow and right back Steven Beitashour. Slowing the combo of Morrow and midfielder Victor Vazquez on the left – to keep them from feeding the ball to Jozy Altidore and Sebastian Giovinco up top – could prove a decisive factor.
"It will be an interesting matchup to see who does the best down those flank areas," Schmetzer said.
And whoever will patrol those flanks comes down to Schmetzer's decision. For certain it will be "steady influence" Leerdam on the right, but the left flank depends on whether Schmetzer sticks with rookie Nouhou, or drops Jones back to his natural left-back position to free up a midfield spot for Rodriguez.
"The best player for us is going to play," Schmetzer said. "So it will be an interesting choice. One that we'll kick around here for the next couple of days. And I'm confident that whoever we'll roll out on the team, they'll have a good performance."
For now, Nouhou, who only turned 20 this season and is poised to replace Jones when he leaves for Germany next season, must wait on whether he'll start the final.
"It's a dream of all soccer players to play in a game like this," Nouhou said, adding: "What's important is for me to continue to work and concentrate. If I get the chance to start the game as usual, I'll still be doing that. So whether I do it to start, or come off the bench, my approach will be the same."
Local journalism is essential.
Give directly to The Spokesman-Review's Northwest Passages community forums series -- which helps to offset the costs of several reporter and editor positions at the newspaper -- by using the easy options below. Gifts processed in this system are not tax deductible, but are predominately used to help meet the local financial requirements needed to receive national matching-grant funds.
Subscribe to the sports newsletter
Get the day's top sports headlines and breaking news delivered to your inbox by subscribing here.
---