Sports > Gonzaga women
Gonzaga women can't overcome final challenge in tough loss to UNLV
Sat., Dec. 9, 2017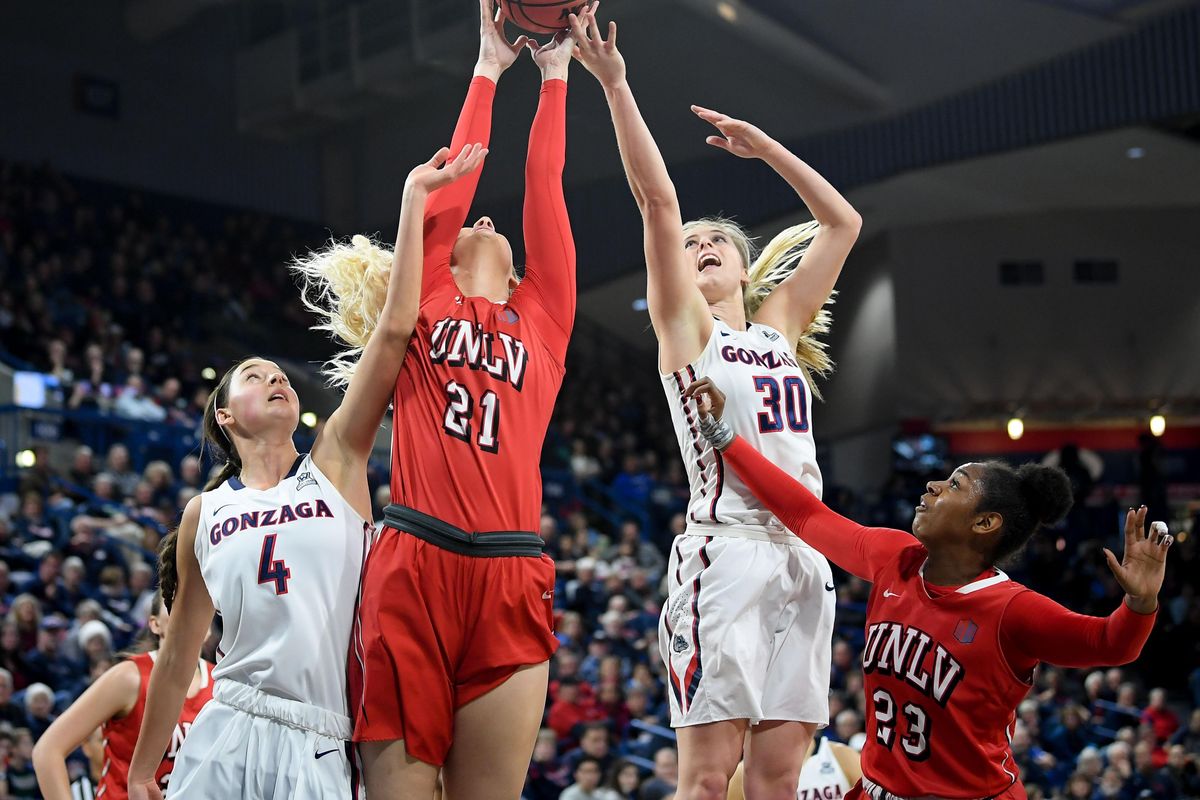 UNLV Rebels forward/center Katie Powell (21) grabs a rebound against Gonzaga Bulldogs guard Chandler Smith (30) during the first half of a college basketball game on Saturday, Dec 9, 2017, at McCarthey Athletic Center in Spokane, Wash. (Tyler Tjomsland / The Spokesman-Review)
Just in time, it's finals week at Gonzaga.
That should give the Bulldogs women a few days to focus on something besides Saturday's 52-50 home loss to UNLV, which was a painful exercise in every sense of the word.
"It's pretty gloomy in there," GU guard Chandler Smith said, nodding toward the locker room.
The Bulldogs almost overcame every obstacle in front of a vocal crowd of 5,378 – Jill Barta's ankle injury, a disjointed offense, awful 3-point shooting and an eight-point fourth-quarter hole – but couldn't finish the job.
Almost cruelly, that fell to point guard Laura Stockton, who four days earlier suffered a broken nose in practice to go with a sore shoulder that's burdened her for two weeks.
With GU trailing 52-50 and the seconds counting down, Stockton wasn't the first, second or third option.
But nose mask and all, she was the best one. Her 3-pointer from the top, however, clanged off the back iron to drop the Bulldogs to 5-4 and add insult to her injuries.
"Laura had a great look at it," GU head coach Lisa Fortier said.
This was a far cry from Wednesday night at Washington State, when Barta rolled her left ankle early in the second half. Instead of rolling over, GU rallied for a 64-56 win that was driven partly by adrenaline.
On Saturday, the survival instinct didn't kick in until the Zags (5-4) trailed by eight points with 8 minutes left.
"We had talked about (Barta's absence)," coach Fortier said. "We knew it was going to be a challenge today, but I don't think we really met what was facing us."
Mostly they faced a physical UNLV team and a tough zone defense, which limited GU to 33-percent shooting and 18 percent (3 for 17) from beyond the arc.
"We defended well enough to win, but just didn't get the offense going," said Fortier, whose club had climbed to 90th in RPI following the win at WSU.
Losing to UNLV (191st going into Saturday's game) will send GU's ranking back into the triple digits.
"We forgot what we were doing a few times … of course we don't have someone (the 6-foot-3 Barta) to throw the ball into," said Fortier, adding that Barta is questionable for the next game, Dec. 17 against visiting Saint Francis (Pennsylvania).
Others rose to the challenge in a game that was tight throughout. Forward Zykera Rice had 12 points and six boards, while true freshman Jill Townsend sparked a late rally that included a trio of offensive rebounds that gave GU the lead with less than 90 seconds to play.
After an out-of-bounds call was reversed, GU had the ball, the momentum and a 50-48 advantage with 1:17 left.
"And the crowd did such a good job of pumping us up," said Smith, who finished with 17 points and eight boards, both teams highs.
"We tried to slow it down, but we got sped up a little bit," said Smith, whose cross-court pass was tipped by Rice and into the hands of UNLV guard Jordyn Bell with 50 seconds left.
UNLV (5-3) set up its offense before Bell drove the lane for a tying jumper and a foul shot. Bell missed the latter, but 6-4 forward Katie Powell outreached Rice for the rebound and the winning putback with 23 seconds left.
"We dug ourselves too big a hole," Townsend said.
Local journalism is essential.
Give directly to The Spokesman-Review's Northwest Passages community forums series -- which helps to offset the costs of several reporter and editor positions at the newspaper -- by using the easy options below. Gifts processed in this system are not tax deductible, but are predominately used to help meet the local financial requirements needed to receive national matching-grant funds.
Subscribe to the sports newsletter
Get the day's top sports headlines and breaking news delivered to your inbox by subscribing here.
---