News > Pacific NW
Oregon delays vote on wolf plan that could lead to hunting
Sat., Dec. 9, 2017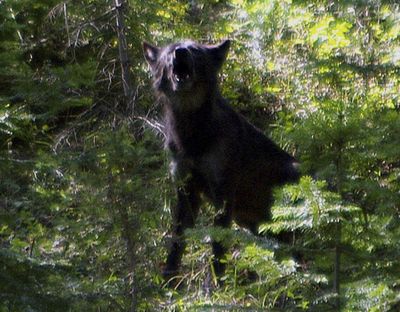 PORTLAND, Ore. – Oregon officials are delaying a decision about whether to adopt a new wolf management plan that could eventually open the door for a wolf hunt.
The Oregon Fish and Wildlife Commission on Friday decided to delay a vote on the plan that had been scheduled for January. It's not clear when the commission will vote, the Oregonian/OregonLive reported.
Bounty hunters wiped out wolves in the state 70 years ago. Oregon now has an estimated wolf population of 112 wolves and state officials have been considering adopting a new wolf management plan.
But commissioners decided to delay a decision on that plan following an hour of testimony from environmental groups, hunters and ranchers. Environmentalists say Oregon's wolf population can't sustain hunting.
"We still have a recovery program that's very much in its infancy," said Noah Greenwald, endangered species coordinator for the nonprofit Center for Biological Diversity, "and I think requires a conservative approach."
Hunters and ranchers say Oregon's proposed plan doesn't do enough to stop wolf attacks on livestock.
Todd Nash, a rancher near Enterprise in the northeastern part of the state, also said not every rancher receives support from a state compensation fund to help alleviate what it costs ranchers to protect livestock or absorb losses from what they say are wolf kills.
"We had a number of cattle that were unconfirmed (wolf kills)," he said. "We had a number of cattle that weren't confirmed."
Oregon wildlife officials have killed or authorized the killing of 14 wolves since 2009, including 10 in the past two years. Twelve more have been poached, including eight since 2015, according to state wildlife officials.
Local journalism is essential.
Give directly to The Spokesman-Review's Northwest Passages community forums series -- which helps to offset the costs of several reporter and editor positions at the newspaper -- by using the easy options below. Gifts processed in this system are not tax deductible, but are predominately used to help meet the local financial requirements needed to receive national matching-grant funds.
Subscribe now to get breaking news alerts in your email inbox
Get breaking news delivered to your inbox as it happens.
---