Sports > Seattle Seahawks
Interceptions, injuries cost Seahawks in 30-24 loss to Jaguars
UPDATED: Sun., Dec. 10, 2017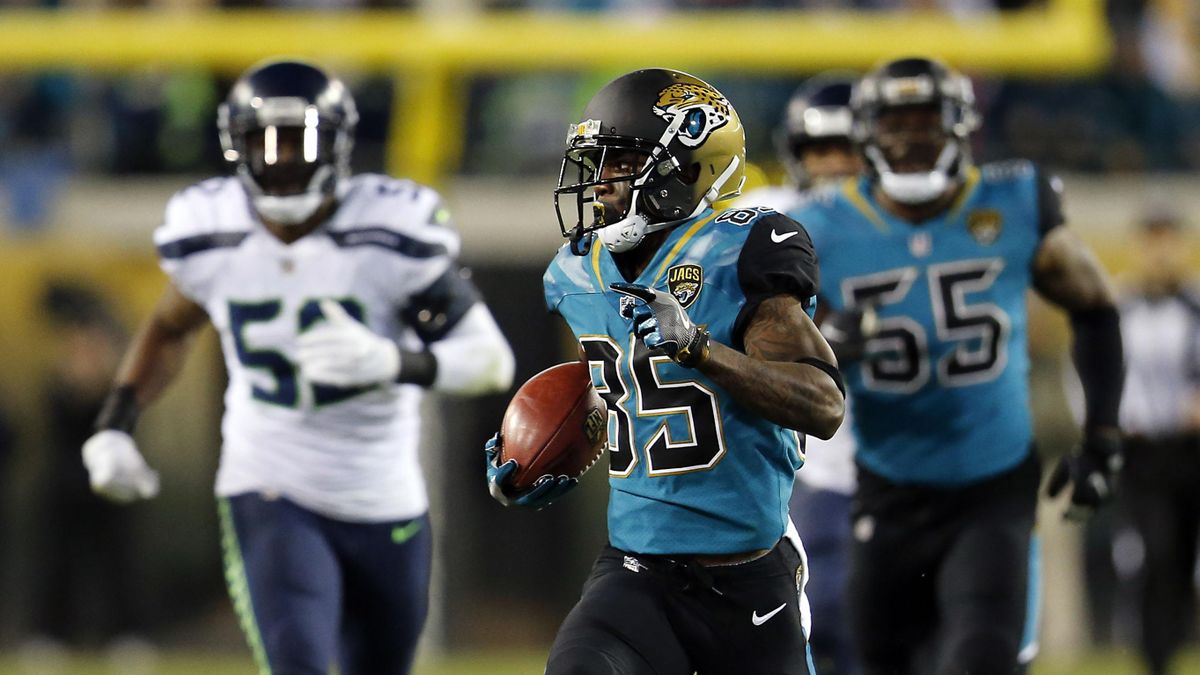 Jacksonville Jaguars wide receiver Jaydon Mickens returns a punt for 72 yards ahead of Seattle Seahawks linebacker Terence Garvin, left, to set up a Jacksonville touchdown during the second half of their NFL football game, Sunday, Dec. 10, 2017, in Jacksonville, Fla. (Stephen B. Morton / Associated Press)
Too many Russell Wilson interceptions, for a change. Three of them.
Too many injuries on defense, as usual this season – though that didn't keep All-Pro safety Earl Thomas from grousing about giving away a game to a "subpar quarterback."
And too many points allowed in the second half, making Blake Bortles look more like Tom Brady and dooming the Seahawks' comeback late in a 30-24 loss to the upstart Jaguars in Jacksonville Sunday at roaring EverBank Stadium.
But Seattle (8-5) caught a break with Philadelphia beating Los Angeles 37-35, keeping the Seahawks one game behind the Rams in the NFC West, with L.A. playing at Seattle next Sunday.
"Right now, this game doesn't matter," center Justin Britt said, nailing the essence of the Seahawks' lost Sunday in chilly North Florida. "We have to focus on winning the NFC West."
Indeed, Wilson walked around what was a steamed locker room informing teammates, some of them ticked off, they were "going for first place" this coming week.
Thomas wasn't having much of that, though. He was in the ticked-off portion of the locker room.
Asked if it was easier to flush a loss like this immediately because the opportunity to win the division remains intact for next week at home, Thomas, slumping in a folding chair in front of his locker and still wearing his game pants and pads, said no.
"Right now, it's not," Thomas said, "because that was a subpar quarterback. You got to take advantage of that stuff. … They just out-executed us – which can't happen. You definitely want those kinds of games back. You've got to take advantage of that. But, we didn't."
Jacksonville scored 27 of its points after Seahawks All-Pro middle linebacker Bobby Wagner left the game early in the third quarter with a hamstring injury, a recurrence of what he's played through for weeks. Then Pro Bowl outside linebacker K.J. Wright left with a concussion. Carroll said he didn't immediately know how long Wagner and Wright will be out, but Wagner's injury sounded and more long-term and potentially impacting.
Wilson's 74-yard touchdown pass to a wide-open Tyler Lockett, who simply ran down the right slot uncovered in a broken coverage, pulled the Seahawks within 30-24 with 4 minutes left.
Seattle's makeshift defense got a three-and-out, and the Seahawks got the ball back with 2:39 left at their own 42. On first down Jimmy Graham allowed a pass on the right sideline to clang off his hands. On second down Wilson threw off a scramble to Doug Baldwin, who stepped out of bounds 1 yard short of a first down to save time. The Seahawks never got closer to a first down. Wilson got sacked, then on fourth down threw incomplete deep for Baldwin while fellow receiver Paul Richardson got tripped down the field before the pass.
Jacksonville took over with 2:17 to go. On third and 11 with 1:23 left, Leonard Fournette romped off left tackle for 13 yards to end it. The game spiraled into fighting after that, with Seattle defensive tackle Sheldon Richardson ejected for throwing a punch following a play. On the next play, defensive lineman Quinton Jefferson was ejected – then had fans throwing beer on him. Richardson charged to the front railing of the lower stands behind the Seahawks' bench before he got restrained.
Coach Pete Carroll was out in the middle of the field at one point. He got an unsportsmanlike foul for that.
The Seahawks' four defensive linemen did not do what they had in the previous two games without Richard Sherman and Kam Chancellor: Pressure the quarterback. Frank Clark had the only hit on Blake Bortles in his 27 drop backs to pass. And the Seahawks got no sacks. They've been reluctant to blitz much lately, instead mostly dropping seven into coverage to help the patchwork secondary.
You only hit an NFL quarterback once and don't sack him at all, and he'll look like Brady. Bortles was 18 for 27 for 268 yards passing, two touchdown, no interceptions and a passer rating of 123.7.
This Seahawks defense that got shredded after halftime and made Bortles look like anything but the maligned former first-round pick he is doesn't resemble any of Seattle's recent, dominant units. As the fourth quarter began, All-Pro free safety Earl Thomas and rookie cornerback were the only starters still standing among the Seahawks' starting back seven defenders.
Wilson, meanwhile, had the fourth game of his seven-year career with at least three interceptions. He finished 17 for 31 passing for 271 yards and three touchdowns. He also had a running back produce more than he did on the ground, for just about the first time this season. Mike Davis had 66 yards on 15 carries – then injured his rib in the second half and did not return. That left the Seahawks in full-pass mode, and Jacksonville able to tilt its defense accordingly.
Yet the Seahawks kept rallying, exemplifying the "belief" Wilson said afterward is perhaps this undermanned team's most extraordinary trait.
Wilson escaped a sack by ducking his head, stood up and fired a strike to streaking Paul Richardson deep down the middle. Richardson juked the last Jaguar between him and the goal line, safety Tashaun Gipson, to finish a 61-yard touchdown pass, and Seattle was within 27-17 with 9:48 remaining.
Wilson set an NFL record with his 16th touchdown pass in the fourth quarter this season.
But Wilson also threw three interceptions, two he just chucked up deep into the secondary of the NFL's top-ranked pass defense and top scoring defense. It was the fourth time in his six-year career he threw at least three interceptions in a game, including the NFC title game in January 2015 when he threw four yet still beat Green Bay in overtime to reach Super Bowl 49.
Wilson's second interception came early in the third quarter while trying to reach Jimmy Graham near midfield. That and the frustrated Graham's extra push of A.J. Bouye after the Jaguars cornerback's interception set up the game's first touchdown. Bortes threw 18 yards to Dede Westbrook behind Terence Garvin. The reserve linebacker was in for Wagner. The Jaguars led 10-0.
Seattle answered with 10 points in a minute. Doug Baldwin's first catch, for 43 yards tumbling near the left sideline, set up Blair Walsh's 28-yard field goal. On the ensuing kickoff Garvin forced a fumble that rookie safety Tedric Thompson recovered at the Jacksonville 25. Two plays later, Wilson found Baldwin for 26 yards to tie the game.
On the next scrimmage play, Bortles again had tons of time on a play-action pass; Seattle's front four did not pressure the Jaguars quarterback at all, after getting after Philadelphia's Carson Wentz and San Francisco's C.J. Beathard the previous two games. Bortles threw a dart to streaking rookie Keelan Cole, who ran behind linebacker K.J. Wright after rookie right cornerback Shaquill Griffin followed a route inside and Cole sprinted behind him. That 75-yard touchdown made it 17-10 Jacksonville.
The Seahawks then went three and out, allowing the game's first sack on third down. Jon Ryan punted to former University of Washington wide receiver Jaydon Mickens. Mickens sprinted 72 yards past stumbling Justin Coleman, diving snapper Tyler Ott and Ryan. Coleman recovered to bring down Mickens at the 2-yard line. Leonard Fournette ran for the touchdown on the next play, then started a bowling celebration with teammates in the end zone. Seattle was suddenly gutter-balling a 24-10 game.
On the last play of the third quarter Jacksonville outscored Seattle 21-10, Wright left from a helmet-to-helmet hit with a Jaguars lead blocker. At that point, Wagner was in the locker room, out for the game. Three-time All-Pro cornerback Richard Sherman and star strong safety Kam Chancellor were already out injured for the season.
The Seahawks got into position to tie the game just before halftime because – of all things – effective runs by a running back. Mike Davis ran the first four plays of a drive late in the second quarter for 49 yards, to get Seattle from its own 21-yard line to the Jacksonville 30. Three of those runs for 44 yards were to the left side, behind tackle Duane Brown and guard Luke Joeckel, with one decisive kick-out block by Justin Britt on Jaguars linebacker Paul Posluszny. The Seahawks then mostly played for the tying field goal, letting the clock run down to 27 seconds then coming up short of the first down on Wilson scramble on third down and flip pass to J.D. McKissic.
Blair Walsh jogged onto the field for a 38-yard field goal to tie the game. Lined up on the right hash mark, Walsh kicked the ball basically straight – and just wide right of the right upright, no good. Seattle went to the half still down 3-0 instead of tied.
Wilson was 9 for 15 passing in the half for 36 yards and an interception on a post route to the end zone in the second quarter. Jaguars start cornerback Jalen Ramsey easily intercepted that when intended receiver Doug Baldwin tripped over his own feet just before the ball arrived.
In the end, another nothing first half made Seattle's second half too much of a task against the leaders of the AFC South.
Baldwin, the seventh-year veteran and team's longest-tenured offensive player, had this message for his teammates after this third loss in six games: "Embrace the adversity."
"As long as I've been I've always felt … when our backs are against the wall we play our best," Baldwin said. "So this is another opportunity to do that, to show who we are. Not only as football players but as men."
Local journalism is essential.
Give directly to The Spokesman-Review's Northwest Passages community forums series -- which helps to offset the costs of several reporter and editor positions at the newspaper -- by using the easy options below. Gifts processed in this system are not tax deductible, but are predominately used to help meet the local financial requirements needed to receive national matching-grant funds.
Subscribe to the sports newsletter
Get the day's top sports headlines and breaking news delivered to your inbox by subscribing here.
---