Sports > Outdoors
Spokane-area couple travels to Alaska for fish, bears as retirement celebration
Sun., Dec. 10, 2017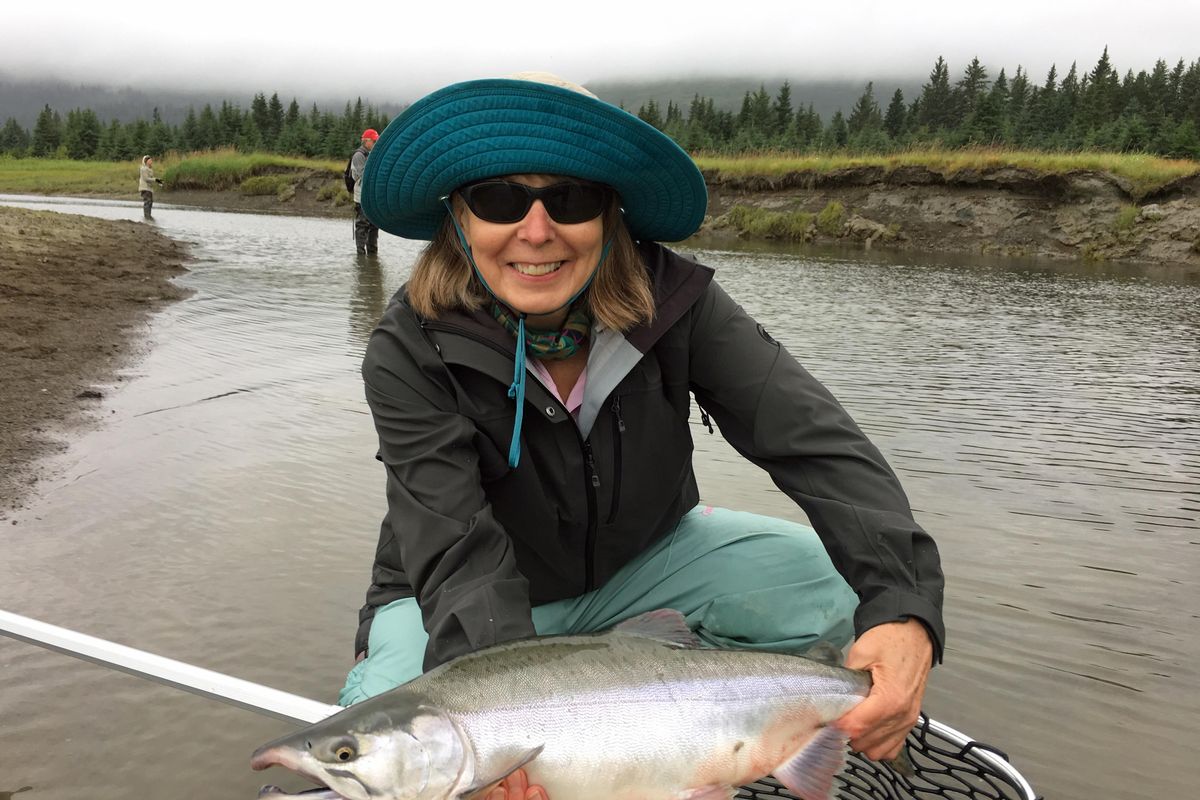 Mary Kay Rolwes releases a bright chum, one of several salmon species she caught while fly fishing out of Silver Salmon Creek Lodge in Alaska. (JERRY ROLWES / Courtesy)
A misty coastal dawn greeted us on Aug. 2 in Alaska's Cook Inlet in the Lake Clark National Park, a remote national park roughly twice the size of Yellowstone. Such weather wasn't a deterrent to brown bears or salmon, and it certainly wasn't going to deter my wife and me.
Early the day before, we'd boarded a Cessna 206 five passenger bush aircraft for a flight to the Silver Salmon Creek Lodge 140 miles south of Anchorage. Our aircraft was equipped with oversized tires for landing and departing off the beach in front of the lodge.
This long-planned adventure was our binge to celebrate my wife's retirement from teaching. Mary Kay and I are avid outdoor folks. She's especially dedicated to fly fishing and I'm into wildlife photography.
This trip was designed to combine our favorite pursuits. She would focus on salmon while I focused on American coastal brown grizzly bears.
Our arrival in Alaska was preceded by a year of planning – reservations can fill that far in advance – motivated by three Nat Geo Live lectures at the Spokane Opera House by National Geographic Society photographers. Their wildlife photography and running commentary planted a desire in us to visit one of the more remote locations in our country.
Having traveled to Alaska three times while on active duty with the Air Force, I knew of the untouched remote beauty but hadn't had much time to appreciate or explore the region.
We looked at options in the Katmai Peninsula and Kodiak Island and we reviewed some of the more picturesque locales to photograph the grizzly's fishing for salmon. Both National Geographic and Outdoor Photographer Magazines have featured articles on one of the most famous sites, Brooks Falls. But the more I looked into Brooks Falls the more we realized it had become one of the most popular and sought-after locales to observe and photograph the bears. The prospects for competition and congestion prompted us to keep looking.
We finally settled on the Silver Salmon Creek Lodge, which provided a well-organized package tour including air transport from Anchorage to the resort and back. The lodge provided guides and excellent meals as well as cabins and orientation to safely fishing and photographing in close proximity to brown bears.
It would not be uncommon in our six days to have mama bears transiting the compound with cubs in tow.
Each day we were transported up to a few miles through coastal meadows to wildlife viewing and fishing areas in a six-person people carrier towed by an ATV. The terrain is relatively flat with streams crossing back and forth through the lush vegetation, bordered about a mile inland from the coast by heavy pine woodland. We often would hike from the dirt road into the grassy meadows to view and photograph bears.
We were taught to stay in a tight group in a line and keep our voices down to keep from disturbing the animals. If they approached us in their grazing activities, we would quietly move our line backward to provide ample room between us and the bears.
Our guide, who held a master's in bear behavior from Oregon State University, explained that naturalists in the past 25 years have discovered in North America that bears will not charge people in a tight group of three or more folks. We were advised to not turn our backs on them or wander off alone. In almost all of the interactions, the bears ignored us.
We would sometimes follow a single bear or a sow with cubs as much as 300 yards while hiking. The coastal grasses were always damp and frequently dripping wet. Rubber boots were provided by the lodge and we packed our own waterproof pants, raincoats and waterproof, wind-resistant covers for my camera and lenses.
The coastal grizzly's diet is predominately made up of heavy meadow grasses. Seasonal foods such as berries attract their interest. But the bear's nutritional highlight of the year is fresh salmon that move upstream to spawn.
This is where the wildlife photographer, the fly fisher and the bears all found common ground.
Selecting serious photographic equipment for the trip was compromised by weight restrictions for the bush aircraft. We were limited to 50 pounds a person. Mary Kay and I boil our packs down to 50 pounds of clothes and 50 pounds of gear, including my camera's and lenses and her fishing rods, waders and boots.
I was not expecting the close proximity in which we were able to view the bears in most encounters. I had three lenses and a heavy tripod. I used the large Nikon 400mm lens with a 2X tele-converter only twice, once to record the puffin birds up the coast on a day trip by boat and again to capture a rare early-morning wolf attack on a mama bear and her two cubs.
The bear-wolf encounter lasted the better part of 15 minutes with the sow successfully fighting off three wolves. Our guide said such an attack is observed only every five years or so by guests and guides at their lodge.
Mary Kay devoted most of her mornings and many of her evenings to finding room away from the bears casting flies for silvers and other varieties of salmon. She wasn't disappointed. Her guide was as a pro in catching fish as well as strict with protocols when encountering bears.
Her most memorable day was a boat trip down the coast to Shelter Creek in the shadow of the Mount Iliamna volcano. Hundreds of salmon of several varieties were encountered. Everyone in the group landed salmon, and I bagged some nice fish photos.
Almost immediately, we encountered a young male grizzly. He showed limited interest in us and kept wandering up the stream as we backed away from the stream and grouped up.
The bear hadn't gone far when the guide happened to hook a large silver salmon that immediately ran his line out. We watched the guide work that salmon with delight – until the young male bear returned.
The guide ordered the guests to pull their lines in and he had to cut his in the ongoing effort to preclude bears from connecting people to fish.
The young male would wander into the stream and watch the schools of salmon swim around him, never making a dramatic leap, as we saw other more mature bears do. He looked confused, yet desirous of what a grand fish meal could be.
Mary Kay completed her grand adventure with a day's deep sea trip to the halibut beds. She landed a 65-pound beauty at a depth of about 200 feet. Because we were over on our aircraft weight limits, she donated the fish back to the lodge. The next night, the entire group had some of the finest fresh halibut we ever tasted. The owner, David Coray, announced the dinner was compliments of Mary Kay, and she received a well-earned loud ovation.
Coray founded Silver Salmon Creek Lodge 25 years ago as a fishing resort. The growth of interest in the resort's naturalist and wildlife photography has shifted the clientele to roughly 80 percent naturalist photographers and 20 percent sport fishermen, he said.
The experience meshed the best of both worlds. Both groups appreciated the wildlife viewing, and everybody appreciated fresh seafood dinners from the wild waters of Alaska.
Local journalism is essential.
Give directly to The Spokesman-Review's Northwest Passages community forums series -- which helps to offset the costs of several reporter and editor positions at the newspaper -- by using the easy options below. Gifts processed in this system are not tax deductible, but are predominately used to help meet the local financial requirements needed to receive national matching-grant funds.
Subscribe to the sports newsletter
Get the day's top sports headlines and breaking news delivered to your inbox by subscribing here.
---