Sports > Outdoors
Winter camping proves good way to reset internal clock, study finds
Sun., Dec. 10, 2017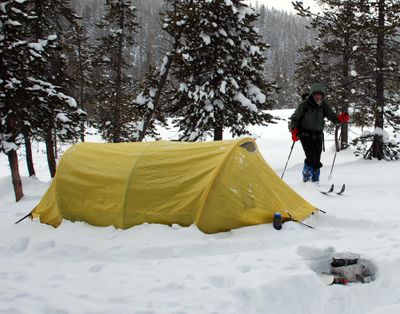 Camping in winter can be miserable. The nights seem painfully long. I toss, turn and check my watch frequently, wondering how it is that only an hour has passed since I last checked the clock.
New research may give winter campers like me some hope that those cold outings may be of benefit in an unusual way.
According to a study published in "Current Biology" by the Sleep and Chronobiology Lab at the University of Colorado, sleeping outside is a good way to reset your restless winter internal clock.
Summer sun
In a previous study the lab's Kenneth Wright found that exposure to electrical lighting delays our internal clocks by about two hours a day. When his study subjects spent a week in the summer sun, their internal clocks reset, sending people to bed earlier although they still slept about the same amount of time.
The way the scientists measured this change was by fluctuations in the body's production of the hormone melatonin. When it is dark outside, or inside, our bodies produce melatonin, signaling it's time to go to sleep. Just the opposite is true, also: Light signals our bodies to produce less melatonin so we wake up. Some people take melatonin in pill form to help them sleep.
But what about in winter, especially in our northern regions, where days are considerably shorter and we sometimes slog to work in the dark and leave to go home in the darkness, as well? These short days can cut our exposure to sunlight by as much as 13 times the amount compared to what we get in the summer.
Wintertime
To see what would happen in winter, Wright sent a group of five people camping in Colorado close to the shortest day of the year and didn't let them take any flashlights or cellphones to see how the change would affect their sleep and hormonal rhythms.
Just like in the summer, the winter campers went to bed about two hours earlier.
Wright and his colleagues also asked whether only camping for a weekend in the summer was enough to shift the human clock. It was. This time, they sent nine active people camping while another five stayed at home. A weekend spent camping prevented the typical weekend pattern of staying up late and sleeping in and prevented individuals' circadian clocks from being shifted even later.
"Our findings demonstrate that living in our modern environments contributes to late circadian timing regardless of season and that a weekend camping trip can reset our clock rapidly," Wright said in a press release.
So if you are looking for another excuse to spend time in the woods, you can now cite scientific findings as a good reason.
Wright also recommended increasing daytime exposure to sunlight and reducing nighttime exposure to electrical lighting as a way to stay in harmony with your body and nature. And he offered another solution that many of us office stowaways could probably relate to.
"Our findings highlight an opportunity for architectural design to bring in more natural sunlight into the modern built environment and to work with lighting companies to incorporate tunable lighting that would be able to change across the day and night to enhance performance, health, and well-being," he said.
I don't know about you, but more hours of sunshine can't come soon enough for me.
Local journalism is essential.
Give directly to The Spokesman-Review's Northwest Passages community forums series -- which helps to offset the costs of several reporter and editor positions at the newspaper -- by using the easy options below. Gifts processed in this system are not tax deductible, but are predominately used to help meet the local financial requirements needed to receive national matching-grant funds.
Subscribe to the sports newsletter
Get the day's top sports headlines and breaking news delivered to your inbox by subscribing here.
---