News > Pacific NW
Negotiations to start next year on updating the Columbia River Treaty
Dec. 11, 2017 Updated Tue., Dec. 12, 2017 at 10:22 a.m.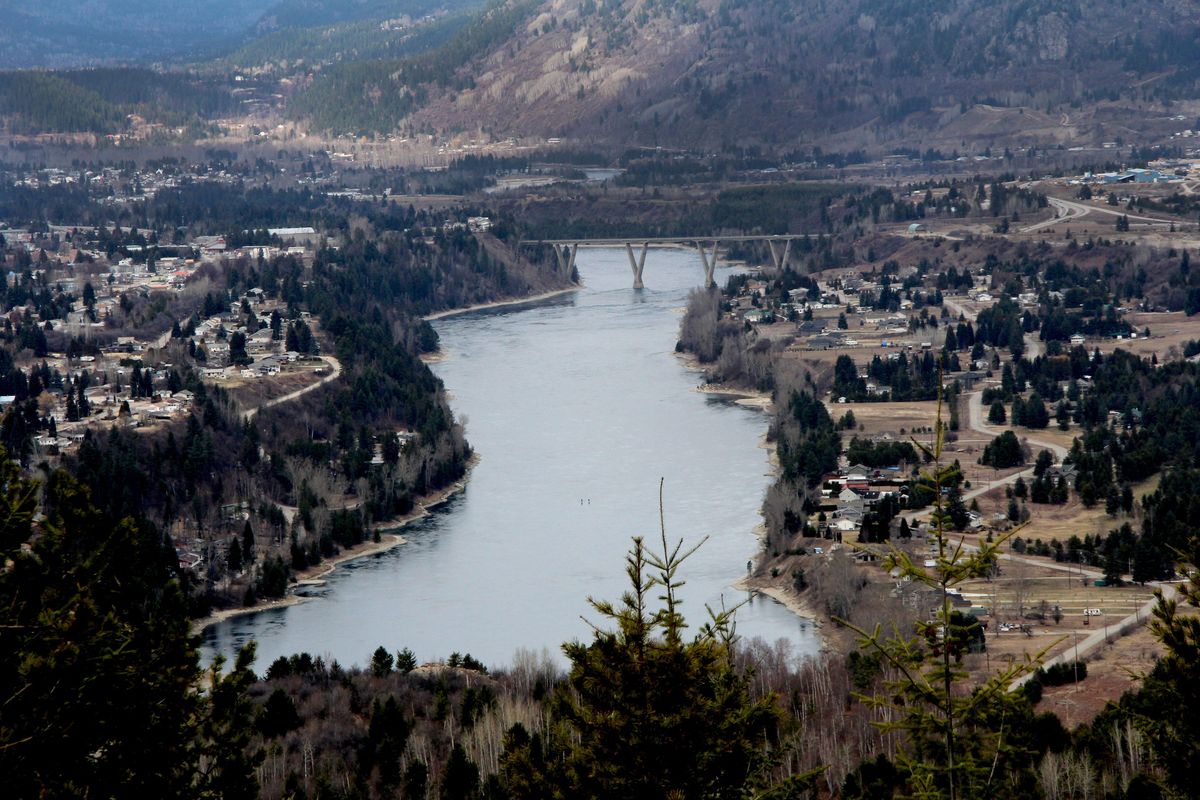 The Columbia River flows through Castlegar, British Columbia, near its confluence with the Kootenay River. (Becky Kramer / The Spokesman-Review)Buy a print of this photo
Negotiations over the future of the Columbia River Treaty will start early next year between the United States and Canada.
The 1964 treaty governs hydropower and flood control operations along the Columbia, whose headwaters are fed by British Columbia's snowy mountain ranges, and whose mainstem flows more than 1,200 miles to the ocean.
Though the treaty still is hailed as an example of international cooperation, the Northwest's congressional delegation has been pressing the U.S. government to reopen treaty negotiations for several years. The treaty doesn't have an expiration date, but either country can cancel most of its provisions after September 2024, with a 10-year minimum notice.
The possibility of a renegotiated treaty has spurred interest on both sides of the border. Late last week, the U.S. State Department briefly announced that the two countries would start formal negotiations in 2018.
The treaty is "an issue of paramount importance to the entire Pacific Northwest region as it affects our economy, power generation, electricity rates, and flood control needs of communities," according to a bipartisan letter signed last summer by U.S. Reps. Dan Newhouse, R-Wash., Cathy McMorris Rodgers, R-Wash., and four other Northwest representatives.
Modernizing the treaty to balance flood control, hydropower generation and environmental protections could benefit both Canada and the U.S., said U.S. Sen. Maria Cantwell, D-Wash., in a statement.
Tribes want the Columbia to flow more like a natural river with additional releases of water in dry years to aid struggling salmon and steelhead runs. Upper Columbia tribes and First Nations in Canada also see treaty negotiations as a possible vehicle for reintroducing salmon runs above Grand Coulee Dam.
Northwest utilities want the U.S. to renegotiate the "Canadian Entitlement," an annual payment of $250 million to $350 million to Canada. The payments were intended to reimburse Canada for building storage dams in the Upper Columbia Basin to benefit downstream power generation, but an outdated formula overpays Canadians, a coalition of more than 80 Northwest utilities has contended.
The payments affect the monthly bills of 6.4 million electric customers in the Pacific Northwest. British Columbia officials, however, say the Canadian government needs a better accounting of the benefits Americans get from the vast amounts of water stored north of the border.
Canadians also hold the cards to future water supplies. About 20 percent of the Columbia watershed lies within Canada. As the climate warms, tall mountain ranges in interior British Columbia will continue to have reliable snowpack, climate models indicate.
In British Columbia, meanwhile, residents living along the river want more stability in reservoir levels.
In the resort town of Nakusp, B.C., residents want more stability in reservoir levels. They can rise or fall as much as 70 feet, exposing vast mudflats at the river's edge. Big fluctuations in water levels behind B.C. dams allow U.S. reservoirs to operate at more constant levels, but they come at a high price to Canadians living along the river, they say.
Local journalism is essential.
Give directly to The Spokesman-Review's Northwest Passages community forums series -- which helps to offset the costs of several reporter and editor positions at the newspaper -- by using the easy options below. Gifts processed in this system are not tax deductible, but are predominately used to help meet the local financial requirements needed to receive national matching-grant funds.
Subscribe now to get breaking news alerts in your email inbox
Get breaking news delivered to your inbox as it happens.
---