News > Nation
Oklahoma college board member chided for anti-gay comments
UPDATED: Mon., Dec. 11, 2017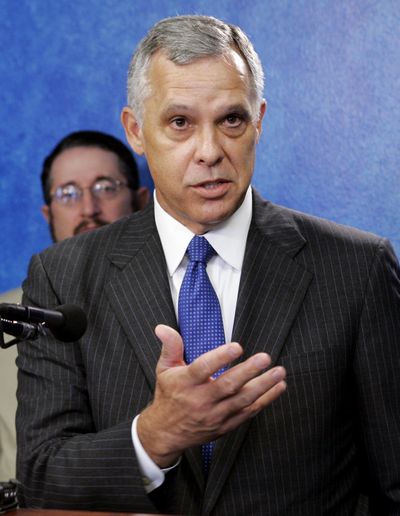 OKLAHOMA CITY – A former Oklahoma City mayor and member of the University of Oklahoma Board of Regents was rebuked Monday for comparing gay people to pedophiles and politicians who've recently resigned amid allegations of sexual misconduct.
Kirk Humphreys made the comments during a local TV public affairs show that aired over the weekend on KFOR-TV. Humphreys and others were discussing allegations against Minnesota Sen. Al Franken, who is stepping down, and President Donald Trump when Humphreys began to ramble about other subjects. He said he was "going to make a lot of people mad today."
"Is homosexuality right or wrong? It's not relative, there's a right and wrong," Humphreys said. "If it's OK then it's OK for everybody and, quite frankly, it's OK for men to sleep with little boys."
LGBTQ advocacy group Freedom Oklahoma called for Humphreys' removal from the Board of Regents if he didn't apologize. Executive Director Troy Stevenson said Monday that Humphreys' comments were disheartening and dangerous for LGBTQ youth who are already harassed and bullied.
A staffer at Humphreys' office said he was out of town Monday and unavailable to comment. Humphreys, 67, did not immediately reply to an email seeking comment.
The president of the University of Oklahoma distanced himself from Humphreys' comments. President David Boren noted that Humphreys was not speaking on behalf of the university, adding that the school was committed to diversity and inclusiveness.
"I do not share his views on this matter," Boren said in a statement.
A state lawmaker who appeared with Humphreys pushed back at him on the show, saying it was wrong to compare sexual misconduct and crimes to the legal behavior of consenting adults.
"Mr. Humphreys' comments were disgusting, offensive, and just plain wrong," Rep. Emily Virgin, a Democrat from Oklahoma City, later said on her Facebook page. "I unequivocally stand with the LGBT community."
Stevenson said his group planned to protest an Oklahoma City real estate project that belongs to Humphreys' family business if he doesn't apologize.
Local journalism is essential.
Give directly to The Spokesman-Review's Northwest Passages community forums series -- which helps to offset the costs of several reporter and editor positions at the newspaper -- by using the easy options below. Gifts processed in this system are not tax deductible, but are predominately used to help meet the local financial requirements needed to receive national matching-grant funds.
Subscribe to the Coronavirus newsletter
Get the day's latest Coronavirus news delivered to your inbox by subscribing to our newsletter.
---