News > Spokane
Dozens gather for menorah lighting in Riverfront Park
UPDATED: Tue., Dec. 12, 2017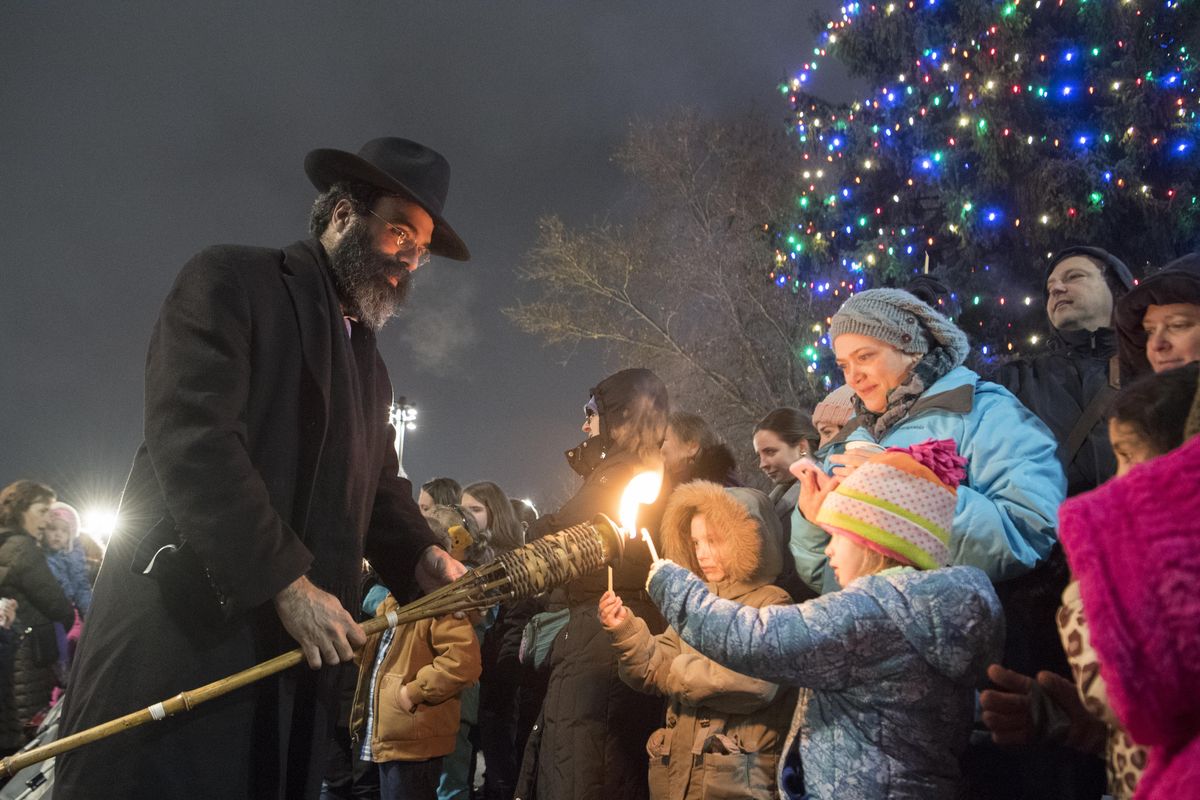 Rabbi Yisroel Hahn lights the candles of people who came to watch the lighting of the Hanukkah menorah in Riverfront Park. (Jesse Tinsley / The Spokesman-Review)
Dozens of candle-holding patrons gathered Tuesday at Riverfront Park for the lighting of a giant menorah, signaling the beginning of Hanukkah.
But before Rabbi Yisroel Hahn lit the shamash, he reminded the huddled crowd of the meaning of the eight-night Jewish holiday.
"It's the miracle of a few against many. The weak against the strong," Hahn said, referring to the Jews' triumph over the powerful Greek military over 2,000 years ago.
After dispatching the Greeks, the Jews lit the menorah in the Jerusalem Temple for eight nights with just a day's worth of oil.
"The message of Hanukkah is a universal message," Hahn said. "It's that light will always prevail over darkness.
"You can light up the world by doing acts of goodness and kindness. That's the message of Hanukkah."
Before the menorah was lit Tuesday, patrons lit each other's candles as a Jewish band played songs, their candles' hot wax dripping onto the cold pavement.
Music, hot cocoa, Jewish snacks, flame dancers and a dancing man in a dreidel costume were also part of the lighting ceremony, which took place in front of the new Ice Ribbon skating venue.
A limousine with a menorah on its roof also made a drive-by appearance.
The dreidel costume was the biggest hit, though. Many people could be seen taking selfies with the man in the blue costume, who danced to a variety of songs, including "Dreidel, Dreidel, Dreidel."
Greg Elmore, a U.S. Army veteran, was the man inside the costume livening up the scene.
"This was a fun event," said Elmore, who said he got the costume from Hahn. "Holding my (costume's) head on was hard while dancing, but it was good. My great-grandmother was Jewish and I've always liked Jewish traditions like this."
Braving the cold with hundreds of others at the ceremony, Chabad of Spokane member Phillip Avnet said he relished the experience.
"It's an excellent opportunity for the entire Jewish community, to unite us and celebrate. It's an opportunity for everyone to get together," Avnet said. "It's great to see our fellow Jews, fellow Christians and fellow Muslims, we're all one community. It's a beautiful experience."
Local journalism is essential.
Give directly to The Spokesman-Review's Northwest Passages community forums series -- which helps to offset the costs of several reporter and editor positions at the newspaper -- by using the easy options below. Gifts processed in this system are not tax deductible, but are predominately used to help meet the local financial requirements needed to receive national matching-grant funds.
Subscribe now to get breaking news alerts in your email inbox
Get breaking news delivered to your inbox as it happens.
---