A&E
Manito Tap House reveals updated, innovative menu
Tue., Dec. 12, 2017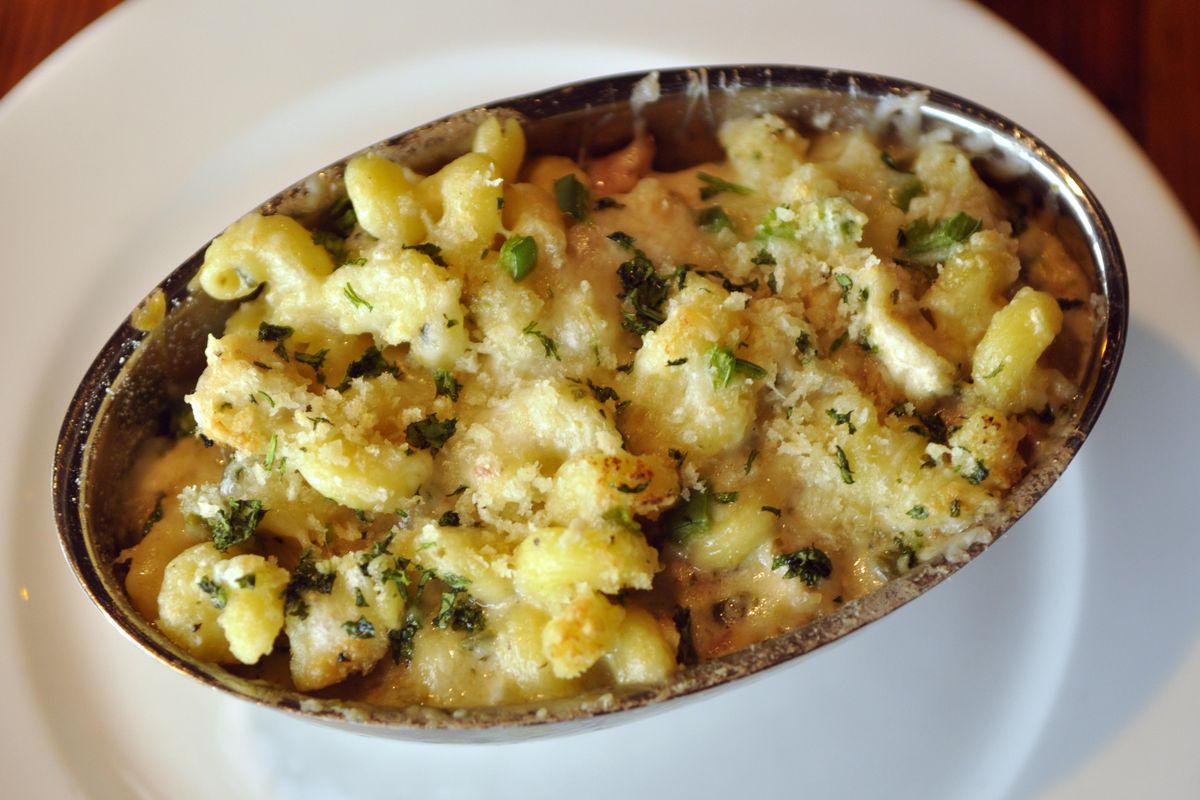 Mac and cheese is a menu staple at Manito Tap House, which is slated to sell to Nelson Phelps Hospitality. (Adriana Janovich / The Spokesman-Review)
There's a new menu at Manito Tap House, which is known for its 50 rotating taps but – save for specials and fresh sheet items – otherwise unchanging food offerings.
Executive chef Molly Patrick and chef Chris Harnett revamped "everything," except for two burgers: the signature Tap House burger and the Grand Burger aka "the Plain Jane," Patrick said.
The new offerings are more streamlined and more contemporary, and include more shareables. "Now you can order small plates and eat together," Patrick said.
Influences are Asian, Middle Eastern and Southern, but not too Southern.
Patrick oversees two Spokane restaurants – the tap house and Blackbird Tavern and Kitchen – and the latter's specialty is eclectic, Southern-inspired fare with plenty of wood smoke.
New tap house menu highlights include Moroccan lamb stew, cauliflower tagine, roasted potato salad and an apple wedge salad.
New snacks are charcuterie and cheese boards, cooked-to-order potato chips with blackberry salsa or Gorgonzola-bacon dip, brisket sliders and pigs-in-a-blanket.
"To me, it's all really comforting. Pigs-in-a-blanket," Patrick said, especially "remind you of home."
Another snack worth noting: chicken and gnocchi dumplings."It's like if gnocchi and your grandma's dumplings had a baby," Patrick said. "It looks like a dumpling and tastes like gnocchi."
Gone from the menu are all of the versions of macaroni and cheese: blackened and mild, medium or hot green chili. But don't worry: there's still a version of the classic comfort food on the new menu. It's a little bit Southern as well as re-imagined: pimento mac with pancetta, a crispy Parmesan bottom and sunnyside up egg.
A Korean salmon burger, Peking wrap and peanut butter jalapeno crunch burger round out the menu.
Opened in 2011, Manito Tap House – done in reclaimed barn wood and other recycled materials – has been hailed for its green building and practices. It's located at 3011 S. Grand Blvd. On the web: manitotaphouse.com.
Local journalism is essential.
Give directly to The Spokesman-Review's Northwest Passages community forums series -- which helps to offset the costs of several reporter and editor positions at the newspaper -- by using the easy options below. Gifts processed in this system are not tax deductible, but are predominately used to help meet the local financial requirements needed to receive national matching-grant funds.
Subscribe to the Spokane7 email newsletter
Get the day's top entertainment headlines delivered to your inbox every morning.
---