A&E
New Vine and Olive in Coeur d'Alene dishes up Northwest flavor with European flair
Dec. 12, 2017 Updated Tue., Dec. 12, 2017 at 6:25 p.m.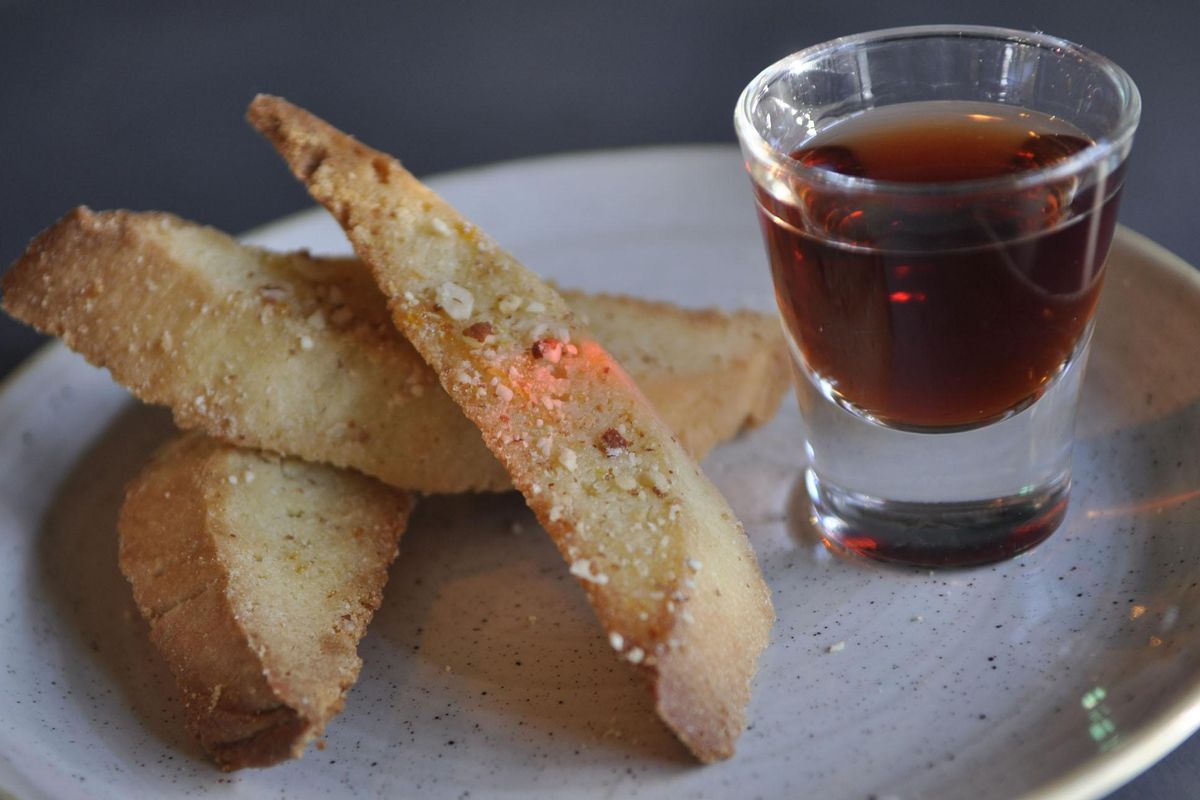 One of Naomi Boutz's favorite desserts is biscotti with a shot of tawny port. She often serves this dish to guests at her home, and it's now on the menu at her new restaurant and wine bar, Vine and Olive, in the Riverstone development in Coeur d'Alene. (Adriana Janovich / The Spokesman-Review)
Naomi Boutz started jotting down ideas – for decor, wine, small plates, other must haves – about two years ago.
She wanted the look to be "industrial chic," but also warm and inviting, "with a coziness to it." She wanted barn wood, a sort of rustic elegance, and a touch of Europe in the Inland Northwest.
Even while she was still defining her concept, one thing was for sure: there would be escargots.
"I love escargots," she said, over a ceramic dish with six indents holding garlic-herbed snails in buttery pools. "And you don't see them very often," she said – at least not in North Idaho.
Traditional French-style escargots are one of the signature staples at the new Vine and Olive Riverstone Eatery and Wine Bar, where most of the menu – intentional, elegant, simple – will change seasonally. The focus is Pacific Northwest wine and European-inspired small plates with seasonal ingredients.
"We don't want to force anything," Boutz said. "I want everything to be thoughtful and focused."
Boutz said she's always wanted to open a place of her own. But it wasn't until about two years ago that she seriously began tracking ideas and refining her concept.
"This is two years of notebooks come to life," she said. "This is my vision, my baby, my dream."
Vine and Olive opened Nov. 20. There's seating for 95 inside, and Boutz is planning to add some outdoor seating when the weather warms up. Eight taps offer brews from Idaho, Washington, Oregon and Montana, and Boutz said she plans to always keep the beer regional.
The wine focus is also Pacific Northwest. Labels from Washington, Idaho and Oregon make up about 75 percent of her inventory. The rest are what Boutz refers to as "interesting imports" – largely from Australia, Argentina, Italy and France.
Boutz, 39, traveled to Italy and France for the first time about 18 months ago, and those two weeks left an impression. "I feel in love with how seriously they take their food," she said. At the same time, she said, "they do it so simply."
That's the same philosophy she was after for Vine and Olive, where most dishes are typically fashioned from only four to five ingredients, many of which are sourced regionally. Boutz uses Meishi oysters from Western Washington, which are served with apple-celery granita and cocktail sauce, as well as beef from Idaho ranchers and greens from Coeur Greens.
Meantime, the seasonal sweet potato ravioli with sage and pumpkin seeds has been a top-seller. So has the Caesar salad with grated lemon for added brightness.
Rounding out the menu are diver scallops with crispy Brussels sprouts and chorizo, braised octopus with sun-dried tomatoes and feta, and fettuccine carbanara with pancetta and a fried egg.
"What I love about Italy is you can have pasta for lunch and dinner without feeling glutinous, without feeling full," said Boutz, who was after the same sort of portion size at Vine and Olive.
Plates are small and meant for sharing or sampling several. But four larger plates – crispy chicken with apple slaw and honey butter, braised short ribs with creamy polenta, steak frites with pepper sauce, the scallops – are also available.
Plates are divided on the menu by category: large, hot, cold and sweet.
For dessert, try one of Boutz's signature offerings, a dish she often offers to guests in her own home: a trio of almond-orange biscotti with a shot of tawny port.
There's coffee, too. It comes from Spokane's Roast House.
Paul Mason, who moved here from Chicago, is the chef at Vine and Olive. His third "interview" was cooking dinner for Boutz and friends – including Inland Northwest restaurateur Adam Hegsted and wife Jennifer Riplinger – at Boutz's home.
Boutz lists Hegsted as not only a friend and former boss but mentor. He was the last of a succession of three owners of the Cellar while she worked there and encouraged her, she said, to branch out on her own.
Before opening Vine and Olive, Boutz managed the wine program at the Cellar in downtown Coeur d'Alene. She worked there for nearly 11 years, starting as a server and working three nights per week while finishing up her degree at Lewis-Clark State College.
Before that, she worked as a paralegal and was a stay-home mom to her two boys, now 18 and 16.
Boutz, of Liberty Lake, grew up in North Idaho, graduating from St. Maries High School in 1996. When she's not managing her restaurant, she's usually outside or training for triathlons and half-marathons. On her bucket list: hiking the 490-mile Camino de Santiago from the foothills of the Pyrenees in France to Santiago de Compostela, the capital of the Galicia region in Spain.
Meantime, Boutz keeps about 75 different wines on hand at Vine and Olive, compared to some 400 at The Cellar. She also offers a wine-of-the-month club with four different tiers: select, with an average bottle price of $15 to $25; classic, with an average bottle price of $25 to $35; collectors, with an average bottle price of $40 to $65; and premier cru, with an average bottle price of $75 to $125. For the first two tiers, members can select red or white. It's reds only for the higher levels.
It's free to join, and wines are delivered to personal bins in Vine and Olive's private wine-club room, anchored by a barn wood table that stretches 10 feet, 9 inches and seats 12. A dozen rows with 10 bins in each line one of the walls. So far, 106 of the 120 bins are spoken for.
"It takes the risk out of exploring wine," Boutz said, noting she tries "like 50 different wines in one month just to find three or four sure bets."
She hopes Vine and Olive becomes a gathering place for the community, particularly wine enthusiasts.
"I want to be the wine bar of 'Cheers,' " she said. "I want people to feel welcome. I wanted it to be open but still cozy."
Local journalism is essential.
Give directly to The Spokesman-Review's Northwest Passages community forums series -- which helps to offset the costs of several reporter and editor positions at the newspaper -- by using the easy options below. Gifts processed in this system are not tax deductible, but are predominately used to help meet the local financial requirements needed to receive national matching-grant funds.
Subscribe to the Spokane7 email newsletter
Get the day's top entertainment headlines delivered to your inbox every morning.
---