News > Spokane
Boy Scouts donate to Crosswalk teen shelter
UPDATED: Wed., Dec. 13, 2017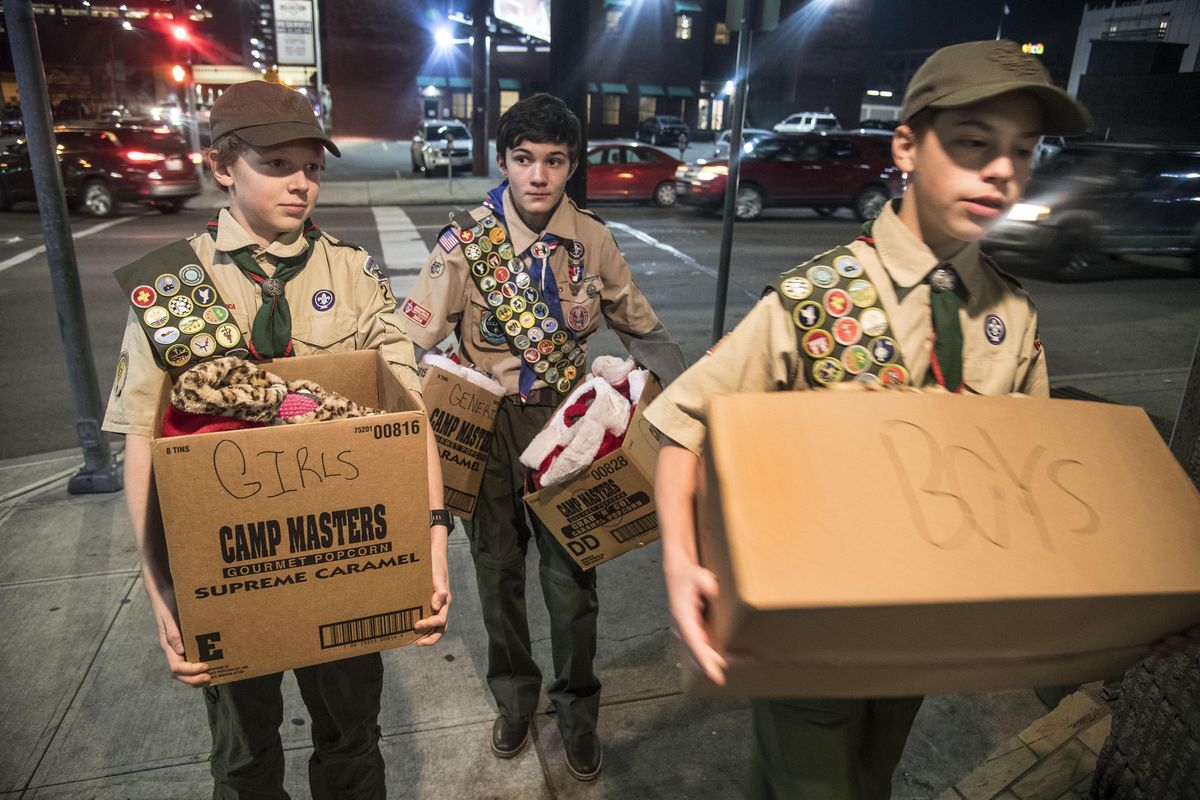 Boy Scouts from Troop 2208, from left, Sam Hanson, Cooper Cervelli and Colby Burris, carry 40 Christmas stockings into Crosswalk teen shelter, Monday, Dec. 11, 2017, in Spokane. Twenty stockings contained gifts for boys and the other 20 had gifts for girls. (Dan Pelle / The Spokesman-Review)
For homeless teens, Christmas is an especially lonely time of year, but a Spokane Boy Scout troop is working to make their holiday season a little brighter.
Three Boy Scouts from Whitworth Troop 2208 stopped by Crosswalk teen shelter Monday evening to drop off 40 stockings filled with scarves, socks, toiletries, McDonald's gift cards and candy canes.
"This is just kind of a gift from Troop 2208," said Colby Burris, 14.
Cooper Cervelli, 13, Sam Hanson, 13, and troop mom Angela Adams joined Burris on Monday night. The group of about 40 active members stuffed the stockings assembly-line style after spending the past month collecting the goodies.
Adams said this is their first donation activity this year, but the Scouts have volunteered for chipper days to help with clean-green cleanup in their neighborhood and picking up trash at Hoopfest.
She said they wanted to do something for the teens at Crosswalk, "because it's for teenagers just like them." Adams used to volunteer at the shelter and knows about its needs.
Dorothy Balum, a volunteer at the shelter for more than 30 years, said donations like these stockings mean a lot to the shelter's clients. The gift cards, about $5 each at McDonald's, are especially popular.
"That wouldn't be much to us, but it would to them," she said. While the shelter provides three meals a day, sometimes getting to buy a hamburger at a restaurant is a special treat.
"It means so much," Balum said.
Crosswalk teen shelter, run by Volunteers of America, helps teens 24 hours a day. Case manager Terran Echegoyen said there are about 30 to 40 clients who use the shelter for drop-in services. They can get meals, have an address to receive mail, get homework help, use the computers, get job assistance, see a nurse or a chemical dependency counselor or receive housing assistance.
The shelter also provides a safe place to sleep for those who have nowhere else to go.
Echegoyen said she is very thankful for the volunteers who help at the shelter. After hours, volunteers run the shelter, and there are always at least two volunteers staffing Crosswalk from 9 p.m. to 9 a.m.
Balum said the clients will get the stockings on Dec. 21, when they have a holiday celebration.
"We always need to help kids as much as we can," Balum said.
Local journalism is essential.
Give directly to The Spokesman-Review's Northwest Passages community forums series -- which helps to offset the costs of several reporter and editor positions at the newspaper -- by using the easy options below. Gifts processed in this system are not tax deductible, but are predominately used to help meet the local financial requirements needed to receive national matching-grant funds.
Subscribe now to get breaking news alerts in your email inbox
Get breaking news delivered to your inbox as it happens.
---