News > Spokane
Early turning point has young West Valley wrestlers hungry to compete
Wed., Dec. 13, 2017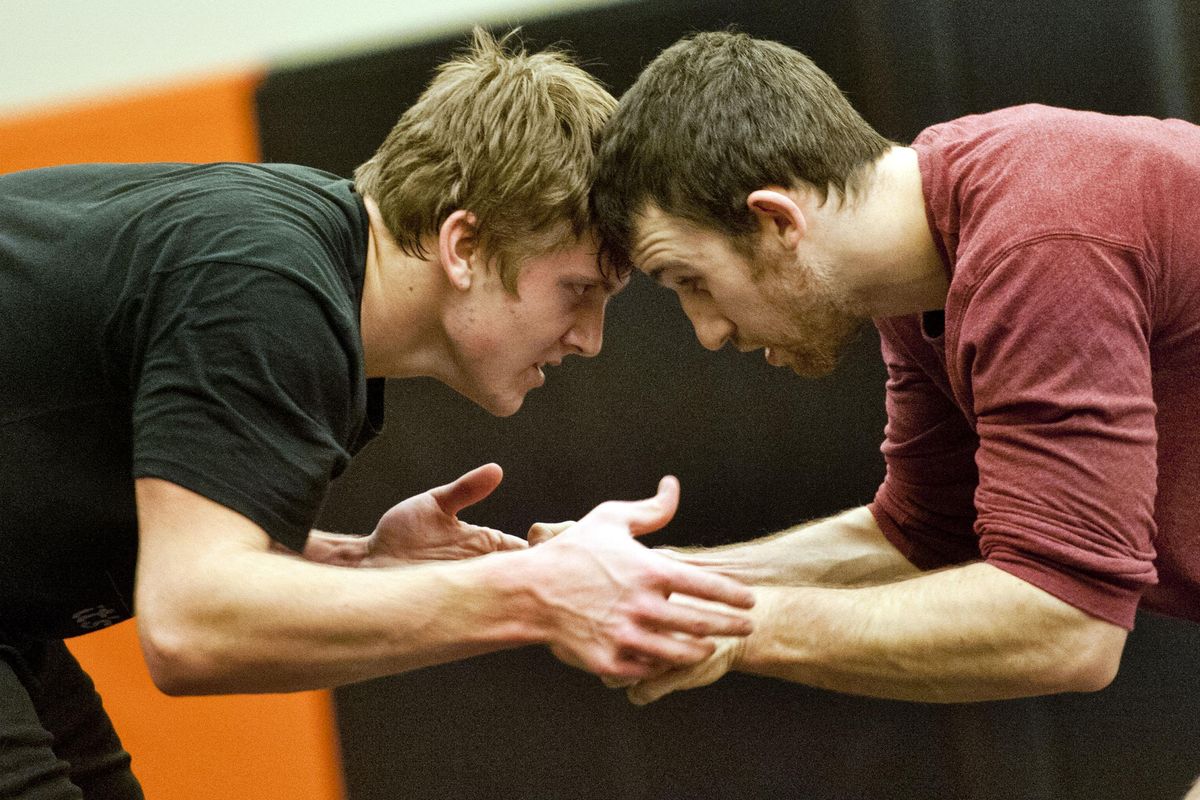 West Valley's Ethan Simpson, left, wrestles with assistant volunteer coach Jacob Harkness during practice on Tuesday, Nov. 28, 2017. (Kathy Plonka / The Spokesman-Review)
You don't generally look for a major turning point in a season while it's just getting started, but there it was.
Geoff Hensley had been pulling double duty as the winter sports season got underway – coaching the football team as it prepared for the state Class 2A playoffs after school, then coaching wrestlers in the evening.
While the football team was undefeated heading into the state semifinals, Hensley was working with a very, very young group of wrestlers.
"We're really young," he said. "I mean really young. We have three seniors and a bunch of freshmen."
And then the football season ended in a 53-30 loss to Hockinson.
"After we lost to Hockinson, I told our players who wrestle to take a couple days off before starting out," Hensley said. "But Logan Reser and Scotty Bray didn't do that. They were there that Monday, and they blew their lungs out. They didn't hold back at all – I'm not sure if that was them dealing with the heartbreak of losing the football game or what – but they went all out.
"That changed the course of our whole season, right then and there. Those two guys came in and said, 'Hey, we're going to wrestle.' Our young guys saw them working that hard, and it inspired them."
Hensley has a smaller group of wrestlers to work with, just 25 wrestlers total in the practice room every day. But the Eagles can field a full varsity lineup for the first time in a while.
"A lot of that is just plain luck," the coach explained. "We actually had a bigger group last year. But you can have more numbers and still not have someone who can wrestle at 113 pounds. You end up being more of a tournament team because you've got good numbers at heavyweight."
And the Eagles are hungry for competition – something that has the coach excited about the season.
"The culture in our wrestling room, the coaching staff we've been able to assemble – we're having a ton of fun," Hensley said. "This is the most fun I've had coaching in a few years."
Mike Williams brings much to the table as an assistant coach, but it's a pair of newcomers who have added much to the culture in the practice room.
Pat Gannon joins the staff, bringing a deep and rich history at West Valley. The Gannon family has had more success in orange and black than any the school has ever produced – over two generations now.
Two of his brothers were members of the only West Valley team to win a state team championship: Steve was a state champion on that 1972 team, and Glenn placed third. The Wall of Honor in the practice room could almost double as the Gannon Family Tree – and would double in size if only the Gannon sisters had been allowed to wrestle.
Also new to the WV staff is Cory Fish, a two-time state champion at University High and a Pac-10 wrestling champion at Boise State and three-time NCAA tournament qualifier.
"What these two guys bring to the room is incredible," Hensley said. "Pat is a rah-rah guy and he's ideally suited to talking to the guys as a group. Cory is so technically sound, and he is able to really tailor what he says to individual kids. And I can't tell you what it adds to our culture to have a Pac-10 champion in our room."
Fish, too, is ideally suited to working with a group of young, excited wrestlers. There has long been a rumor that, during his freshman year at U-Hi he had to keep a handful of rocks in his pocket in order to make the minimum weight for a 101-pound match.
Protective by nature, Hensley says he would be tempted to wrestle some of his youngsters on the junior varsity instead of throwing them into full-blown varsity competition. But this group wants the competition, takes its lumps and comes back just as hard for the next opportunity.
Opportunities like Wednesday's rivalry match with East Valley, the Golden Plunger match.
"These guys know what they're in for and still they're excited," the coach said. "East Valley is loaded this year and I can't remember the last time we beat them. It may have been 1980 for all I know.
"We are definitely underdogs in this match, but this group is willing to embrace that. They want to fight and they're proud of that fight. I don't know but I think this group has a high ceiling. They inspire me every day to watch them embrace the challenge."
Local journalism is essential.
Give directly to The Spokesman-Review's Northwest Passages community forums series -- which helps to offset the costs of several reporter and editor positions at the newspaper -- by using the easy options below. Gifts processed in this system are not tax deductible, but are predominately used to help meet the local financial requirements needed to receive national matching-grant funds.
Subscribe now to get breaking news alerts in your email inbox
Get breaking news delivered to your inbox as it happens.
---