News > Spokane
Spokane looks to expand school zone cameras, sidewalk and street improvements in 2019
Wed., Dec. 13, 2017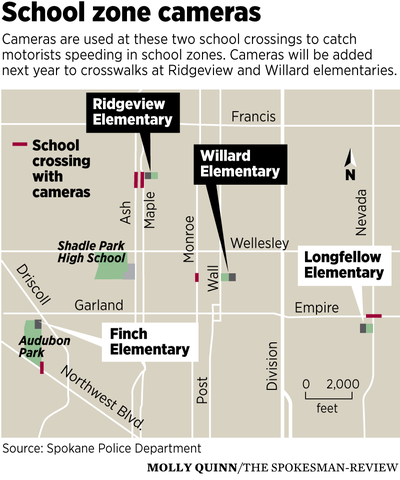 Two years after the city aimed cameras at speeders traveling through school zones, officials are pledging to expand their reach and the spending of more than $1 million collected in fines.
The Spokane City Council will consider doubling the number of school zone cameras from two to four next year, targeting two elementary schools in the North Hills neighborhood where up to nine out of 10 cars are blowing through the posted 20 mile per hour speed limit before and after classes.
"They're only going to places where there's a large volume of speeders, and the speeds are particularly high," said City Councilman Breean Beggs, who's sponsoring the resolution that not only adds cameras around Ridgeview and Willard elementary schools, but also sets up a long-term spending plan for the money paid in fines by drivers, limiting the city to paying for sidewalks, crosswalks, traffic-slowing devices and traffic police.
The city had considered installing the automated cameras at Lincoln Heights and Stevens elementary schools as recently as this summer. But a study conducted by American Traffic Solutions, the firm responsible for constructing and maintaining both the school zone and stoplight cameras around Spokane, indicated the two elementary schools in north Spokane were in more dire need of slowed traffic, council members said.
"I have had some concerns from people calling on both," said City Councilwoman Karen Stratton. "Ridgeview probably more, but both I have had complaints on."
Mark Sterk, director of safety for Spokane Public Schools, said the district had worked in close concert with city officials on potentially expanding the use of cameras.
"I think it is a good tool and it does slow people down," Sterk said. "We don't particularly care for the fact that we're writing tickets, but you just don't know what kids are going to do. The only thing you can do is slow that traffic down."
The school zone around Ridgeview spans both northbound traffic on Maple Street and cars traveling south on Ash Street. The study conducted by American Traffic Solutions during four days in June showed that 59 percent of drivers traveling north on Maple and 74 percent of drivers heading south on Ash were exceeding the posted speed limit by six miles per hour or more, enough to trigger a citation as part of the city's automated system.
On Tuesday afternoon, diners at the Maple Street Bistro near Ridgeview Elementary lunched on sandwiches and soup as motorists sped by the curved road just outside the window.
"I think it would be a good idea," said Derrick Johnson, a manager at the eatery, of installing traffic cameras along the corridor. "I think it would really be effective. There are a lot of crossing zones for students to go through."
Students at Ridgeview cross Maple and Ash at Rowan and Nebraska avenues, and it's not uncommon to see drivers exceeding 35 mph there even when school is letting out, Johnson said.
Lita Larsen was enjoying her monthly lunch with friends at the bistro, an empty cup of soup sitting on the table in front of her as she pointed at a red truck making the left hand curve on Maple outside the window.
"See? Like that one," she said. "I think, any time there's four lanes around all schools, they need (cameras) for the kid's safety."
There's evidence the city's two existing school zone cameras are discouraging speeding. Between January and November of last year, there were a total of 9,287 speeding tickets recorded at Longfellow and Finch elementary schools in Spokane, according to Craig Bulkley, the Spokane Police officer in charge of overseeing the city's traffic camera programs. The majority of those tickets were issued outside Longfellow Elementary, off of Nevada Street in the Nevada Heights neighborhood.
This year, that total has fallen to 7,347 citations, a drop of about 20 percent. Beggs said that number didn't include many second-time offenders, which he believes indicates the cameras are a success.
The fourth camera would be installed on Monroe Street, about two blocks west of Willard Elementary School. Flashing lights and a yellow sign near the tree line indicates to motorists traveling the busy north/south arterial of a crosswalk at the intersection with Heroy Avenue. Here, the traffic study indicated anywhere between 89 percent and 91 percent of drivers were traveling at least six over the speed limit.
"People fly through those zones," said Matt Truitt, principal of Willard Elementary. "A couple of times a year, we have some extreme safety risks."
Willard does bus some students that live closer to the Maple and Ash couplet, but several students who live farther east walk to school across that road, Truitt said.
The camera at Willard wouldn't be installed until the fall, when work is completed on the lane reduction farther south on Monroe, Beggs said.
In addition to approving more cameras, the council will be asked to commit to how the money paid in fines will be spent moving forward. When the panel first approved the speed cameras in 2015, they authorized the money "may be spent" on street improvements, but didn't prohibit other uses. A follow-up resolution last year, also sponsored by Beggs, split the money between street improvements and the salaries for four new neighborhood resource officers as well as a municipal court administrator to process the citations.
That resolution is in effect until the end of next year. Beggs' current proposal calls for limiting the funds to "infrastructure and programming initiatives" as well as "the hiring of traffic officers," with the requirement those traffic officers focus their attention on schools where there are not yet any speed cameras.
Beggs said the intent of the resolution is to make sure the money collected in fines doesn't become the cash cow for other departments that had been feared by those hesitant to approve the cameras in the first place.
"Anyone who thinks it's just about revenue, the whole point of this resolution is to narrowly define how much that money will be spent," Beggs said.
In addition to Beggs' proposal, the council will be asked to vote on a package of more than $2 million in road and sidewalk improvements throughout the city in 2019, funded almost evenly by the money collected in fines from school zone speeders and those motorists running red lights at camera-controlled intersections around town.
That's a significant bump from the $341,000 set aside for work next year, which Beggs said was driven by that large amount of money collected that had yet to be allocated for any specific project.
"We had so much money just sitting in the reserve that had been principally earmarked for these types of projects," Beggs said. "We said let's not sit on it, let's put it to use."
Between the red light cameras and those installed at the two elementary schools, the city has just under $3 million in what it calls its "traffic calming" account, according to the city's Engineering Services department.
Both resolutions will be considered at the City Council's final weekly meeting of the year, 6 p.m. Monday at City Hall, 808 W. Spokane Falls Blvd.
Local journalism is essential.
Give directly to The Spokesman-Review's Northwest Passages community forums series -- which helps to offset the costs of several reporter and editor positions at the newspaper -- by using the easy options below. Gifts processed in this system are not tax deductible, but are predominately used to help meet the local financial requirements needed to receive national matching-grant funds.
Subscribe now to get breaking news alerts in your email inbox
Get breaking news delivered to your inbox as it happens.
---