A&E > Movies
The 7: From the National Film Registry's 25 new titles, we pick our favorite 7
Wed., Dec. 13, 2017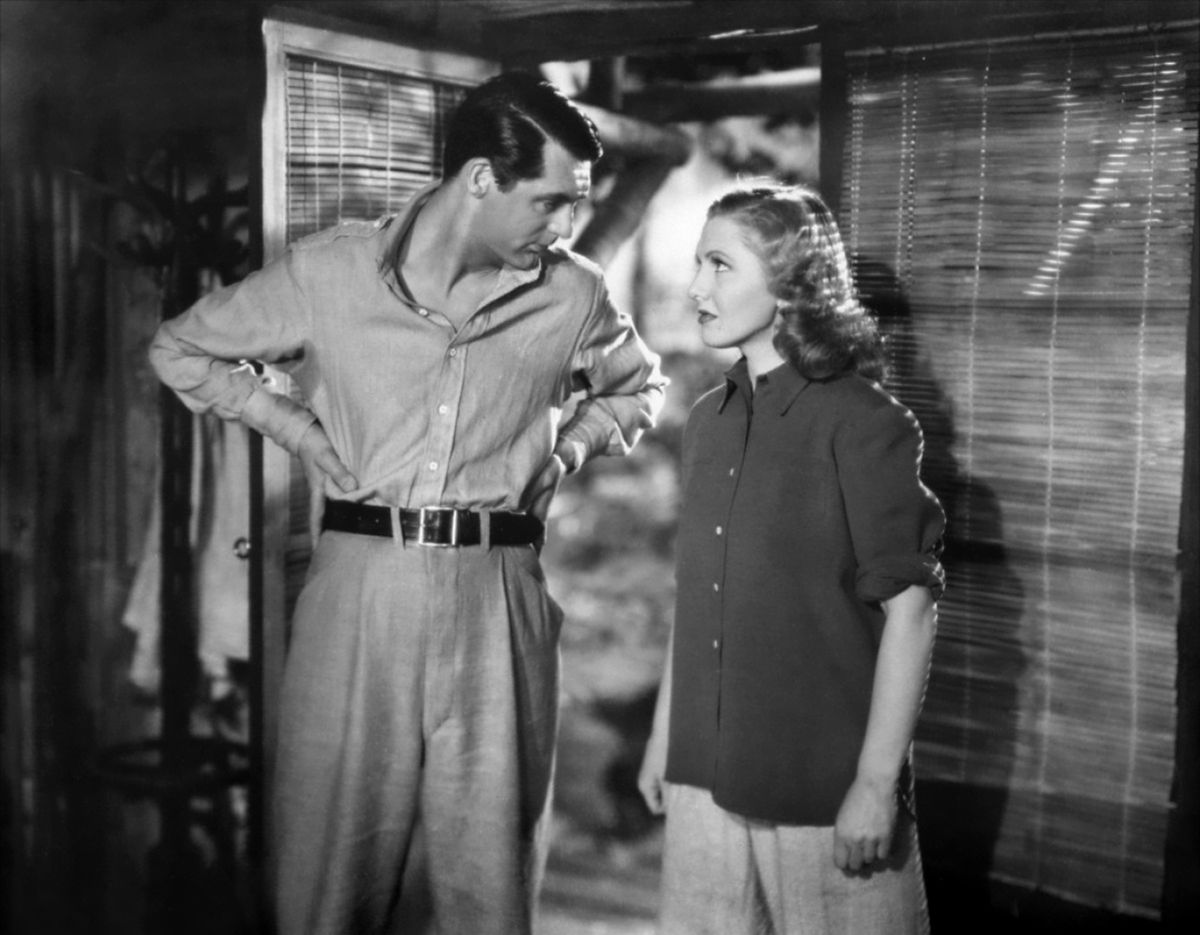 Cary Grant and Jean Arthur square off in Howard Hawks' 1939 classic "Only Angles Have Wings." (Sony)
The National Film Registry grew by 25 films on Wednesday, as Librarian of Congress Carla Hayden announced the latest entries into the collection. The list includes monster hits ("Titanic," "Die Hard"), powerful documentaries ("4 Little Girls," "Thelonious Monk: Straight, No Chaser"), and lauded classics ("Guess Who's Coming to Dinner," "Dumbo").
There is a lot of good stuff here, including beloved films like "The Goonies" and "Field of Dreams," and important movies that explore questions of race, religion and ethnicity, such as "To Sleep With Anger," "La Bamba," "Guess Who's Coming to Dinner," and "Gentleman's Agreement." While it's difficult to narrow our list to 7, we've given it a shot.
7. "4 Little Girls" In Birmingham, Alabama in 1963, a bomb ripped through the 16th Street Baptist Church, killing four African-American girls, ages 11-14. Spike Lee's Oscar-nominated 1997 documentary is a heartbreaking and sobering look at the lives of these girls, as told by those who remember them, and of a pivotal moment in the Civil Rights Movement. That this film was named to the registry the day after Doug Jones – who prosecuted two of the KKK members responsible for the bombing – won the Alabama Senate race seems very appropriate.
6. "Memento" Before he rebooted Batman for the new millennium, writer-director Christopher Nolan burst on the scene with this 2000 twisty thriller that is funny and deeply clever. Guy Pearce gives a memorable performance as a man with short-term memory loss who nevertheless keeps on the hunt for his wife's killer, using an elaborate system of tattoos and Polaroid photos.
5. "Spartacus" Director Stanley Kubrick shepherded a blockbuster cast of Kirk Douglas, Laurence Olivier, Tony Curtis, Peter Ustinov, Charles Laughton and Jean Simmons to tell the story of Spartacus, who led a slave revolt against Rome in the year 73 BCE. This iconic and landmark film, with a screenplay by fresh-off-the-blacklist Dalton Trumbo, shows that a grand "sword and sandals" adventure can be a work of art.
4."Superman" By today's standards, the special effects are cheesy. But that's part of what makes this "Superman" so special – because this movie is pure fun. Making Christopher Reeve fly was old-fashioned movie magic at its best. And the interplay between Reeve and Margot Kidder as Lois Lane is crackling good.
3."Ace in the Hole" This 1951 drama from writer-director Billy Wilder features another stunning Kirk Douglas performance as a down on his luck newspaper reporter who exploits the story of a man trapped in a cave for his own benefit. This is a tough little movie, full of sharp edges and unlikeable characters, that definitely leaves a mark.
2. "Die Hard" Yes, "Die Hard." When this action flick came out in 1988, Bruce Willis was mostly known as a TV actor ("Moonlighting") with a couple bad movies to his credit ("Blind Date," "Sunset"). That changed when Hans Gruber (a delicious Alan Rickman) and his band of thieves took over Nakatomi Plaza in Los Angeles during the company Christmas party. Willis' John McClane, just in from New York and hoping to reconcile with his wife, Holly (Bonnie Bedelia), must save the day. Without wearing shoes. Yipee-ky-yay, and Merry Christmas.
1. "Only Angels Have Wings" If you've not seen this 1939 Howard Hawks' classic, you've not seen one of Cary Grant's best screen performances in a career of great screen performances. He stars as Geoff Carter, head pilot of a struggling air freight company based in South America. Their route has them flying over the Andes, putting the pilots' lives in constant risk. Into Carter's life comes a woman, played by the incomparable Jean Arthur, who falls for him hard, complicating things for Carter. As Michael Skragow wrote when the Criterion Collection released a 4K restoration of the film, "Grant is great. Clad in broad-rimmed gaucho hats and gaucho pants, he delivers a robust, carnal, yet also delicate and sensitive performance as the flyboys' boss, who maintains their esprit de corps and discipline as they traverse the Andes in planes held together by the proverbial chewing gum and baling wire." The supporting cast is dynamite, too, with Thomas Mitchell (Uncle Billy from "It's a Wonderful Life") as Carter's right-hand man, Richard Barthlemess as a disgraced pilot seeking redemption, and Rita Hayworth in one of her most significant early roles.
Local journalism is essential.
Give directly to The Spokesman-Review's Northwest Passages community forums series -- which helps to offset the costs of several reporter and editor positions at the newspaper -- by using the easy options below. Gifts processed in this system are not tax deductible, but are predominately used to help meet the local financial requirements needed to receive national matching-grant funds.
Subscribe to the Spokane7 email newsletter
Get the day's top entertainment headlines delivered to your inbox every morning.
---