A&E > Music
Brass ensemble Clarion continues to twist up holiday classics on '…all is bright' tour
Thu., Dec. 14, 2017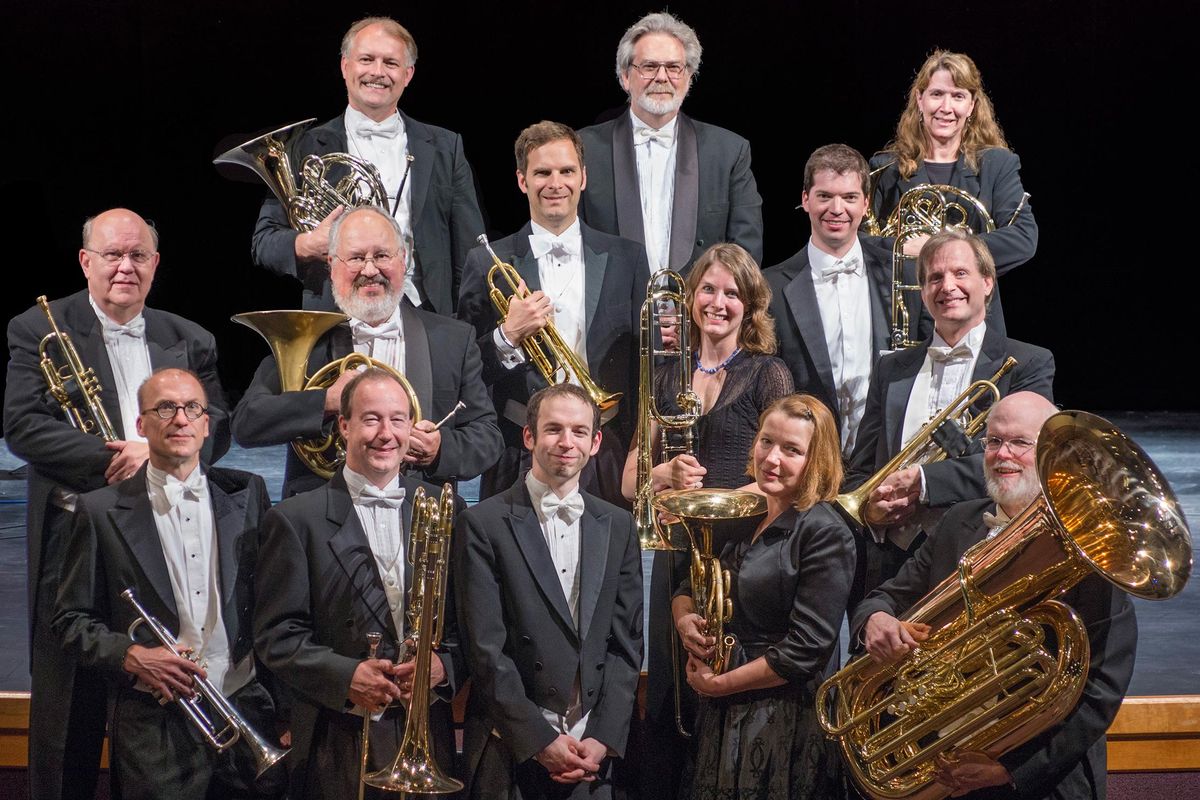 Brass ensemble Clarion turns classic holiday songs on their heads at its annual Christmas concerts. (Courtesy photo)
For 26 years now, Clarion, Spokane's 14-piece brass ensemble, has made being untraditional a holiday tradition, turning classic songs on their heads at its annual Christmas concerts.
This year, as part of what Clarion is calling the "…all is bright" tour, for instance, audience members will be treated to a "cocktail hour" arrangement of "I'll Be Home for Christmas," African drumming in "God Rest Ye Merry, Gentlemen," a rendition of "Santa Claus is Coming to Town" that sounds like it's straight out of New Orleans and much more.
The "…all is bright" tour brings Clarion to the Cathedral of St. John the Evangelist on Tuesday and the Salvation Army Ray and Joan Kroc Center in Coeur d'Alene on Wednesday.
All of the music Clarion plays at its Christmas concerts has been arranged by artistic director William Berry.
This year, for the first time, the ensemble will perform Berry's arrangement of "Joy to the World," a song that had been on his list for years.
"I approached it the same as I do with all of them," Berry said. "People have heard it a million times in different ways, from hip-hop to whatever, but what is it that my huge brass group can do to put our stamp on it?"
When Berry writes, he strives to reinvent a song without making it unrecognizable.
Some people simply enjoy the classics as they are – "White Christmas" sung by Bing Crosby and Bing Crosby only, Berry used as an example – but most Clarion audiences are open to something new.
"A lot of our audience really enjoys the intellectual stimulation of 'That's something I know and love. Boy, that's a new way to hear it and a new view,' " Berry said.
It took Berry about two weeks of writing for a couple hours early in the morning to arrange "Joy to the World" for Clarion, and he promises his arrangement will bring lots of joy and fanfare to the piece.
Also new this year is that cocktail hour arrangement of "I'll Be Home For Christmas," featuring a solo from bass trombone player Skyler Johnson.
Clarion, which features conductor Robert Spittal, Berry, Larry Jess, Eric Moe and James Smock (trumpets and flugelhorns), Kristin Joham, Charles Karschney, Roger Logan and Rebekah Schaub (horns), Ross Holcombe and Richard Strauch (tenor trombones), Johnson, Leonard Byrne (tuba) and Paul Raymond (percussion), has performed the song during past Christmas concerts. When Johnson requested a solo and chose "I'll Be Home For Christmas," Berry set about writing something new.
"If I've done before, it has to be a really new way to do it," Berry said. "I don't want to repeat myself."
He and Johnson traded ideas back and forth via email and ended up with an arrangement reminiscent of Dean Martin and the Rat Pack era.
The concerts will also feature Clarion's first performance of "Jesus Christ the Apple Tree," a traditional American song that dates back to the 1700s, which features a call-and-response-like duet between Berry and Smock.
"Jesus Christ the Apple Tree" falls into the quarter of the program Berry said people might not be familiar with, while his arrangements of pieces like "My Favorite Things," with a solo from Joham, "Angels We Have Heard On High" and "Go Tell It On the Mountain" make up the more well-known part of the program.
When building the program for the Christmas concerts, Berry tends to make the first half a little more serious and straightforward and the second half a little more fun and varied, though things are often not so black and white.
"The group is able to do all these things so there's a mix," he said. "If you don't like what we're doing now, wait five minutes and the next one will be different. It really is about the thousand years of tradition, but it's songs people already know and hearing them in a new way. People really enjoy a fresh perspective on what we can do."
Local journalism is essential.
Give directly to The Spokesman-Review's Northwest Passages community forums series -- which helps to offset the costs of several reporter and editor positions at the newspaper -- by using the easy options below. Gifts processed in this system are not tax deductible, but are predominately used to help meet the local financial requirements needed to receive national matching-grant funds.
Subscribe to the Spokane7 email newsletter
Get the day's top entertainment headlines delivered to your inbox every morning.
---