News > Spokane
Crowds flock to the theater as 'Star Wars: The Last Jedi' opens with a roar
Dec. 14, 2017 Updated Fri., Dec. 15, 2017 at 4:42 p.m.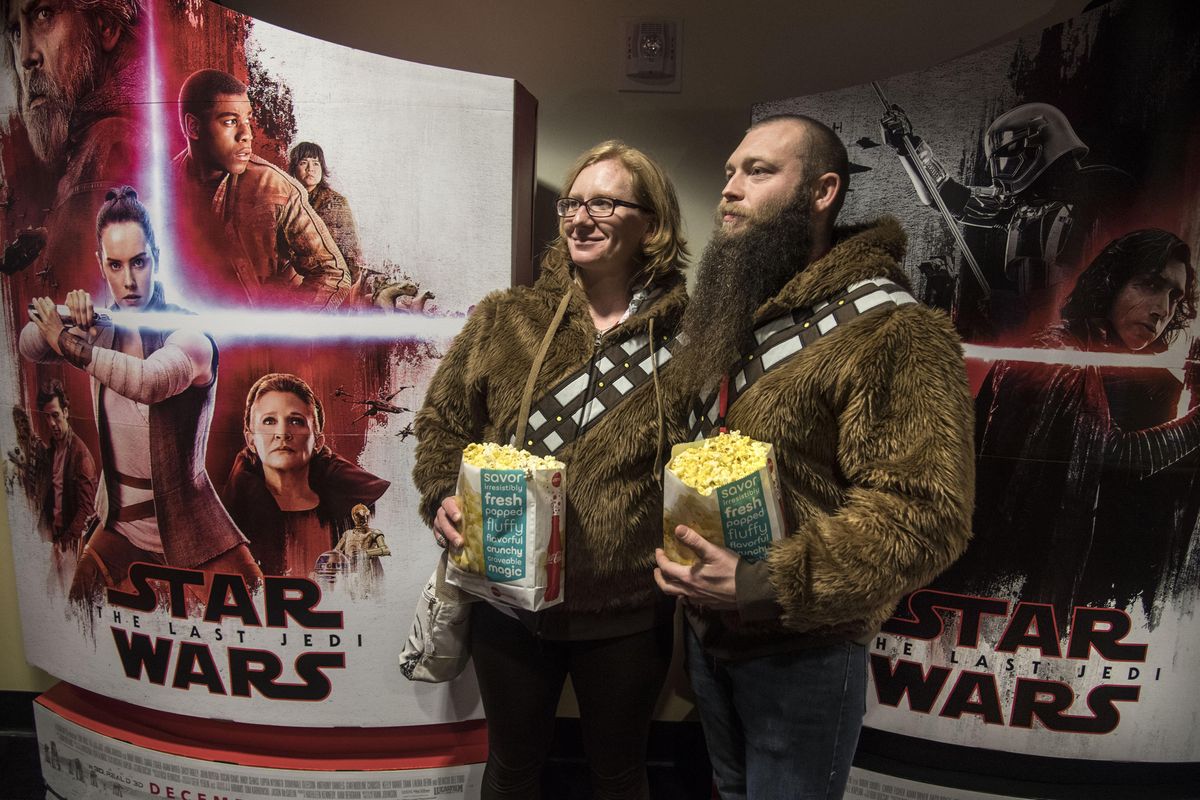 Kristen and Charlie King wore their Wookie coats to the new movie ÒStar Wars: The Last Jedi.Ó Thursday, Dec. 14, 2017 at the AMC River Park Square theater. (Dan Pelle / The Spokesman-Review)Buy a print of this photo
It was an opening night of galactic proportions.
River Park Square's AMC Theater pulled out all the stops Thursday, offering a whopping 37 screenings – by a far, far-away margin the most in the theater's history – of "Star Wars: The Last Jedi."
Showings from as early as 3 p.m. to 2 a.m. attracted throngs of voracious fans, all of them eager to see the eighth installment of the series, now 40 years in the making.
The film is expected to match the record-breaking pace of its predecessor, "The Force Awakens," which earned $529 million in its opening weekend.
"For a showing like this, we didn't want to turn anyone away," said AMC Theater manager Janell Wendle.
Still, it helped to plan ahead. Jared Payton, a Gonzaga University employee, had the foresight to buy his ticket two months ago, when they first became available.
Decked out in a furry Chewbacca jacket, a Darth Vader tie and Star Wars-themed shoes, Payton said he watched 2015's "The Force Awakens" and last year's "Rogue One" in theaters four times apiece.
If "The Last Jedi" is as good as he expects, Payton said, he'll coming back three more times.
"I expect them to expand the storyline of Star Wars quite a bit and bring a different perspective than what people have normally known," Payton said moments before walking into the theater. "I think the light side and the dark side are going to mix up to create the gray Jedi, a great expansion."
Mason Williams and his girlfrield, Michelle Brumley, said they anticipate the film's much-heralded protagonist Rey – played by Daisy Ridley – to deliver a force-fueled beatdown to her dark, brooding counterpart, Adam Driver, in the role of Sith apprentice Kylo Ren.
The couple said they were most intrigued by the return of Mark Hamill's Luke Skywalker character, who appeared at the end of the "The Force Awakens."
"I want to see what they do with Rey. I want to see what they do with Mark Hamill and I want to see Kylo Ren get his butt kicked," Brumley said.
Williams, wearing a tuxedo-style Death Star T-shirt, said he has been at every single opening show of every Star Wars movie dating back to the original, in 1977.
The 42-year-old said he was 2 years old when his parents brought him into the theater.
"Hopefully I didn't bother anyone while I was in there," the Spokane Valley man joked. "I definitely remember being at 'Empire Strikes Back' in 1980, though."
According to several movie critics, "The Last Jedi" advances the series without straying from its central themes with the use of old and new characters.
Wendle, who said this was the most screenings her theater has had for a single show, said she enjoyed the movie when she saw it Wednesday.
"I got to see it when we were testing it, making sure there weren't any glitches, you know," she said with a smile.
Local journalism is essential.
Give directly to The Spokesman-Review's Northwest Passages community forums series -- which helps to offset the costs of several reporter and editor positions at the newspaper -- by using the easy options below. Gifts processed in this system are not tax deductible, but are predominately used to help meet the local financial requirements needed to receive national matching-grant funds.
Subscribe now to get breaking news alerts in your email inbox
Get breaking news delivered to your inbox as it happens.
---