News > Spokane
Mother who lost everything turns to Bureau to help make a Christmas for her daughter
Thu., Dec. 14, 2017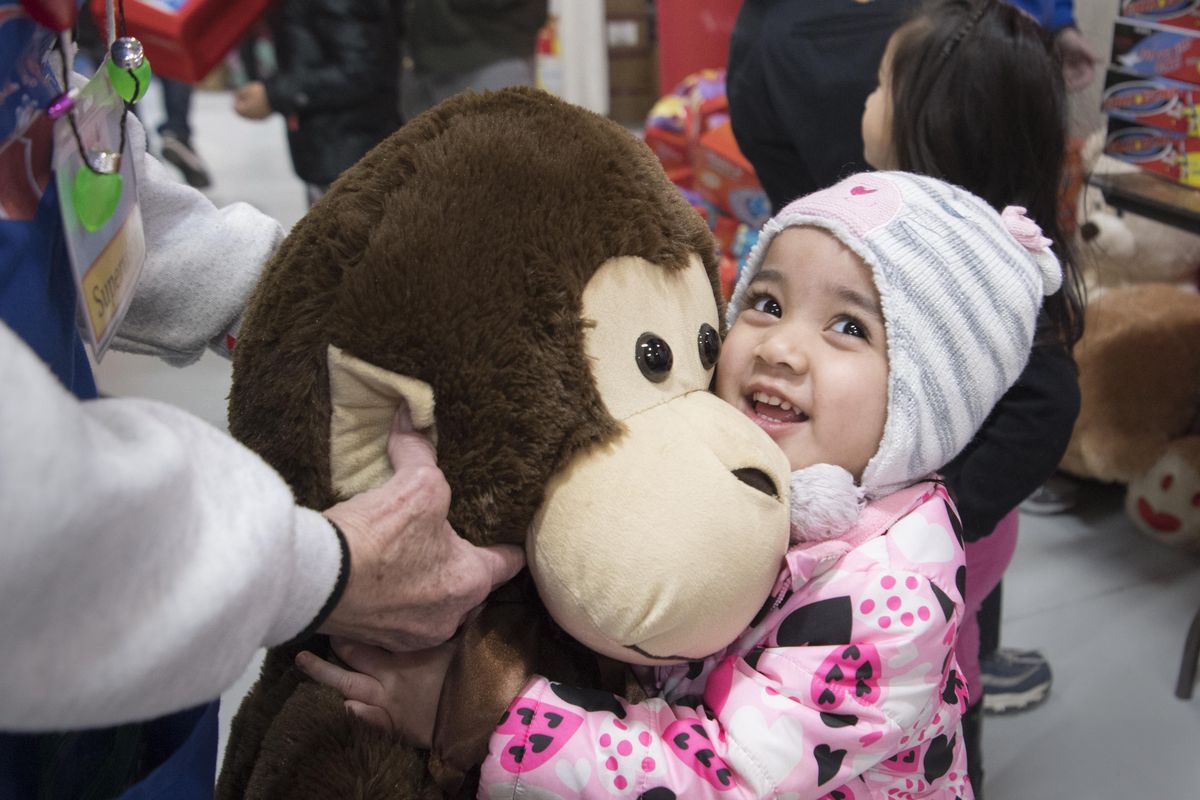 Alycia Moreang, age 2, squeezes a giant stuffed monkey, offered by Christmas Bureau volunteer Joan Haynes Wednesday, Dec. 13, 2017 at the annual charity run by Catholic Charities and the Volunteers of America. The stuffed toys come from the annual Teddy Bear Toss, which was Saturday, Dec. 9, 2017 at the Chiefs hockey game. (Jesse Tinsley / The Spokesman-Review)Buy a print of this photo
Caroline Wilson sat in a folding metal chair Wednesday at the Christmas Bureau at the Spokane County Fairgrounds, her face tight and anxious.
Her life upended, she had come to the Bureau wearing clothes borrowed from her sister in the hopes of getting a gift for her 2-year-old daughter, but she didn't have the proper identification paperwork.
She and her husband had planned a move to Jackson, Tennessee. But when they got there, her husband announced he was leaving her. He left, taking with him the U-Haul truck containing all their belongings, including her daughter's paperwork.
Wilson made her way back to Spokane and is living with her sister while she looks for work.
"I feel horrible for being here," she said. "I'm used to working. I've never had to ask for help."
She's no stranger to raising children. Her sons are 18 and 22. A daughter, Heather Cassel, was killed in 2013.
But Wednesday, Wilson was focused on doing what she could to make a Christmas for her little girl. A volunteer approached and told her everything had been worked out, and sent her to get a food voucher.
Wilson smiled with relief, her eyes shining. "I'm excited," she said.
She picked out a Mickey Mouse book, a pair of pink pajamas and a toy stroller than included a teddy bear from the Spokane Chiefs Teddy Bear Toss last weekend. Her shopping over, she stepped out into the parking lot, determined to get her life back on track.
Donations
New donations of $20,762 have brought the year-to-date total to $288,698.95. The goal is to raise $525,000.
John and Kristi Blake, of Spokane, donated $5,000. An anonymous donor sent $1,000 via PayPal in memory of Anne, "who loved giving presents and helping children." Larry and Patricia Bishop, of Las Vegas, gave $1,000.
Sharon and Randy Fosseen donated $1,000 in honor of Christmas Bureau volunteer Brigid Kraus, "who makes this her personal mission each year and gives her every energy to make sure that nobody goes away empty handed."
Melissa Tipke, of Spokane, sent $500. "Thanks to all the volunteers that help in this great endeavor," she wrote. Sean Lasalle, of Spokane, gave $500 via PayPal. Marie Dawson of Spokane sent $500 along with a note that read: "Blessings for all you do to make the Christmas season happier for so many people!" The G. Stanley and Joan G. Fergin Fund, managed by the Inland Northwest Community Foundation, donated $500.
Douglas Dominey donated $400 via PayPal. Bill and Dorene Reynolds, of Spokane, donated $300 in memory of Ed and Dorothy Humes and Iris Westwood. Karen Mager contributed $300 via PayPal, as did Marcia Dial. The Witte family contributed $300. Sharon Fairchild, of Liberty Lake, donated $300, as did Craig and Pauline Soehren, of Spokane.
Judy Boyer, of Spokane, gave $300. "Every year I honor my family with a gift to The Spokesman-Review Christmas Fund," she wrote. "I am so blessed to be able to share what I have so that others may enjoy a better Christmas. God bless you for what you do to support Spokane."
Mary Kay and Dawes Eddy donated $250 via PayPal. Donald and Eleanor Limmer gave $250. Gary and Vicki Erickson, of Medical Lake, sent $250, as did Pat and Dee Cerutti, of Spokane. Jerry, Dawn and Megan Goertz, of Medical Lake, donated $250. "Once again it is our pleasure to donate to this year's Christmas Fund," they wrote. "As long-time donors we know that our $250 donation will help spread the Christmas cheer to those in need."
Mathew and Shirley Alling donated $250 via PayPal in memory of their parents, Milbert Joachim, Frances Joachim and George Alling and in honor of Edith Alling Lael. "When Shirley and I were young, we didn't have much, but our parents always provided and Christmas was no exception," Mathew Alling wrote. "Hoping this helps bring a smile to a child on Christmas morning."
An anonymous Greenacres donor gave $200. Charles Carrier, Paul Grubb, David Maccini and an anonymous donor gave $200 each via PayPal. Jean and Steven Hong, of Spokane, donated $200 in memory of Eanhi Hong. Robert and Maureen O'Brien donated $200 in memory of Jeffrey O'Brien, who was a U.S. Air Force Academy cadet when he died in 1982 at the age of 19.
Leslie and Nichols Zilka, of Liberty Lake, who are volunteers at the Christmas Bureau again this year, donated $200. "Thank you for all you do," they wrote. Ed and Linda Summerhill, of Spokane Valley, gave $200, as did Spoke 'N Sport Inc., of Spokane.
Lloyd and Joye Gill, of Spokane, gave $170. Richard and Lucille Hallett donated $165. Colleen Birchill, of Spokane, contributed $150. Scott and Connie Brunell, of Spangle, gave $150. A gift of $110 came in an envelope that said it came from "Girls who love gin and tonics."
Gregg Woods gave $100, as did Jenny Ann Edgren. The following people each donated $100 via PayPal: Virginia Pounds, Bertha Jayne, Lynne and Carl Baum, Michael Wiser, Gary Mundel, Mark McFall and Nancy Biggerstaff. E.L. Bartlett, of Cheney, donated $100 in memory of his wife, Mariam. The Dance Center of Spokane gave $100.
The following donors each gave $100: Kathleen and John Roche, of Liberty Lake; Annette LaCombe, Bessie and T.J. Pope, John and Sharon Sutton and John and Shelia Jordan, all of Spokane; Dixie Riddle and Mary Hoerner-Riddle, of Mead; Lloyd Emter, of Veradale; Dennis Pollock; John and Kathleen Olsufka, Roger Erhart and James Kearney, all of Spokane Valley; Larry and Gina Schrock, of Spokane; Sandra and David Mueller, of Spokane Valley; James and Margo Walesby; and Jill and Jerry Skogstad.
Three anonymous Spokane donors each gave $100. Berry Bergau, of Spokane, gave $100 in memory of his sister, Debbie Montgomery. "We donate to selected charities for Christmas instead of exchanging gifts," he wrote. "Thank you and Merry Christmas!"
Margot Fitzgerald, of Spokane, donated $100. "I cannot express how I feel about this fund that helps so many people in our community," she wrote. "My sincerest hope is that you continue to do this every year far into the future."
Mary Mace, of Liberty Lake, sent $97 via PayPal. Ann Carey and Patty Rabel donated $75 in memory of their parents, Ken and Mickey Rabel. "It is our 20th donation in our dad's memory and the first in our mom's," they wrote. An anonymous Spokane donor sent $60.
An "anonymous grandma" in Spokane donated $50 in memory of her loved ones. "May it help a little to reach your goal," she wrote. "Thanks to all of Santa's elves (you). Wishing all a Merry Christmas and many blessings in the New Year."
Two anonymous Spokane donors each gave $50, as did Luella and Dean Palmer, of Spokane. Farol Stroyan, Susan Wotring, Julie Silliman, Jeffrey Goldman and Mary Hedrick each donated $50 via PayPal. Other $50 donors include: Adrian Nichols, of Spokane; Joni and Warren Omans, of Otis Orchards; and David and Freida Cook, of Cheney.
An anonymous Spokane donor gave $35. Joshua Gray contributed $25 via PayPal. Ken and Barbara Meng, of Spokane, gave $25.
For donations made through PayPal, The Spokesman-Review contributed the processing fee.
Local journalism is essential.
Give directly to The Spokesman-Review's Northwest Passages community forums series -- which helps to offset the costs of several reporter and editor positions at the newspaper -- by using the easy options below. Gifts processed in this system are not tax deductible, but are predominately used to help meet the local financial requirements needed to receive national matching-grant funds.
Subscribe now to get breaking news alerts in your email inbox
Get breaking news delivered to your inbox as it happens.
---