News > Spokane
Family sues after 85-year-old woman falls in construction zone at care facility
UPDATED: Sat., Dec. 16, 2017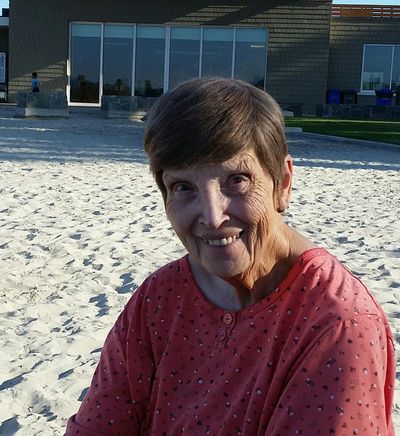 At one time, Joyce Davis loved to fly away from Spokane winters and stay with her daughter in California. That's before the 85-year-old woman walked past an empty nurses station, through an unlocked door, and fell into a construction pit inside the Providence St. Joseph Care Center earlier this year.
Davis suffered a traumatic brain injury and subdural hematoma from the fall, according to court records. In the three weeks before she died, on March 15, Davis could rarely recognize her daughter and suffered horrible nightmares.
"Mrs. Davis spent those three weeks screaming in her sleep as she battled unknown demons," attorneys Charlie Rohr and Charles Conrad wrote.
The attorneys, representing her family, have filed a civil lawsuit against St. Joseph's stemming from Joyce Davis' tragic end.
"It won't bring Mom back. But … she would still be here if it wasn't for their neglect," daughter Kathy Davis said. "We are so angry. She was the sweetest person you would ever know."
A call for comment was not immediately returned Friday from Providence St. Joseph Care Center, located at 17 E. Eighth Ave. in Spokane.
According to the lawsuit, the Washington Department of Health and Social Services had inspected St. Joseph's on Feb. 13, and noted in a 58-page report that the center had three doors leading to construction areas that, in violation of state safety codes, were left unlocked.
Rohr said those doors apparently were not addressed the week prior to Joyce Davis' fall.
"If you go to their website, they tell you how wonderful they are … and that this is just the greatest place in the world," Rohr said. "That place is dangerous."
Kathy Davis said that before the incident, her mother had fallen while walking with a cane, an event that led to a short stay at Providence Sacred Heart Medical Center.
She was transferred Feb. 17 to St. Joseph's, where the plan was to give Joyce Davis a few days to work on her upper body strength to allow her to transition to a walker, Kathy Davis said.
Then, sometime on Feb. 22, Joyce Davis, who suffered insomnia and sometimes wandered during those times, got up from her bed. The bed apparently did not have safety rails or an alarm, and she "managed to exit her room undetected by staff," the lawsuit states.
Using her walker, Joyce Davis walked past an empty nurses station and took an elevator to the second floor. There she walked through an unlocked temporary construction door and tumbled into the pit below, striking the back of her head on concrete.
Davis was discovered missing at 10 p.m. Notes from an emergency medical technician indicate that Davis wasn't found until about 1 a.m. Feb. 23. The construction zone was enclosed, but holes in the walls allowed in outside air. The temperature at the time was 32 degrees.
"It had been hours that she was outside in the cold," Kathy Davis said. "Her hands and knuckles were raw from trying to claw her way out of this thing."
The family had Joyce Davis transferred to the Cheney Care Center in Cheney, where she died three weeks later on March 15. Rohr said the death certificate listed her head injuries from the fall as the cause of death.
"The same day I was flying home is when they found her," Kathy Davis said. "As soon as I got off the plane … I spent every free moment I had with her. She had nightmares every night that she lived. She was always grabbing her head. She was in so much pain."
Davis said she received a call from an administrator from St. Joseph's who apologized for the situation, but the family later learned of the DSHS inspection and decided to file a lawsuit. It seeks relief for medical and funeral expenses, with all other relief to be determined by the court.
"She was so full of life," Kathy Davis said of her mother. "It was so unnecessary. It should have never happened."
Local journalism is essential.
Give directly to The Spokesman-Review's Northwest Passages community forums series -- which helps to offset the costs of several reporter and editor positions at the newspaper -- by using the easy options below. Gifts processed in this system are not tax deductible, but are predominately used to help meet the local financial requirements needed to receive national matching-grant funds.
Subscribe now to get breaking news alerts in your email inbox
Get breaking news delivered to your inbox as it happens.
---