Sports > Outdoors
Out & about: Buck serves as reminder to not feed, attract wild animals
Sat., Dec. 16, 2017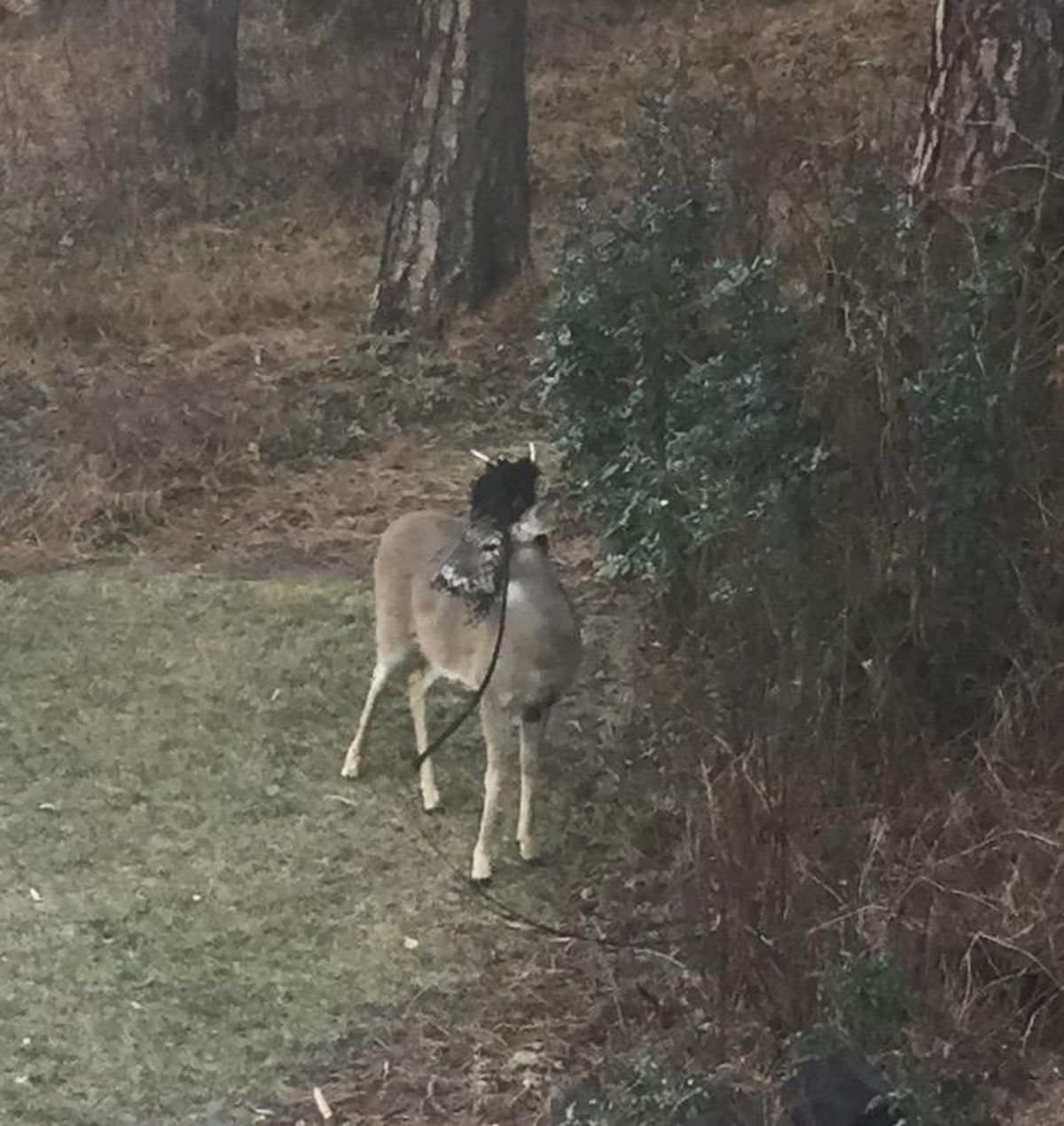 A deer in a South Hill neighborhood has netting caught in its antlers, emphasizing the importance of not feeding or otherwise attracting wild animals. (Kaari Davies / Courtesy)
Kaari Davies has watched an all-too-common drama unfold in her backyard this week.
A small buck got its antlers tangled in some gardening netting. What started out as an annoyance, quickly became more serious, Davies said.
"It just keeps getting worse for this poor buck," she said. "Now he has a 6-foot limb through his antlers."
Davies lives on the South Hill, just below Lincoln Park. She compared her backyard to a "natural animal preserve."
She believes the material caught in the buck's antlers is Deer-X, a popular netting used by gardeners as protection against hungry deer. Davies is sympathetic to deer-wary gardeners but wishes they would use a different material. Two months ago, another deer in her neighborhood got caught in some fencing, ultimately dying from its injuries, she said.
"You're trying to create a barrier to wildlife, which is great," she said. "(But) do it responsibly with a material that is safe for wildlife."
While netting and other materials do sometimes pose a danger to wildlife, there is a larger problem, said Kile Westerman, the wildlife conflict specialist for Spokane, Lincoln and Whitman counties.
"The big issue, especially with downtown and in that area, is that people feed them," he said.
Davies called the Washington State Department of Fish and Wildlife to report the tangled deer. Westerman responded to the call but said the deer was too fast and appeared to be in good physical condition despite the impediment. The tree limb caught in the netting had broken into a smaller chunk, he said. As long as the deer can eat and drink water, WDFW won't intervene.
"Ultimately, as long as it can drop the branch and it's not impeded from eating or getting water, it's going to drop its antler here in a couple months and be perfectly fine," he said.
He urged people to not feed animals, and, when possible, use sturdy materials that animals can't get caught in when landscaping or protecting a garden.
Keeping a clean yard and not leaving pet food outside also reduces the chance of attracting animals.
"An animal can get injured by about anything, really," he said.
"You can't fault someone for trying to protect their garden. But the better recommendation is to use something more substantial."
Local journalism is essential.
Give directly to The Spokesman-Review's Northwest Passages community forums series -- which helps to offset the costs of several reporter and editor positions at the newspaper -- by using the easy options below. Gifts processed in this system are not tax deductible, but are predominately used to help meet the local financial requirements needed to receive national matching-grant funds.
Subscribe to the sports newsletter
Get the day's top sports headlines and breaking news delivered to your inbox by subscribing here.
---