News > Military
Thousands of wreaths adorn veterans cemetery for annual event
UPDATED: Sat., Dec. 16, 2017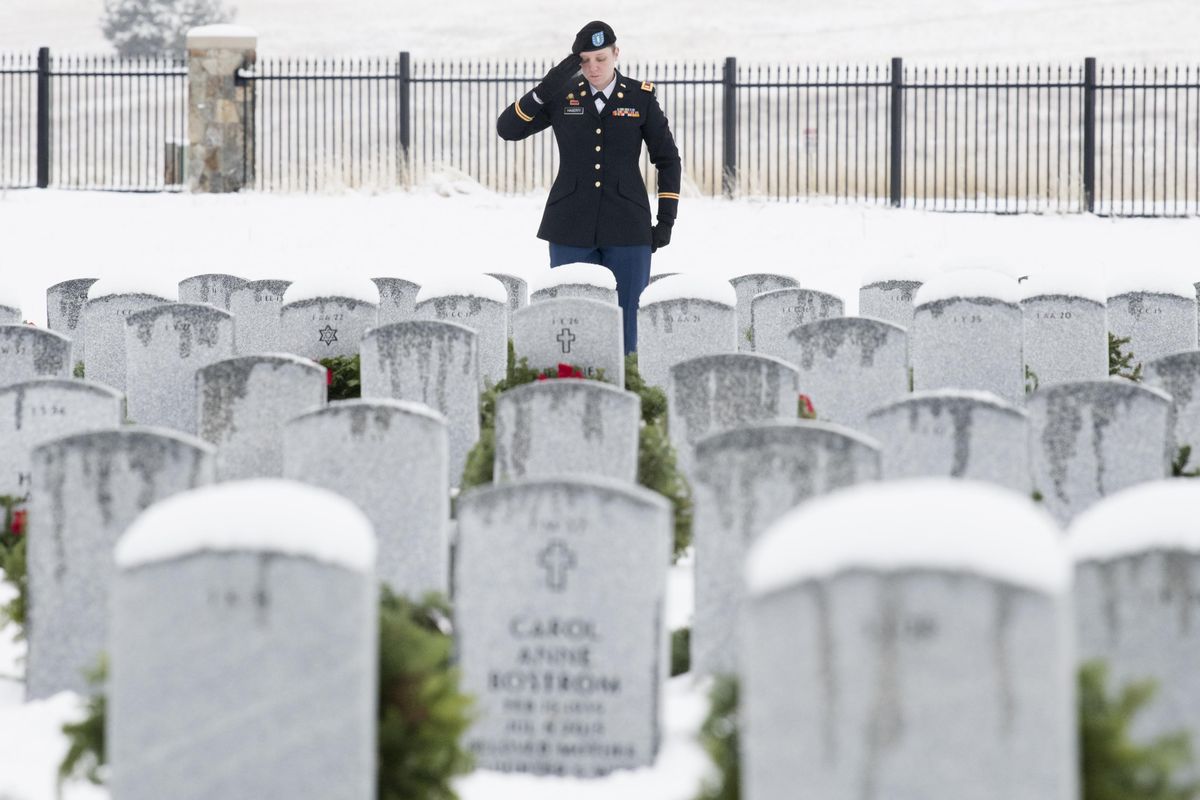 Erin Hagerty, an Army National Guard Transportation Officer salutes the grave of her grandfather, James Hagerty an Army veteran of the Korean War during a Wreaths Across America Ceremony on Saturday, Dec. 16, 2017, at Washington State Veteran's Cemetery near Medical Lake, Wash. Hagerty said her grandfather was a large inspiration for her joining the Army. As a child she studied World War II history with him and together they collected historical items from the war. (Tyler Tjomsland / The Spokesman-Review)
Of the 1,750 headstones adorned with wreaths Saturday at Washington State Veterans Cemetery, one particular memorial caught Curtis Bowe's eye.
Bowe, a U.S. Army veteran, was one of hundreds of patrons to come to the Medical Lake burial ground Saturday to pay their respects as part of Wreaths Across America Day. Many wreaths were set on the gravestones by friends and family members who braved the icy conditions to be part of the ceremony.
But this lonely stone, belonging to WWII veteran and Army Lt. Bertel O. Olsen, was still bare.
"I waited for others to put the wreaths down before I set one for him," said Bowe, a member of the Buffalo Soldiers, an African-American motorcycle club that supports veterans. "He didn't have any family here, but he chose me to be his family. The presence of that individual brought me to his (headstone)."
This was the eighth straight year the Wreaths organization, which spearheads wreath-laying ceremonies for veterans cemeteries across the country, was at Washington State Veterans Cemetery.
Around 1,500 people stood in the snow Saturday afternoon to see a flag-folding ceremony, special wreath presentations and units from the Washington Wing Civil Air Patrol's Northeast Group, which laid down more than 750 of the wreaths.
Bowe, along with a few other Buffalo Soldiers members, said the experience holds a special significance.
"These veterans chose to serve and they did it with honor, respect and dignity. People need to understand that this flag means a lot to people," said Bowe, a Spokane man and trucker who served in the Army in the 1980s. "It definitely means a lot to me."
For 21-year-old Hunter Mountjoy, laying a wreath was an opportunity to pay his respects to his friend's late father, Max Talley, who served in the Air Force.
Mountjoy and Kelsie Axelson, both of Medical Lake, gently placed the wreath on the man's headstone before taking photos. Mountjoy texted the picture to Talley's wife, who now lives in Texas.
"There's not much I feel that I do, so this makes me feel a little better," Mountjoy said. "There was a big turnout today. It's nice to see everyone who wanted come out and help."
Axelson, whose father works at the cemetery, said she was moved by the outpouring of community support.
"It's a nice little way to give back, because veterans have given so much to us," Axelson said. "It's just nice to see everyone come together as a community and show their support."
According to Washington State Veterans Cemetery Director Rudy Lopez, more than 1,400,000 wreaths were put on the headstones of veterans and veteran spouses across the country Saturday, with each wreath being purchased locally.
Cathy McMorris Rodgers representative John Davis and Patty Murray representative Valerie Hamanna also spoke at the cemetery Saturday at an event that has grown every year, Lopez said.
"It's important that we as a facility and a community come together a few times a year and honor veterans who lost their lives," Lopez said. "It's the community embracing those who lost someone in the service and letting them know we haven't forgotten them."
Local journalism is essential.
Give directly to The Spokesman-Review's Northwest Passages community forums series -- which helps to offset the costs of several reporter and editor positions at the newspaper -- by using the easy options below. Gifts processed in this system are not tax deductible, but are predominately used to help meet the local financial requirements needed to receive national matching-grant funds.
Subscribe now to get breaking news alerts in your email inbox
Get breaking news delivered to your inbox as it happens.
---