News > Spokane
Volunteer musicians rock the tunes at the Christmas Bureau
Sat., Dec. 16, 2017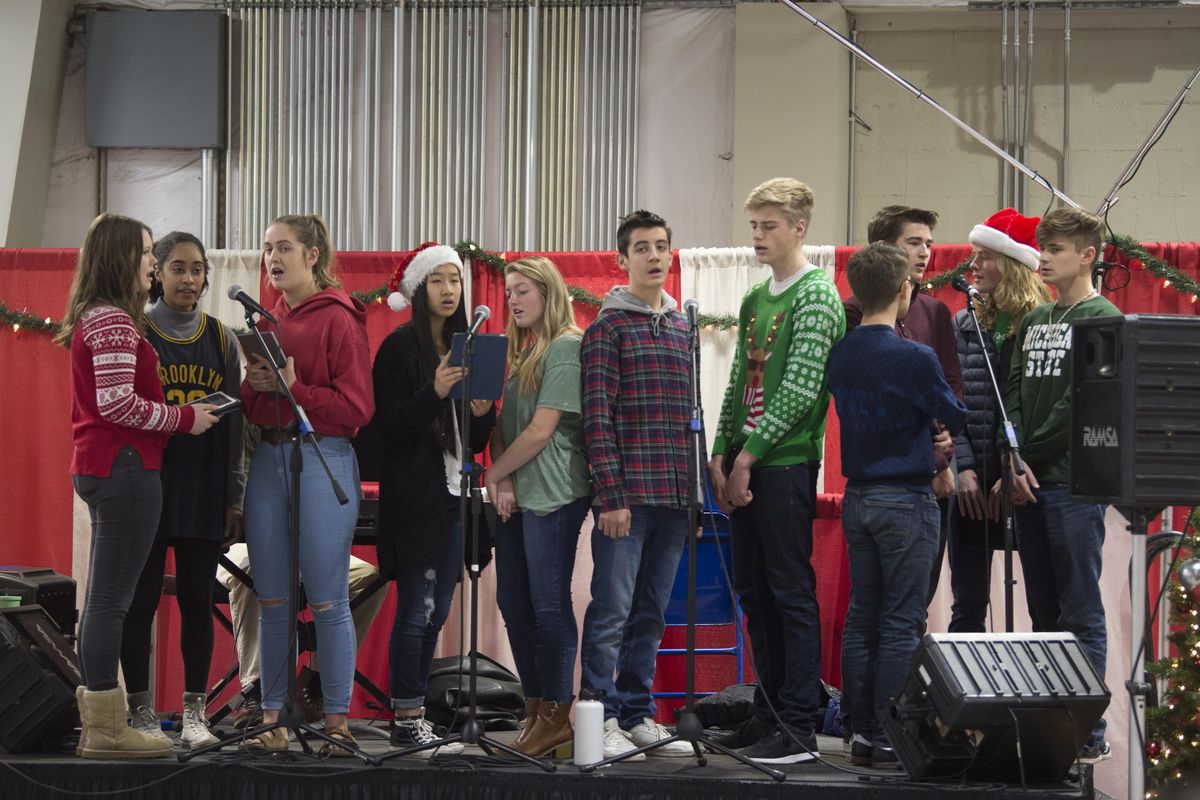 The jazz choir from Gonzaga Preparatory School entertains the people in line at the Christmas Bureau with Christmas music Wednesday, Dec. 13, 2017 at the Spokane County Fair and Expo Center. Jesse Tinsley/THE SPOKESMAN-REVIEW (Jesse Tinsley / The Spokesman-Review)
Part of getting into the Christmas spirit is the music, including classics like "White Christmas," "Let it Snow" and "Sweet Caroline."
"Sweet Caroline"? Yes, said Spokane piano player Jimi Finn.
Every day the Christmas Bureau is open, performers play a wide variety of music for people to listen to while they wait in line. Finn, who normally plays at the Ridler Piano Bar in Spokane, is a regular at the Christmas Bureau and likes to play the unexpected. During a recent performance at the Bureau, he threw in a little Bon Jovi.
"I've even done 'Baby got Back' once," Finn said. "Someone requested it."
This is Finn's seventh year at the Bureau. "Every year I get a call," he said. "It's a way of just giving back to the community.
"I enjoy it. I can remember being broke and having kids and wondering what to buy them."
Finn said he's in good company. Among the performers joining him on the schedule is Robert Vaughn, a longtime fixture at Beverly's in Coeur d'Alene. "There's some really talented people here," he said.
There's never a shortage of music to play since Finn knows about 2,000 songs. He said he tries to read the crowd waiting in line to see what they're in the mood for and likes it when they participate.
"I've had them singing along," he said. "If they're not singing by 'Living on a Prayer,' they're not going to sing."
Volunteer Christy Folkins is in charge of scheduling the entertainment every year. Having music is relatively new, Folkins said, after a couple of people called a few years ago and said they wanted to perform Christmas music.
"It just started out really small," she said.
Now there's a full slate of singers and musicians who play anywhere from 30 minutes to two hours during the entire 10 days the Bureau is open. Folkins said when she was a child she didn't have many material things, but she always enjoyed the Christmas music.
"Music is what the holiday is all about," she said.
Donations
Donations to the Bureau continue to be low, with today's tally of $4,035 bringing the year-to-date total to $297,190. The goal is to raise $525,000 to pay for the food vouchers, books and toys being handed out at the Christmas Bureau. Monday is the last day the Bureau is open, but donations will continue to be collected this month to pay the bills for this year's bureau. A final tally will be reported New Year's Day.
A gift of $1,000 was given by two anonymous sisters "in loving memory of mom and dad, our sister and our sons."
The Inland Empire Mustang Club donated $500. "The Inland Empire Mustang Club works very hard all year long just to give back to the community we love so much and to other worthy organizations across our land," they wrote. "As you have blessed so many with your gifts of time, talent, treasure and healing arts, it is our desire to bless you back!"
Kevin and Jennifer West gave $500. "A heartfelt thank you to the many volunteers that provide such an important and wonderful service to those in need in our community," they wrote. "Here's our small way to brighten the day of those in need!"
Larry and Kathy Dilley, of Spokane, also gave $500. An anonymous Spokane donor contributed $300.
Michael and Susan Hawkins, of Post Falls, contributed $200. "Best wishes for a successful fund drive and blessings to all the receivers and your inspiring group of volunteers," they wrote.
Georgene Patten, of Spokane, gave $190 in honor of Mick Soss, who has volunteered with the Christmas Bureau for 19 years. "By joining other volunteers, Mick is a wonderful example of so many in our community who give of their time to bring joy to those households in need of holiday support," she wrote. "Spokane is truly a wonderful caring community because of efforts by Catholic Charities, Volunteers of America and The Spokesman-Review."
An anonymous donor gave $150 in memory of James B. and Marie Smith. John and Dolores Skelton, of Spokane, donated $100, as did David Breshears, of Spokane. Bob and Dorothy Yohe, of Spirit Lake, gave $100. Konni Dietz gave $100 "in memory of our parents and grandparents who helped make happy Christmas memories." Maxine Kinzer, of Spokane, also gave $100.
Gerry Rose, of Spokane, donated $50 in memory of her sister, Shirley Staebell Scribner. "She loved spending Christmas with her grandchildren," Gerry Rose wrote. Kate and Jim Jones, of Spokane, gave $50, as did Dorene Bailey, of Spokane.
Mary and Leo Divalentino, of Nine Mile Falls, donated $25. Jane Lacock, of Deer Park, contributed $20.
Local journalism is essential.
Give directly to The Spokesman-Review's Northwest Passages community forums series -- which helps to offset the costs of several reporter and editor positions at the newspaper -- by using the easy options below. Gifts processed in this system are not tax deductible, but are predominately used to help meet the local financial requirements needed to receive national matching-grant funds.
Subscribe now to get breaking news alerts in your email inbox
Get breaking news delivered to your inbox as it happens.
---