A&E > TV
Around the remote: 'A Christmas Story Live!' takes stage
Sun., Dec. 17, 2017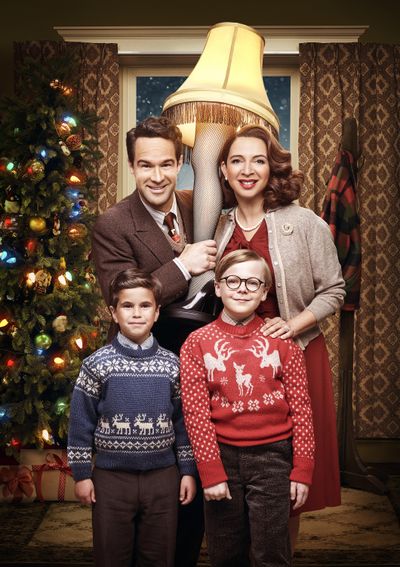 DON'T MISS: "A Christmas Story Live!" – Break out the leg lamp and guzzle some Ovaltine. Not to be confused with the 1983 film that annually airs in 24-hour marathons, this is a live version of the Broadway musical adaptation of the Yuletide classic about Ralphie Parker and his dysfunctional clan. Ralphie, oh so desperate for a Red Ryder BB gun, is played by 11-year-old Andy Walken, who beat out 350 other boys in a nationwide talent hunt. The cast also includes Maya Rudolph, Matthew Broderick, Jane Krakowski, Chris Diamantopoulos and David Alan Grier. 7 p.m. Sunday, Fox.
Other bets
MONDAY: As 2017 closes in on the finish line, Robin Roberts hosts "The Year In Memoriam 2017." It's a two-night event that celebrates the legendary stars and icons the world lost this year and the legacies they left behind. 10 p.m., ABC.
MONDAY: "Gunpowder" is a three-part thriller based on the real-life 17th century events that led to Guy Fawkes Day. Kit Harington stars as Robert Catesby, a committed Catholic at a time when Protestant England relentlessly persecuted his kind. 10 p.m., HBO.
MONDAY: The "Independent Lens" documentary series presents "Supergirl." It's about Naomi Kutin, a New Jersey teen who is stronger than you. She broke a world powerlifting record at the age of 10 and quickly became a media sensation. 10 p.m., KSPS and KCDT.
TUESDAY: "15: A Quinceaqera Story" is a series of four short films chronicling five very different young American Latinas, including an amateur boxer, as they and their families prepare to celebrate their 15th birthdays while navigating the coming-of-age complexities in today's society. 7 p.m., HBO.
TUESDAY: Singer-songwriter Josh Groban is our host for "A Home for the Holidays," the annual special devoted to raising awareness of foster care adoption. Kelly Clarkson, Kacey Musgraves and Kane Brown are set to perform. 8 p.m., CBS.
WEDNESDAY: "Survivor" wraps up another season of lying, cheating and backstabbing. You know the drill: First a $1 million winner is crowned, and then Jeff Probst interrogates cast members in the Reunion Special. 8 p.m., CBS.
THURSDAY: "Great News" doubles up on the laughs tonight with back-to-back episodes. The first provides a fun twist on Charles Dickens' "A Christmas Carol," and the second takes on the topic of sensitivity training in the workplace. 8 p.m., NBC.
THURSDAY: "Inside the Actors Studio" welcomes funny lady Kristen Wiig, the former "Saturday Night Live" cast member, who has successfully transitioned to feature films. As usual, James Lipton will do the grilling. 8 p.m., Bravo.
FRIDAY: Speaking of funny ladies, it's time for another "I Love Lucy Christmas Special." This year's presentation features two colorized episodes of the classic sitcom, including "The Christmas Episode" (1956) and "The Fashion Show" (1955). 8 p.m., CBS.
SATURDAY: Mistletoe is optional for tonight's warm-and-fuzzy holiday flick, "Christmas Getaway." It follows a travel writer (Bridget Regan) who, thanks to a mix-up, is forced to share a cabin with a handsome widower (Travis Van Winkle). We'll let you figure it out from there. 8 p.m., Hallmark.
Local journalism is essential.
Give directly to The Spokesman-Review's Northwest Passages community forums series -- which helps to offset the costs of several reporter and editor positions at the newspaper -- by using the easy options below. Gifts processed in this system are not tax deductible, but are predominately used to help meet the local financial requirements needed to receive national matching-grant funds.
Subscribe to the Spokane7 email newsletter
Get the day's top entertainment headlines delivered to your inbox every morning.
---