Sports
Women's Top 25 capsules: Shepard scores 39 points, No. 2 Notre Dame beats DePaul 91-82
Sun., Dec. 17, 2017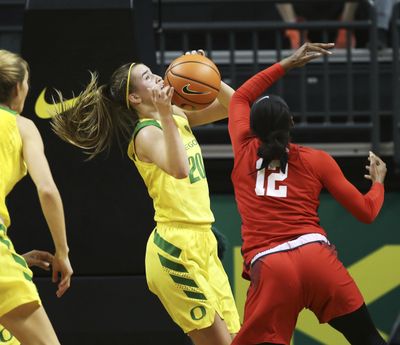 SOUTH BEND, Ind. – Jessica Shepard scored a career-high 39 points and No. 2 Notre Dame withstood DePaul's 3-point spree in a 91-82 victory Sunday.
Shepard, who twice scored 35 points for Nebraska before transferring, hit 17 of 22 shots and had 11 rebounds. Arike Ogunbowale added 21 for the Irish (10-1).
Ashton Millender led the Blue Demons (7-4) with 18 points.
No. 3 Louisville 87, Kentucky 63
LEXINGTON, Ky. – Asia Durr scored 32 points, Myisha Hines-Allen added 18 and Louisville outscored Kentucky 24-9 in the second quarter in the annual Bluegrass rivalry showdown.
Durr shot 12 of 22 from the field with six 3-pointers to help Louisville improve to 13-0.
Maci Morris had 16 points for Kentucky (8-4).
No. 4 South Carolina 99, Savannah St. 38
COLUMBIA, S.C. – A'ja Wilson scored 26 points and South Carolina, which began the game with just nine players and then lost another, beat Savannah State.
The Gamecocks (10-1) announced before the game that senior point guard Bianca Cuevas-Moore will miss the season with an ACL injury. She hadn't played this season, but was said to be recovering.
Senior guard Lindsey Spann missed her fourth straight game with a knee injury, and Te'a Cooper remained out while appealing to the NCAA for a hardship waiver. The Gamecocks lost junior guard Doniyah Cliney to a foot injury in the first half. Donasja Scott had 17 points for Savannah State (2-7).
No. 5 Mississippi St. 83, Maine 43
STARKVILLE, Miss. – Teaira McCowan had 18 points and 11 rebounds in her seventh double-double of the season, and Mississippi State beat Maine.
Victoria Vivians added 12 points for Mississippi State (11-0).
Blanca Millan led the Black Bears (6-5) with 13 points.
No. 7 Tennessee 90, Long Beach St. 61
LONG BEACH, Calif. – Anastasia Hayes and Meme Jackson each scored 15 points and Tennessee beat Long Beach State 9to extend its season-opening winning streak to 11.
Evina Westbrook and Mercedes Russell added 14 points apiece to lead Tennessee to its fourth road victory of the season. The Vols are 11-0 for the first since winning the first 18 in 2005-06.
Ma'Qhi Berry led Long Beach State (2-8) with 19 points and nine assists.
No. 8 Texas 87, No. 12 Florida St. 72
AUSTIN, Texas – Brooke McCarty returned from a hip injury to score a season-high 24 points, leading Texas past Florida State.
McCarty, a senior guard, missed one game. She appeared just fine against Florida State, making 10 of 13 shots and adding six assists. Ariel Atkins had 17 points, eight rebounds and four steals for Texas (9-1). AJ Alix led Florida State (10-1) with 21 points.
No. 9 Oregon 90, Mississippi 46
EUGENE, Ore. – Sabrina Ionescu tied an NCAA record with her seventh career triple-double, and Oregon beat Mississippi.
Ionescu, a sophomore guard, had 21 points, 14 assists and 11 rebounds for her third triple-double this season. She broke the Pac-12 career mark of six by Stanford's Nicole Powell, a former Oregon assistant under coach Kelly Graves.
Ruthy Hebard had 16 points and 11 rebounds for the Ducks (9-2). Barbara Johnson led Ole Miss (9-2) with 11 points.
No. 11 UCLA 77, Seton Hall 68
SOUTH ORANGE, N.J. – Monique Billings scored 17 points and Kelli Hayes added 15 for UCLA.
The Bruins (8-2) were the highest-ranked team to play at Seton Hall (7-3) since coach Tony Bozzella took over in 2013. Donnaizha Fountain had 23 points for the Pirates.
No. 12 Ohio St. 87, Cincinnati 76
CINCINNATI – Sierra Calhoun scored 14 of her 20 points in the third quarter, and Kelsey Mitchell had 12 of her 31 in period for Ohio State.
Linnae Harper added 14 points and 13 rebounds for the Buckeyes (11-2),
Shanice Johnson led Cincinnati (7-5) with 17 points.
No. 16 Missouri 75, Indiana 55
WEST PALM BEACH, Fla. – Sophie Cunningham scored 19 points and No. 16 Missouri rolled its 10th straight victory, beating Indiana at the West Palm Beach.
The Tigers (10-1) matched the sixth-longest streak in school history.
Amanda Cahill scored a season-best 18 points for Indiana (6-5).
No. 22 South Florida 82, FIU 52
FORT LAUDERDALE, Fla. – Laia Flores scored a career-high 19 points on 7-of-9 shooting, and South Florida made all 15 of its free throws.
Maria Jespersen had 16 points and 10 rebounds,and Laura Ferreira also had 16 points for the Bulls (9-2). Kiandre'a Pound had 17 points and nine rebounds for the Panthers (2-8).
No. 25 Iowa 71, Northern Iowa 47
CEDAR FALLS, Iowa – Megan Gustafson had 26 points and 10 rebounds for her nation-leading 11th double-double this season to help Iowa beat Northern Iowa.
Gustafson was 11 of 15 from the field in posting the 38th double-double of her career. Alexis Sevillian added 11 points for the Hawkeyes (11-1).
Kennedy Kirkpatrick and Megan Maahs scored 12 points each for Northern Iowa (3-7).
Local journalism is essential.
Give directly to The Spokesman-Review's Northwest Passages community forums series -- which helps to offset the costs of several reporter and editor positions at the newspaper -- by using the easy options below. Gifts processed in this system are not tax deductible, but are predominately used to help meet the local financial requirements needed to receive national matching-grant funds.
Subscribe to the sports newsletter
Get the day's top sports headlines and breaking news delivered to your inbox by subscribing here.
---