Amtrak train was 50 mph over speed limit when it crashed near Olympia on inaugural run, killing at least 3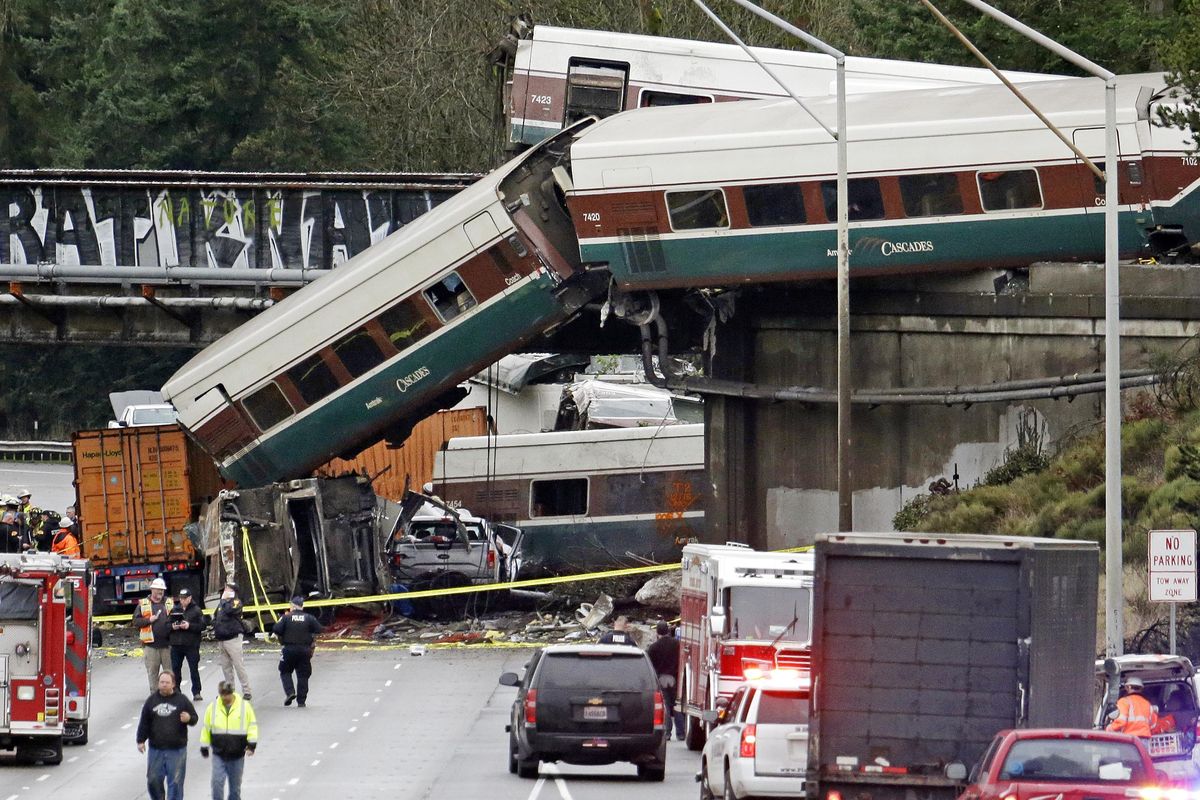 DUPONT, Washington – State officials began moving crumpled rail cars away Tuesday from the scene of Monday's fatal train accident that killed three and injured more than 100. The Amtrak passenger train was barreling south far faster than the posted speed on its inaugural run when it railed onto Interstate 5 between Tacoma and Olympia.
Federal officials confirmed an Amtrak train was hurtling 50 mph over the speed limit when it careened off an overpass south of Seattle, spilling cars onto the highway below and killing at least three people.
Bella Dinh-Zarr, a National Transportation Safety Board member, said at a Monday night news conference that information from the event data recorder in the rear locomotive showed the train was traveling at 80 mph in a 30 mph zone when it derailed at 7:34 a.m. Mangled train cars ended up on top of each other – and one hung precariously over the freeway.
By noon Tuesday, state Transportation Department officials said five cars had been removed by cranes brought to the scene of the accident and placed on flatbed trailers for transport to Joint Base Lewis McChord. There they will be placed in a secured area so the NTSB can continue its investigation. Other cars will be moved throughout the day, with the biggest challenge being the derailed locomotive, which weighs more than 270,000 pounds and will require two tractor trailers, Washington State Patrol Capt. Dan Hall said.
"Each one of these cars has a unique challenge to them," Hall said.
Southbound I-5 at DuPont is expected to remain closed at least through Tuesday night, and possibly for days.
Reports on the number of fatalities varied throughout Monday day, with reports around noon putting the number at six. But a late afternoon briefing by state and local officials put the number of confirmed dead at three, with others in critical condition at local hospitals.
Hall reiterated Tuesday that there were only three fatalities, adding that all cars had been searched. He said reports of a higher number that continue to show up on social media and some news sites are wrong.
Pierce County sheriff's spokesman Ed Troyer called it "a miracle" that none of the fatalities were motorists who were in cars and trucks when the train came off the tracks and came crashing down onto I-5.
Witnesses left their cars and rushed to help rescue or treat people until first responders arrived, he added.
Bova said the train consisted of two locomotives and 12 cars.
Emergency responders worked Monday to reach survivors and send to area hospitals, Bova said. Southbound I-5 remained closed Monday night as cranes lifted the tumbled cars from their precarious positions.
The Associated Press quoted an official as saying the train may have struck something on the track. The official was not authorized to discuss the investigation publicly and spoke on condition of anonymity.
Amtrak said the train had 77 passengers and seven crew members on board. Injured passengers, crew and motorists were taken to hospitals in Tacoma and Olympia. Amtrak Cascades trains later in the day are canceled and no alternative transportation will be available.
The train left Seattle around 6 a.m., and derailed about 7:33 a.m. as it was traveling between Tacoma and Olympia on the inaugural run of a new high-speed route. The route is part of a $181 million project designed to bring faster passenger service on trains between Portland and Seattle.
Southbound lanes of Interstate 5 were closed south of Joint Base Lewis-McChord, and motorists were being warned to avoid the area. Clearing the scene is expected to take at least all of Tuesday, and possibly longer, Travis Phelps of the state Transportation Department said. After that, transportation staff must check the condition of the highway and the bridge to make sure they are safe before allowing traffic on that section of the interstate.
The state has recommended detours for those traveling from Seattle or Tacoma to Olympia, Portland or points south. But those routes use smaller state highways or city streets, and backups on some were as long as 16 miles. Phelps urged people who don't have to make the trip to avoid it.
"It could be closed for several days," Phelps said of the southbound lanes. Wind and rain could complicate the recovery operations, he added.
An estimated 60,000 motorists use the route on an average day, the Washington Department of Transportation said. There are few alternate routes, and the department was suggesting motorists going south from Tacoma go across the Puget Sound on the Tacoma Narrows Bridge and take state highways until they connect with U.S. 101 on the Olympic Peninsula.
Chris Karnes was on the train, three or four cars back from the front.
"I'm not sure what got hit. I'm not sure what happened," Karnes said.
He was unhurt but near the medical tents set up in a median area between north- and sound-bound I-5, just south of DuPont.
Aleksander Kristiansen, a 24-year-old exchange student from Copenhagen attending the University of Washington, was going to Portland to visit the city for the day.
"I was just coming out of the bathroom when the accident happened," he told the AP. "My car just started shaking really, really badly. Things were falling off the shelf. Right away you knew that this was not something minor."
Gov. Jay Inslee declared a state of emergency Monday morning for Pierce and Thurston counties, activating the Washington Military Department's Emergency Operations Center to help coordinate the response.
He said motorists should avoid I-5, and the state Department of Transportation is working to open alternative routes. The top priority is caring for the injured.
"Today's tragic incident in Pierce County is a serious and ongoing emergency," Inslee said in the statement. "Trudi and I are holding in our hearts everyone on board, and are praying for the many injured."
President Donald Trump tweeted that White House staff were monitoring the crash response.
In a separate tweet, Trump said the derailment was a reason his "soon to be submitted infrastructure plan must be approved quickly" and criticized money spent on military actions in the Middle East "while our roads, bridges, tunnels, railways (and more) crumble!"
Southbound commuters had hours added to their Monday morning journey.
Jon Snyder, a former Spokane city councilman who now serves as a policy adviser to Inslee, said he was in Lakewood, taking a bus for the commute from his home in Tacoma to Olympia. His bus driver had to divert the vehicle to get around traffic. A trip that normally takes one hour took three, and he said he admired how his bus driver handled the situation.
Snyder, who's known for being a big advocate for alternative forms transportation, said he doesn't think the crash will affect the community's perception of public transit. If anything, he said being in a bus was better than being stuck in traffic in a car.
"I have to say, intercity transit is a real lifeline in this situation," he said. "I'm very thankful for public transit."
---