News > Health
Duopa device among newer treatments for Parkinson's disease
Mon., Dec. 18, 2017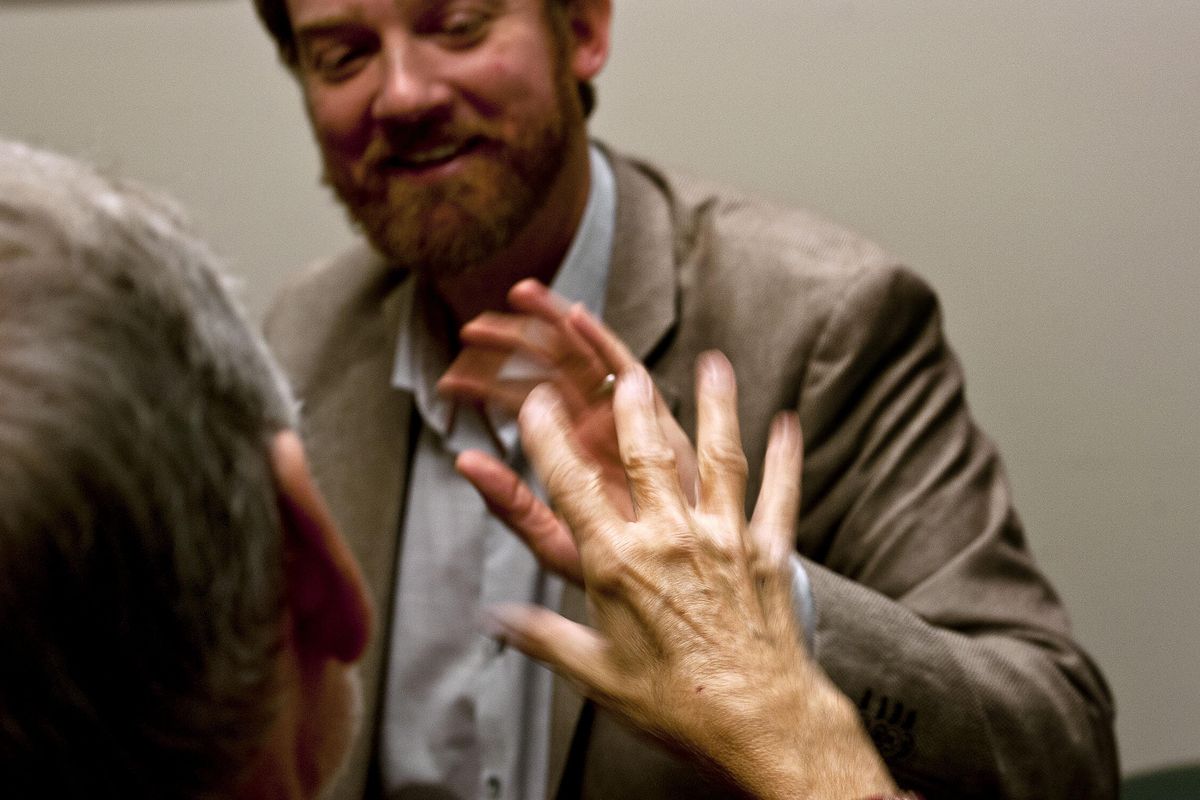 Dr. Jason Aldred, right works with Kern Jackson, 70, Medical Lake resident and retired physician on Wednesday, Nov. 14, at his office in Spokane. (Kathy Plonka / The Spokesman-Review)
Until August, Kern Jackson avoided going out in public.
Parkinson's disease had progressed far enough that the levadopa pills he'd taken since 2008 weren't as reliable to ease the symptom of his muscles freezing up. In the past two years, he had to take the medicine more frequently as it wore off quickly, leaving him unable to move.
"I was taking pills every two hours, and during the night," said Jackson, 70, a retired physician who lives in Medical Lake. "It would take 20 to 45 minutes to be effective, then I'd be moving normally for about an hour. It was hard to plan to do anything."
So in August, Jackson chose to get a newer Duopa device through Dr. Jason Aldred, a neurologist at Northwest Neurological. The Spokane clinic partners with Inland Imaging, where patients go in for an outpatient procedure to make a small incision in the stomach wall and insert a tube in the small intestine.
The external Duopa device has a pump for continuous delivery via the tube of a levadopa gel, contained in a medication cartridge that patients reload once a day into the device.
According to Aldred, the Duopa device first became available in 2015 after U.S. Food & Drug Administration approval, and it's among a couple of newer developments for Parkinson's treatment. The clinic also is participating in two clinical research trials that are attempting to slow disease progression.
The day after his outpatient procedure, Jackson saw Aldred at Northwest Neurological to program the system's medicine dosage. Clinic staff observed Jackson's movements for a day during office hours to make sure the new system was syncing correctly for his ability to get around.
Jackson now wears the device in a belted pack around his waist, and he said it's helped him be more active. He and his wife, Diana, have since traveled by airplane and walked on the Centennial Trail.
"I feel much more confident going somewhere," Jackson said. "I just went to a men's retreat in Idaho with my son-in-law, and things went well."
Although estimates vary, about 1 million people in the U.S. live with the disease, according to the Parkinson's Foundation. Symptoms include tremor, rigidity, extreme slowness of movement and impaired balance.
Levadopa, now used for more than 50 years to treat Parkinson's, is often considered the most effective for treatment of motor symptoms.
"Levadopa is turned into dopamine in the brain and replaces dopamine," Aldred said "That's huge because dopamine is the natural chemical in the brain that's low in Parkinson's patients, so we literally have the ability to replace something that's low to bring about remarkable improvement in movement, stiffness and tremor.
"However, it doesn't slow the progression. It treats symptoms remarkably for years or decades. Parkinson's progresses slowly, but it does progress, and it can cause horrible quality of life issues."
The Duopa device is offered as a choice for some patients with moderate to advanced Parkinson's if levadopa in a pill form becomes less reliable, Aldred said. Other patients might be candidates for deep brain stimulation, a therapy that's been around since 1997, he said.
"As the disease advances for moderate to advanced Parkinson's, the medicine kicks in and wears off," said Aldred, adding that also long-term, the disease affects other nerves outside of the brain including in the stomach, so medicine is less effectively moved into the small intestine for absorption.
"We call it dose failure," he said. "That's actually a big problem; the medicine is sitting in the stomach and doesn't move. With the Duopa device, the tube mechanically bypasses the stomach and goes into the small intestine, and the medicine is released physically past the stomach."
Aldred said the Duopa device is new enough that, so far, just over 30 of its clinic patients have one.
"This is a very new treatment and largely people are slow to warm up to it," he said, adding that some people might have a stigma about having a tube inserted, a procedure that's sometimes associated with end-of-life issues.
The small amount of tubing that's external is flexible, Aldred said, and it's hidden often under clothing. It can be disconnect for up to two hours if needed.
However, Aldred said current treatments, including Duopa, only partially relieve symptoms, so the two research trials are attempting approaches that might slow or stop the disease's progression.
Both trials are seeking to stem what is thought to damage cells in the brain that regulate behavior, cognition and movement. A main research focus is finding a way to stop or clear out Lewy bodies, which are abnormal aggregates of protein that develop inside nerve cells in Parkinson's.
"We have some interesting, cutting-edge NIH, Michael J. Fox Foundation-affiliated clinical research trials," Aldred said.
One is a vaccine trial using anti-bodies in an attempt that might prevent the spread of Lewy bodies in the brain. A second phase of that study started this month involving a handful of clinic patients.
The other trial will test Nilotinib, a FDA-approved medicine used in treatment for a form of leukemia, but with a fraction of the dose applied for patients with mild Parkinson's.
"This is a medication that may enhance the clearing of Lewy Bodies from the brain that we think is destructive," Aldred added.
"We're trying to get to the point before it spreads," he said. "That's a novel way of treating Parkinson's. These two trials if they're proven to work, which they haven't been yet, may be safe and effective ways to slow the disease progression or potentially halt the disease progression."
There's also a new device that came out this year for deep brain stimulation, Aldred said. "It was developed by St. Jude's Medical (since acquired by Abbott). We can aim the electrical current more precisely in the brain to get better effect."
The DBS treatment requires surgery to implant a wire with four electrodes that deliver an electrical current in the brain to regulate abnormal impulses and smooth out "on time" and "off time" experienced by patients as the impact of medication rises and falls.
The DBS treatment and the Duopa device haven't been studied head to head on whether one is more effective than the other, Aldred said.
"If someone has moderate cognitive issues, we'd never want to do DBS," he said.
Alternatively, he added that the Duopa device might be a choice for some patients who aren't comfortable with DBS.
"I tell patients this is a heavy diagnosis, but there is lot we can do, and one of the things is exercise, " said Aldred, who encourages physical therapy and regular exercise to maintain better movement and quality of life.
Local journalism is essential.
Give directly to The Spokesman-Review's Northwest Passages community forums series -- which helps to offset the costs of several reporter and editor positions at the newspaper -- by using the easy options below. Gifts processed in this system are not tax deductible, but are predominately used to help meet the local financial requirements needed to receive national matching-grant funds.
Subscribe now to get breaking news alerts in your email inbox
Get breaking news delivered to your inbox as it happens.
---