Sports > National sports
NBA Capsules: Eric Gordon's big 4th quarter leads Rockets to 14th straight win
Mon., Dec. 18, 2017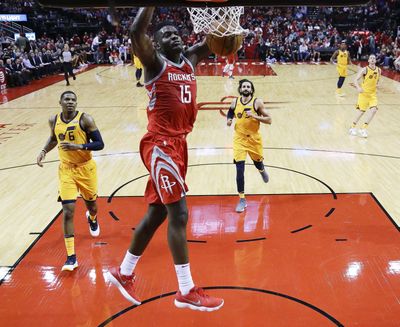 HOUSTON – Eric Gordon scored 17 of his season-high 33 points in the fourth quarter to power a huge run that put the Houston Rockets on top, and they cruised to their 14th straight win, 120-99 over the Utah Jazz on Monday night.
Houston used a 15-0 run early in the fourth to take the lead and was up by four midway through the quarter after a layup by Joe Ingles. The Rockets then scored 11 points in a row, capped by two 3-pointers from Gordon to make it 111-96 with about three minutes to go.
James Harden added 26 points, Clint Capela had 24 points and 20 rebounds and Gordon finished with a season-high seven 3-pointers.
The Rockets struggled from long range for most of the night, making just nine of 31 3-pointers in the first three quarters. The found their groove in the final period, when they made eight of 12 with five from Gordon to pull away for their 20th win in 21 games.
Rodney Hood had 26 points off the bench for the Jazz, who have lost six of their last seven games.
Celtics 112, Pacers 111
INDIANAPOLIS – Terry Rozier's steal and dunk with 1.5 seconds left capped a frantic comeback in the final half-minute that gave Boston the victory.
Kyrie Irving scored 30 points for Boston, which trailed 107-102 after Victor Oladipo's basket with 31 seconds remaining.
But Irving made a pair of 3-pointers, and following an inbound pass with nine seconds left, Boston was attempting to trap Indiana's Bojan Bogdanovic along the sideline. Bogdanovic threw a high pass intended for Oladipo near midcourt but Rozier intercepted it and had an open court to his slam.
Al Horford had 14 points, 10 rebounds and nine assists for the Celtics. Jayson Tatum added 16 points and Marcus Smart had 15.
Oladipo scored 12 of his 38 points in the final two minutes, including a 3-pointer that gave Indiana its first lead of the game with 53 seconds to play.
Warriors 116, Lakers 114
LOS ANGELES – Kevin Durant scored 36 points and hit a tiebreaking 22-foot jumper with 7.3 seconds left in overtime, and Golden State beat the Los Angeles Lakers for its ninth consecutive victory.
Klay Thompson had 17 points and 10 rebounds as the defending NBA champions predictably dampened a celebratory night for the Lakers, who retired Kobe Bryant's two jersey numbers during a halftime ceremony.
Perhaps in tribute to Bryant, Durant and Thompson never stopped shooting even when they weren't making many. The duo combined to miss 31 of its first 40 shots, but Durant went 4 for 4 in overtime, capped by that pure go-ahead jumper in OT.
The Lakers had a chance at the end, but David West blocked Lonzo Ball's shot and Brandon Ingram couldn't beat the buzzer.
Thunder 95, Nuggets 94
OKLAHOMA CITY – Russell Westbrook scored 16 of his season-high 38 points in the fourth quarter, including the tiebreaking free throw with 2.3 seconds left, to lift Oklahoma City over Denver.
Westbrook made the first of two free throws to put the Thunder ahead. He missed the second, and the Nuggets called timeout with 1.7 seconds left. Denver's Gary Harris missed short on an off-balance 3-pointer as time expired.
Westbrook also had nine rebounds and six assists for the Thunder, who have won seven of 10 to even their record at 15-15. Oklahoma City survived, despite just eight points from Paul George and four from Carmelo Anthony.
Harris scored 17 points, Trey Lyles had 15 and Torrey Craig added a career-high 14 for the Nuggets, who led by 10 points early in the fourth quarter.
Timberwolves 108, Trail Blazers 107
MINNEAPOLIS – Jimmy Butler powered through a recent bout of back spasms to score 37 points, sinking two free throws that gave Minnesota the lead with 2.5 seconds left in a victory over Portland.
Jamal Crawford pitched in a season-high 23 points, including 16 in the fourth quarter to spur a rally from 10 points down with 7 1/2 minutes remaining. The Wolves completed their third comeback win this season from a double-digit deficit.
C.J. McCollum scored 20 points for the Blazers, whose three-game winning streak ended when Damian Lillard's 3-point heave at the buzzer fell short. Jusuf Nurkic had 20 points and Lillard added 17 points and 13 assists, among six Blazers in double digits.
Hornets 109, Knicks 91
CHARLOTTE, N.C. – Frank Kaminsky scored 15 of his season high-tying 24 points in the first half to give Charlotte a jolt off the bench in a victory over New York.
Kaminsky didn't miss a shot until the fourth quarter, finishing 10 of 13 overall and 4 of 6 on 3-pointers to provide a boost for a Hornets bench that has struggled so much lately that interim head coach Stephen Silas has shortened the playing rotation.
The Hornets snapped a three-game skid and ended the Knicks' four-game winning streak.
Michael Beasley scored 23 points for New York, which was again without leading scorer Kristaps Porzingis because of a sore left knee.
Bulls 117, 76ers 115
CHICAGO – Nikola Mirotic and Kris Dunn each scored 22 points, and Chicago topped Philadelphia for its sixth consecutive victory.
Mirotic and Dunn each hit huge shots down the stretch as Chicago rallied past the 76ers with a big finish in the fourth quarter. Mirotic also grabbed 13 rebounds, helping the Bulls remain unbeaten since he returned Dec. 8 after missing the start of the season with facial fractures after he got into a fight with teammate Bobby Portis during practice.
Seven players scored in double figures for Chicago. Justin Holiday scored all 20 of his points in the first half, and Portis finished with 12 points and 10 rebounds.
Ben Simmons had 19 points, 11 rebounds and nine assists for the Sixers, who lost for the sixth time in seven games. Dario Saric scored 20 of his 27 points in the second half.
Philadelphia played without Joel Embiid, who rested on the first night of back-to-back games.
Spurs 109, Clippers 91
SAN ANTONIO – LaMarcus Aldridge scored 19 points and San Antonio beat undermanned Los Angeles in Kawhi Leonard's home debut this season.
Tony Parker had 16 points and seven assists in 23 minutes, his second-longest stint after missing the first 19 games while recovering from left quadriceps tendon surgery.
The Spurs are taking a similar incremental approach with Leonard, limiting his minutes after he missed the first 27 games of the season due to right quadriceps tendinopathy.
Leonard did not play in the second half against the Clippers after scoring seven points in 16 minutes during the first half, ending his streak of 110 straight games scoring in double figures.
The Clippers were without five players, including leading scorers Blake Griffin and Lou Williams. Los Angeles rookie Jamil Wilson had a season-high 13 points. DeAndre Jordan also had 13 points to go with 14 rebounds.
Suns 97, Mavericks 91
DALLAS – Alex Len had 14 points and 14 rebounds to help Phoenix rally past Dallas for its second consecutive comeback victory.
TJ Warren scored 19 points and Isaiah Canaan added 17 as the Suns (11-21) improved to 2-0 on a three-game road trip despite playing without injured guard Devin Booker.
Dallas (8-23) lost its third straight game and has one win in its last seven.
Harrison Barnes had 26 points and Devin Harris added 14 for the Mavericks.
Hawks 110, Heat 104
ATLANTA – Taurean Prince scored 24 points, Dennis Schroder added 23 and the NBA-worst Atlanta Hawks beat injury-riddled Miami.
The Heat, down to just nine healthy players, were without leading scorer Goran Dragic, forward James Johnson and key reserve Justise Winslow. Miami center Hassan Whiteside missed his 10th straight game with a bruised left knee and 15th overall.
Miami had won four of five and was trying to move two games over .500 for the first time this season. Josh Richardson scored 26 points and Dion Waiters finished with 23.
Kent Bazemore had 16 points and five steals for the Hawks, who snapped a four-game skid to improve to 7-23.
Local journalism is essential.
Give directly to The Spokesman-Review's Northwest Passages community forums series -- which helps to offset the costs of several reporter and editor positions at the newspaper -- by using the easy options below. Gifts processed in this system are not tax deductible, but are predominately used to help meet the local financial requirements needed to receive national matching-grant funds.
Subscribe to the sports newsletter
Get the day's top sports headlines and breaking news delivered to your inbox by subscribing here.
---