News > ID Government
Idaho 9th Circuit Judge Randy Smith to take senior status in 2018
Mon., Dec. 18, 2017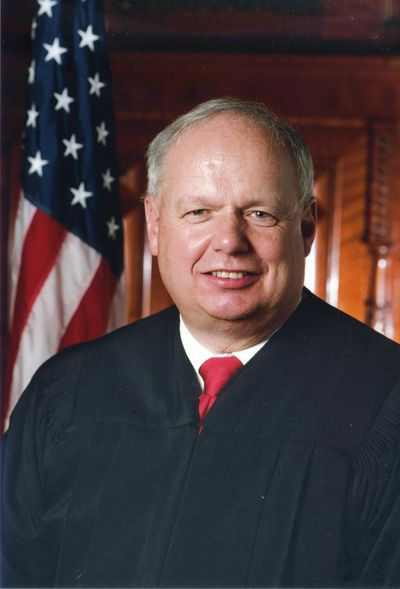 Idaho Judge N. Randy Smith, who serves on the 9th Circuit U.S. Court of Appeals, has announced that he'll take senior status on Aug. 11, 2018, his 69th birthday – which will give President Trump the opportunity to appoint another appellate judge. Smith said he plans to continue to hear cases after he takes senior status.
"I am fortunate to work with wonderful colleagues and an outstanding staff. I truly enjoy what I am doing and I plan to continue making a contribution as a senior judge," Smith, of Pocatello, wrote in a letter to the president notifying him of his decision.
Smith was appointed to the appeals court by President George W. Bush in 2007 and confirmed by the U.S. Senate. He wrote the dissenting opinion on the court's 2-1 ruling declaring California's same-sex marriage ban unconstitutional in 2012.
Prior to his appointment to the federal appeals court, Smith served as an Idaho 6th District judge for 12 years. He had previously practiced law in Pocatello, focusing on corporate civil litigation and insurance defense cases; and served assistant general counsel for J.R. Simplot Co.
Smith was the Idaho Republican Party chairman in 1993-94 and helped manage Phil Batt's successful campaign for governor, before first becoming a judge in 1995.
Smith holds bachelor's and law degrees from Brigham Young University and has served as an adjunct professor at Idaho State University since 1984.
According to the 9th Circuit, federal law allows Article III federal judges, who are appointed for life, to retire at their full current salary, but many judges choose instead to take senior status and continue to hear cases as volunteers.
Smith is the only one of the 9th Circuit's two dozen judges who is from Idaho; his chambers are in Pocatello.
Local journalism is essential.
Give directly to The Spokesman-Review's Northwest Passages community forums series -- which helps to offset the costs of several reporter and editor positions at the newspaper -- by using the easy options below. Gifts processed in this system are not tax deductible, but are predominately used to help meet the local financial requirements needed to receive national matching-grant funds.
Subscribe to the Coronavirus newsletter
Get the day's latest Coronavirus news delivered to your inbox by subscribing to our newsletter.
---