News > Nation
Sarah Palin's son charged with hitting father
UPDATED: Mon., Dec. 18, 2017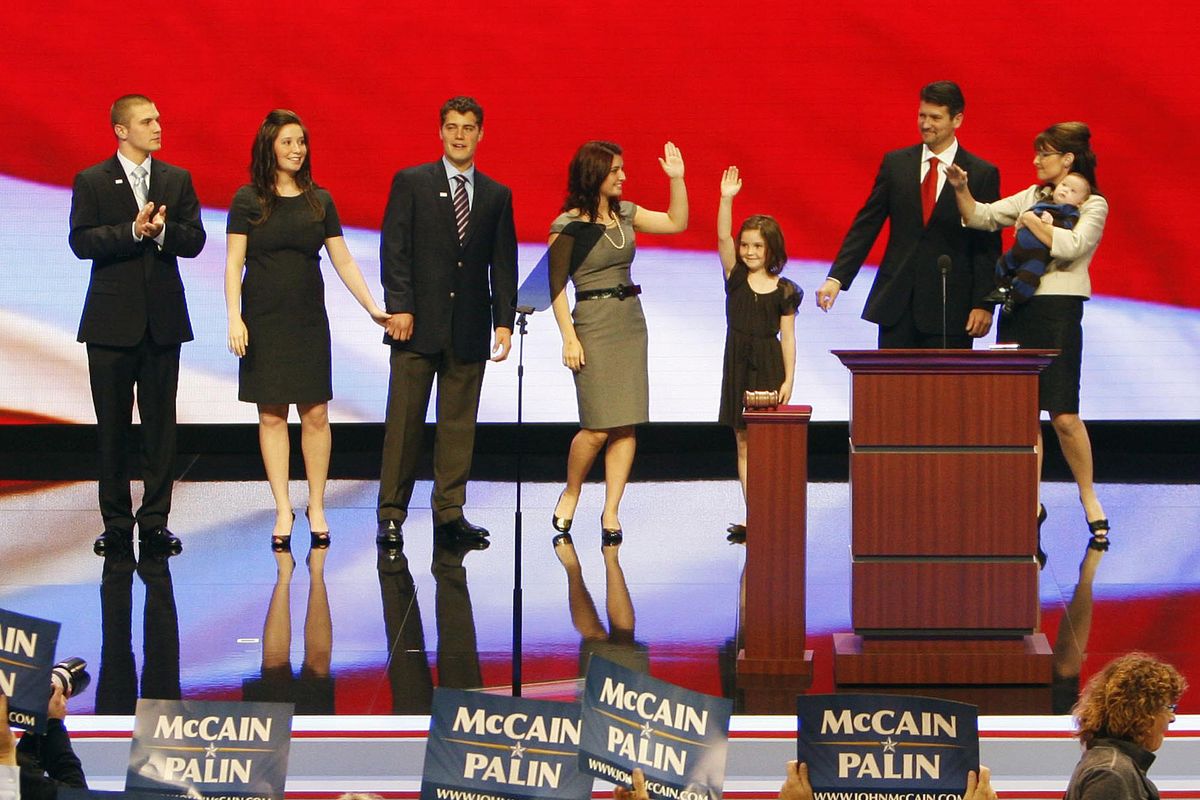 FILE – In this Sept. 3, 2008, file photo, Republican vice presidential candidate Sarah Palin, right, holds her son Trig, as she is joined by her family on stage after her speech at the Republican National Convention in St. Paul, Minn., Wednesday, Sept. 3, 2008. From left are son, Track, daughter, Bristol and her boyfriend, Levi Johnston, daughters Willow and Piper and husband, Todd. (Ron Edmonds / AP)
ANCHORAGE, Alaska –
Sarah Palin's oldest son, Track, has been charged with assaulting his father at the family's home in Wasilla, Alaska.
An affidavit by a Wasilla Police officer says former Alaska Gov. Sarah Palin told police Saturday night that Track Palin was "freaking out" and on some type of medication.
The affidavit says Todd Palin was bleeding from cuts on his head. He told police the dispute began when Track Palin called wanting to get his truck.
Todd Palin said he told Track Palin not to come and got his pistol "to protect his family."
Track Palin told police he tried to get in the door, but it did not open and he broke a window and disarmed his father.
He was arraigned Sunday morning on three counts of felony burglary, misdemeanor reckless assault and misdemeanor criminal mischief. He remained jailed in Palmer, Alaska, as of Sunday afternoon.
Track Palin previously faced domestic violence charges in 2016. Court records say he was suspected of punching his girlfriend, who then became concerned that Palin was going to shoot himself with a rifle. He took a plea deal that resulted in some of the charges being dismissed and he pleaded guilty to misdemeanor possessing a firearm while intoxicated.
Attorney John Tiemessen, who said he represents Sarah Palin, acknowledged the arrest Sunday and asked for privacy.
No attorney was listed for Track Palin.
Local journalism is essential.
Give directly to The Spokesman-Review's Northwest Passages community forums series -- which helps to offset the costs of several reporter and editor positions at the newspaper -- by using the easy options below. Gifts processed in this system are not tax deductible, but are predominately used to help meet the local financial requirements needed to receive national matching-grant funds.
Subscribe now to get breaking news alerts in your email inbox
Get breaking news delivered to your inbox as it happens.
---