News > Crime/Public Safety
Arson blaze caps a rough year for Moscow housing facility
Dec. 20, 2017 Updated Wed., Dec. 20, 2017 at 11:32 a.m.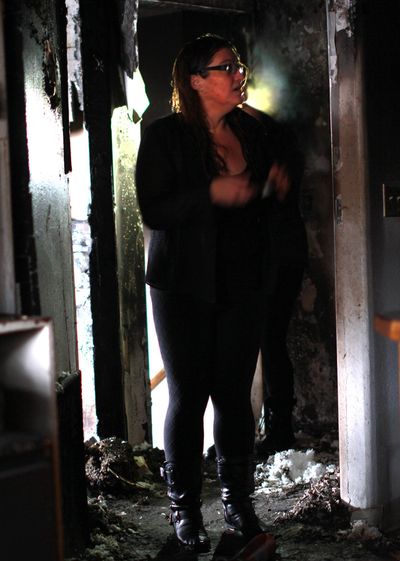 It's been a rough year for Sojourners' Alliance, a transitional housing facility in Moscow for men, women and families with few other places to go.
The nonprofit was forced to close its doors late last year after losing more than $100,000 in federal funding. It reopened in January after a community fund-raising effort.
At about 12:30 a.m. Monday, a new challenge emerged. Flames ripped through the second floor of the Sojourners' Alliance main building, which housed seven men.
Police say one resident, 34-year-old Matthew J. Rieche, admitted to setting a couch ablaze in a shared living room before jumping out of a window and walking away. Court documents say he reported hearing voices and was "coming down from recent methamphetamine use."
Sojourners' Alliance provides long-term housing and other services for the homeless, including those with drug addictions and mental health issues.
Rieche had lived there for several months and never signaled he would try to burn the place down, said Steve Bonnar, the facility's executive director.
"Working with the population that we do, there's a lot of things that are not surprising, just because of the nature of the beast," Bonnar said. "But there was no indication, not even a hint, that this person had this kind of potential in him."
According to court documents, a responding police officer helped lead people away from the burning house and learned that Rieche had barricaded himself in the living room.
Another officer later found Rieche walking several blocks away. He was carrying a fire extinguisher and had minor burns on his arm, according to court documents.
After a visit to the emergency room at Moscow's Gritman Medical Center, Rieche was taken to the police station to be interviewed. According to court documents, he admitted to blocking the livingroom door with furniture and using a lighter to ignite the couch.
Rieche told police he tried to use the fire extinguisher but it didn't work, so he jumped out of the window. He said he knew there were others in the house, but he wasn't trying to hurt anyone, according to court documents.
Rieche has a criminal record in Idaho dating back to 1999. He was arrested in September after allegedly using a brick to shatter the windows of five businesses in downtown Moscow. According to the Moscow-Pullman Daily News, he told police at the time he was homeless and wanted to go to jail.
Monday's fire spread quickly, burning a hole in the roof of the Sojourners' Alliance house and scorching the upstairs living room, kitchen and hallway. The first floor sustained smoke and water damage.
Bonnar said the five-bedroom, two-bathroom house "will have to be gutted," but much of it appears structurally sound. He expects insurance to cover the cost of repairs, although that could take months.
In the meantime, Rieche is being held in the Latah County Jail on a felony arson charge, and his six former housemates have been relocated to a nearby motel.
The Gritman Foundation paid for their first night in the motel. Bonnar said Sojourners' Alliance recently received a federal "rapid rehousing" grant, and he's seeking permission to continue paying the motel with it.
"That's going to gobble up quite a chunk" of the grant money, he said.
The damaged house had space for up to a dozen men. Sojourners' Alliance also offers housing for up to four women and two apartments for homeless families.
The nonprofit has a staff of eight and an annual budget of about $330,000, Bonnar said. It currently serves 30 residents.
Bonnar said Family Promise of the Palouse, another agency that serves the homeless, is lending office space to Sojourners' Alliance until power can be restored to its own offices.
Bonnar is asking people to contribute to Avenues for Hope, a fundraiser for housing services across Idaho. He said Tuesday the campaign had seen "a major uptick in donations" since news of the Sojourners' Alliance fire spread the day before.
Avenues for Hope lasts through the end of the year. As of Tuesday evening, it had raised more than $143,000. It's the same fundraiser that helped Sojourners' Alliance reopen in January after a three-month closure.
Bonnar said it will be tough to recover from the fire.
"I'm just glad that nobody was seriously hurt," he said.
Local journalism is essential.
Give directly to The Spokesman-Review's Northwest Passages community forums series -- which helps to offset the costs of several reporter and editor positions at the newspaper -- by using the easy options below. Gifts processed in this system are not tax deductible, but are predominately used to help meet the local financial requirements needed to receive national matching-grant funds.
Subscribe now to get breaking news alerts in your email inbox
Get breaking news delivered to your inbox as it happens.
---