News > WA Government
In town hall, 5th District challenger Lisa Brown stakes out stance against GOP tax plan
UPDATED: Wed., Dec. 20, 2017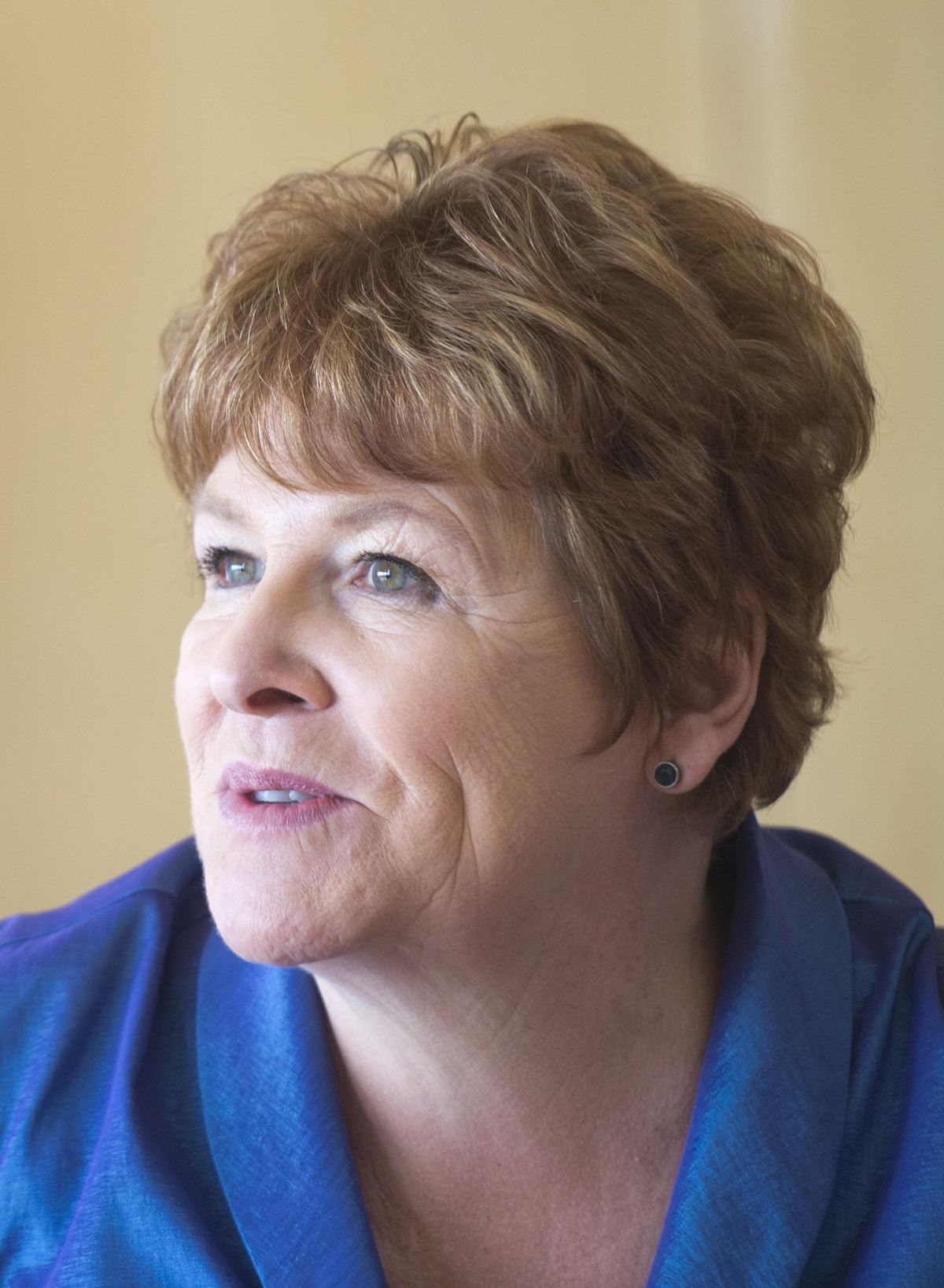 Lisa Brown, chancellor of WSU Spokane, talks about the formation of the new WSU medical school Monday, May 4, 2015 at WSU Spokane. (Jesse Tinsley / The Spokesman-Review)
Hours after the Senate approved the final version of the GOP tax plan Wednesday, 5th Congressional District challenger Lisa Brown railed against the bill in the basement of the Spokane Valley Library.
Brown, a Democrat looking to unseat Rep. Cathy McMorris Rodgers in 2018, spoke to a crowd of over 100 supporters, many of whom appeared eager to hear her take on the bill. Like most Republican legislators, McMorris Rodgers has previously said that she believes the new tax plan will allow lower and middle class citizens keep more of their money.
Brown, however, believes it primarily advantages the upper-class.
"The fundamental reality of this bill is that 83 percent of the benefits go to the top 1 percent, and I don't see that as pro-most families," Brown said. "And I don't see it as a pro-economy either."
On Tuesday night, McMorris Rodgers held a telephone town hall in which she told callers from Eastern Washington that a family of four bringing in $73,000 a year would see their taxes cut by 58 percent. She also denied speculation that the tax cuts would require the elimination of entitlements like Medicaid and Social Security, calling the idea "simply not true."
Brown, a former lawmaker and WSU chancellor, dubbed the bill "a missed opportunity."
"There's very little disagreement about this bill and the national debt – it will dramatically increase it," Brown said.
"Deficit spending that is utilized for a worthy cause is an option we have with a national government," she said. "World War II would not have happened without deficit spending in the U.S.
"The issue, however, is what will the deficit spending be incurred for, and in this case it would be the 83 percent to the 1 percent."
Brown said the bill would trigger cuts, including a $25 billion cut to health care and a $14 billion cut to agriculture.
The cuts to agriculture in particular could impact many of the things that make Eastern Washington great, she said, citing its farms, growers and ample outdoor activities mixed with the convenience of city life.
Brown said she doesn't believe McMorris Rogers is a proponent of these things in the House.
"We don't have an advocate in Congress right now who is paying attention, specifically, to those kinds of (local) issues," Brown said. "That's what I heard in Walla Walla, and that's what I heard in Chewelah and Republic."
Local journalism is essential.
Give directly to The Spokesman-Review's Northwest Passages community forums series -- which helps to offset the costs of several reporter and editor positions at the newspaper -- by using the easy options below. Gifts processed in this system are not tax deductible, but are predominately used to help meet the local financial requirements needed to receive national matching-grant funds.
Subscribe now to get breaking news alerts in your email inbox
Get breaking news delivered to your inbox as it happens.
---