News > Crime/Public Safety
Search continues for South Hill homicide suspect; victim identified as apartment co-owner
Dec. 20, 2017 Updated Thu., Dec. 21, 2017 at 10:04 a.m.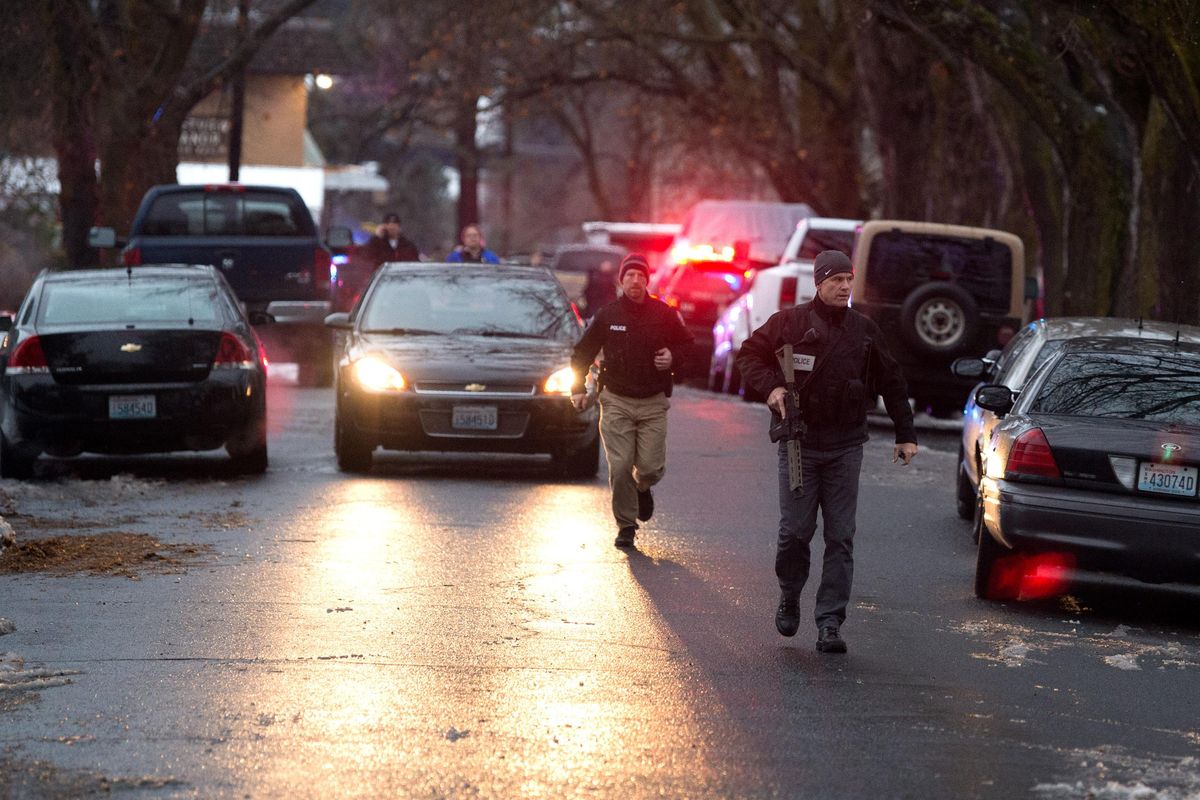 Officers move to block off South Elm and West 10th during after they responded to an active shooter on Tuesday, December 19, 2017, near in Spokane. (Tyler Tjomsland / The Spokesman-Review)
A city-wide manhunt continued Wednesday as its target, a suspect wanted in connection with a Tuesday shooting on the lower South Hill, remained at large.
At about 3 p.m. Tuesday, Spokane police were called to the Westview Manor apartments at 2015 W. 10th Ave. on Spokane's lower South Hill, where a woman was fatally shot and a man suffered a gunshot wound to his head.
Multiple police units were deployed, including K-9 officers and a helicopter, to search nearby Hangman Valley, where witnesses and officers believe the perpetrator fled. The search turned up empty-handed and was subsequently expanded to downtown and beyond.
Authorities are looking for a black woman with short hair in her late 20s or early 30s, about 5-foot-2 to 5-foot-4, possibly wearing a gray stocking cap, plaid pajamas and a jacket.
Police returned to the complex Wednesday morning to deploy K9 officers again and re-interview witnesses.
One of those interviewed by police Wednesday was Rick Schmidt, a longtime resident of the complex. He was at work when the shooting occurred, he said, and learned of it through media reports.
"I actually thought it was next door," he said. "At that home on the corner."
When he returned home Tuesday night, he learned the grave news: The two victims were the co-owner and manager of the complex, in their 50s and 60s respectively. They were also his close friends, he said.
Schmidt and other witnesses identified one of the victims as 59-year-old Danette Kane, whose family-owned Kane Farms L.L.C has been running the property since 1999, according to tax records. The Spokane County Medical Examiner said she died of gunshot wounds.
Schmidt was puzzled by the question of who would have motive to shoot the two. He said he talked to others in the complex, who said they saw a person matching the suspect's description run through the area and toward the valley below after hearing multiple gunshots.
"I'm not sure how she could have gotten away," he said. "They had bloodhounds and everything."
Schmidt said the 12-unit apartment complex is close-knit, and neighbors talk often. He wasn't sure if a young, black woman was staying in one of the units.
Reached by phone Wednesday afternoon, Wayne Kane, Danette Kane's brother-in-law, was unaware that she had died.
"Oh man," he said over the phone. "That's really sad."
Danette Kane's husband and Wayne's brother Kenneth Charles Kane died last year.
Wayne Kane said there was a unit in the building that his sister-in-law and the manager were having trouble with before the shooting, but couldn't say what would motivate someone to commit such a crime.
"I know the manager has several times talked to someone about different things," he said, referring to the male shooting victim who remains in critical condition. "I have no idea why he would be that concerned about anything."
Editor's note: An earlier version of this story misidentified Danette Kane's husband. He is Kenneth Charles Kane, or K.C. Kane, not Casey Kane.
Local journalism is essential.
Give directly to The Spokesman-Review's Northwest Passages community forums series -- which helps to offset the costs of several reporter and editor positions at the newspaper -- by using the easy options below. Gifts processed in this system are not tax deductible, but are predominately used to help meet the local financial requirements needed to receive national matching-grant funds.
Subscribe now to get breaking news alerts in your email inbox
Get breaking news delivered to your inbox as it happens.
---