News > Crime/Public Safety
Westport man pleads guilty in Spokane to $65 million biofuels scheme
UPDATED: Wed., Dec. 20, 2017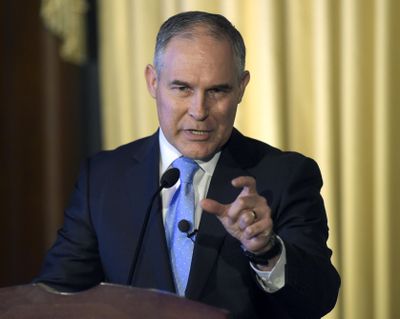 A man who until recently worked for an alternative fuels company that operated in both Moses Lake and Pasco was sentenced Wednesday to 6 1/2 years in prison after investigators discovered he defrauded taxpayers and fuel producers out of about $65 million.
Donald Holmes, 75, of Westport, Washington, was sentenced Wednesday in Spokane by U.S. District Court Judge Salvador Mendoza Jr. to 78 months in prison after previously pleading guilty to conspiracy to defraud the government and conspiracy to commit wire fraud.
In addition to the prison time, Mendoza ordered Holmes to pay $9.5 million in restitution to taxpayers and an additional $6.2 million in restitution to the victims of his fraud, according to a news release from the U.S. Attorney's Office.
Between 2012 and 2015, Holmes was involved with Gen-X Energy Group, Inc., a renewable energy company that operated in Moses Lake and Pasco.
Some of the company's revenue was derived by producing and selling renewable energy tax credits, an exchange made possible by the Energy Independence and Security Act of 2007, which directed the Environmental Protection Agency and IRS to give credits to companies which produced renewable fuel.
"This regulatory scheme mandated that petroleum refiners and importers in the United States include renewable fuel in their product mixes," Acting U.S. Attorney Joe Harrington wrote in a news release. "Petroleum refiners and importers could, however, meet this obligation by purchasing credits from renewable fuel producers."
In other words, energy producers like Gen X could generate the biofuel credits – called "renewable identification numbers," or RINs – by producing renewable fuels, and then sell the RINS to refineries, pocketing the profit.
Holmes and his business partners were accused of falsely claiming to produce more than 72,000,000 marketable renewable energy credits, which they sold for more than $57,000,000, and of filing false claims with the IRS for $9,517,412.50 in excise-credit refunds, Harrington wrote.
"Throughout this period, much of the renewable fuel claimed to be produced at the Gen-X facilities was either not produced or re-processed multiple times," Harrington said.
The case was investigated by the criminal investigative divisions of both the IRS and the EPA.
"American taxpayers and the biofuels industry were defrauded $65 million as a result of this massive and elaborate scheme," EPA Administrator Scott Pruitt said in the release. "EPA is committed to working with its law enforcement partners to prosecute those who blatantly disregard the law."
Local journalism is essential.
Give directly to The Spokesman-Review's Northwest Passages community forums series -- which helps to offset the costs of several reporter and editor positions at the newspaper -- by using the easy options below. Gifts processed in this system are not tax deductible, but are predominately used to help meet the local financial requirements needed to receive national matching-grant funds.
Subscribe to the Coronavirus newsletter
Get the day's latest Coronavirus news delivered to your inbox by subscribing to our newsletter.
---