Sports > EWU basketball
Rodney Stuckey helps out at alma mater Kentwood while awaiting return to NBA
Fri., Dec. 22, 2017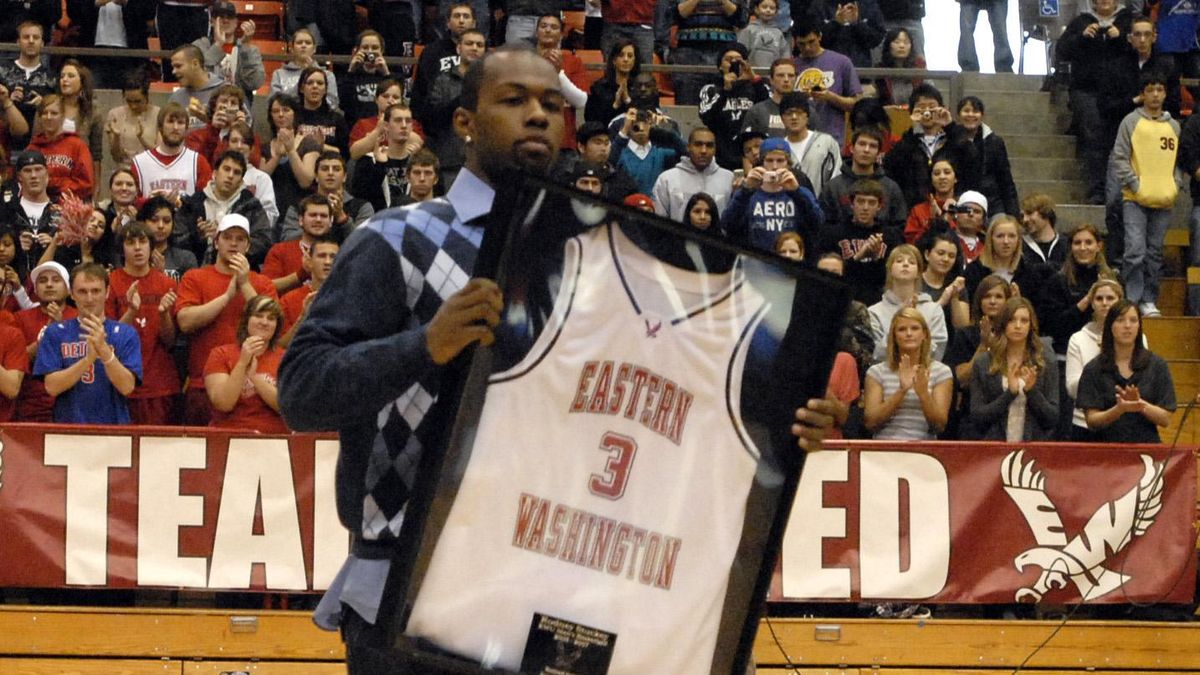 Former Eastern Washington University All-American basketball player Rodney Stuckey shows off his retired No. 3 jersey at a ceremony honoring him in Cheney on Jan. 11, 2009. (File / SR)
TACOMA – Rodney Stuckey's Detroit Pistons jersey hangs in a case in the foyer before you walk through the double doors into Kentwood High School's gymnasium.
Stuckey gets to walk past it just about every day since he joined his alma mater as an assistant basketball coach while he awaits a return to the NBA.
The 31-year-old and 10-year NBA veteran said he's taking a season off to heal from injuries – he tore his left patellar tendon that led to him being waived by the Indiana Pacers in March – while also spending time with his newborn son. He was plagued by injuries most all of last season, appearing in a little more than half the Pacers' games.
"Oh, for sure, I'll be back in the league," Stuckey said. "I'm just taking a year off."
The plan wasn't to start helping out his former teammate, Kentwood head coach Blake Solomon, until after his professional playing career.
About a week before the school's tryouts, the 6-foot-5 NBA combo guard asked if there would be room for him to help out this season.
"It's been awesome," Stuckey said. "It makes me want to rejuvenate myself even more and get back in shape. But it's been great giving my knowledge and helping the kids out through basketball."
He kept track of Kentwood a year ago when Solomon coached the team to the State 4A title over Union. It came 13 years after Solomon and Stuckey were starting guards on Kentwood's 2004 team, which beat South Kitsap for the State 4A title.
Stuckey earned the State 4A tournament's MVP that year, scoring 18 points in the title game. He was The News Tribune's All-Area boys basketball player of the year in 2004.
"State champs, baby," Stuckey said. "We used to always go over to Blake's house before games and eat all his snacks. He's a good guy, and was a great shooter."
"Me and him, we've talked for a while since I have been coaching," Solomon said. "Whatever he says, kids just listen a little better to it. He commands such respect and attention, so it's great just to have his presence."
Stuckey earned The Associated Press' all-state player of the year over Bremerton's Marvin Williams, who would go on to win an NCAA title with North Carolina before heading to the NBA.
But while Williams was in Chapel Hill, Stuckey went to Cheney to play at Eastern Washington University, though he didn't play his first year there because he was academically ineligible.
Stuckey followed with stellar two seasons at EWU in which he averaged more than 24 points per game. The school retired his No. 3 jersey there in 2009. In 2005-06, Stuckey was named Big Sky Conference Freshman of the Year and league MVP in a season that included a 45-point outburst against Northern Arizona.
That led to him being selected 15th overall by the Detroit Pistons in the 2007 NBA Draft.
His first NBA season he was a second-team all-rookie pick and helped the Pistons reach the Eastern Conference Finals before losing to the Boston Celtics in six games.
Stuckey has been a tough scorer since, averaging 12.6 points, 3.6 assists, 2.9 rebounds and 0.9 steals per game in his 10 seasons.
He signed a veteran's minimum salary with the Pacers in 2015, but had a big season, including becoming the Pacers' first reserve player in franchise history to score 30 or more in back-to-back games,
That led to a three-year, $21 million deal to stay with the Pacers, but the third year was a team option.
"We want to thank Rodney for his commitment to our franchise in his three years with the Pacers," Pacers President of Basketball Operations Larry Bird said after Stuckey was waived. "He was a positive influence not only to our team but also in the community. We wish him nothing but the best in the future."
There were reports that the Lakers were interested in signing Stuckey this offseason, but he chose to come back to Kent.
"I come back to Kent every summer. We always have open gyms and stuff like that," Stuckey said. "I told Blake, whenever I get done playing basketball I want to help out. I'm obviously taking this year off, so I thought I'd come and help out. I just want my body to rest."
He's not the only NBA player in the state's coaching ranks, with former All-Star Brandon Roy having taken over at his alma mater, Garfield, this year, after coaching Nathan Hale to the State 3A title last season.
Local journalism is essential.
Give directly to The Spokesman-Review's Northwest Passages community forums series -- which helps to offset the costs of several reporter and editor positions at the newspaper -- by using the easy options below. Gifts processed in this system are not tax deductible, but are predominately used to help meet the local financial requirements needed to receive national matching-grant funds.
Subscribe to the sports newsletter
Get the day's top sports headlines and breaking news delivered to your inbox by subscribing here.
---