Sports > Outdoors
Outdoor writing contest: Special Place
Sat., Dec. 23, 2017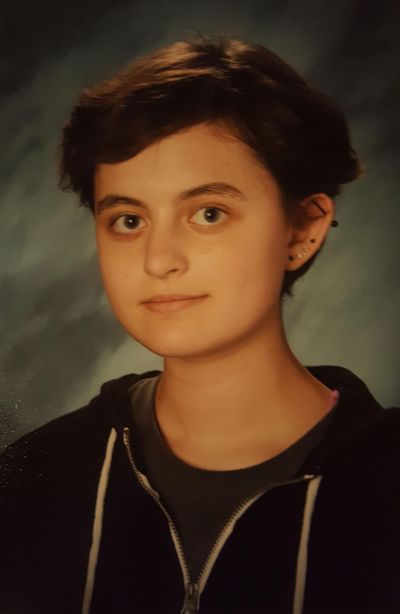 As I stand in the center of the ring of trees I know so well, a gentle breeze washes over the quickly darkening forest, blowing my long brown hair to the side. I feel so small next to the colossal pines, but full of exhilaration.
I swing my head to the right when I hear the snapping of branches to see a pair of deer walking by. One of them is young, much smaller than the other. I can still see traces of the faint spots that once covered the fawn's whole back.
The older deer freezes when she sees me, causing the little one to collide with her back legs before stopping as well. She looks at me with her soft, brown eyes, trying to determine whether I am friend or foe. I hold my breath and am still, trying to silently persuade them to stay, yet my efforts are wasted when I cannot bear the screaming of my lungs any longer and let out a long huff of air, scaring the duo away.
I am disappointed, but it does not affect me much, as I see many deer every day living where I do. They are peculiar creatures, much like myself in some ways. Since there is no longer any reason to stand still, I turn and sit on a deteriorating old tree stump that is littered with weathered grooves from pen drawings I made during my childhood. When I was small, I used to sneak out here with the most colorful pens I could find and pick away the bark on the sides of this stump, leaving it a blank canvas for my drawings. I smile to myself, remembering this morsel from my past.
A ray of light in my eyes indicates that the sun is almost down, and it is time to start heading back home. I always find myself wishing I could stay here longer, in this halo of trees untouched by man, but it gets very dark during the night. I do not want to get lost without my flashlight to guide me. I stand motionless, with my eyes closed, trying to somehow absorb the texture of my surroundings and keep it with me for as long as possible. I reopen my eyes, feeling the cool air on them much sharper now, and turn back toward the old dirt trail worn into the ground.
Gazing up at the darkening sky while following the path back home, I breathe in the crisp autumn air and listen to the satisfying crunch of the dry pine needles beneath my feet. I can't wait to come back here tomorrow.
Local journalism is essential.
Give directly to The Spokesman-Review's Northwest Passages community forums series -- which helps to offset the costs of several reporter and editor positions at the newspaper -- by using the easy options below. Gifts processed in this system are not tax deductible, but are predominately used to help meet the local financial requirements needed to receive national matching-grant funds.
Subscribe to the sports newsletter
Get the day's top sports headlines and breaking news delivered to your inbox by subscribing here.
---