News > Spokane
Carousing carolers celebrate Christmas Eve at Spokane's Bellwether brewery
UPDATED: Sun., Dec. 24, 2017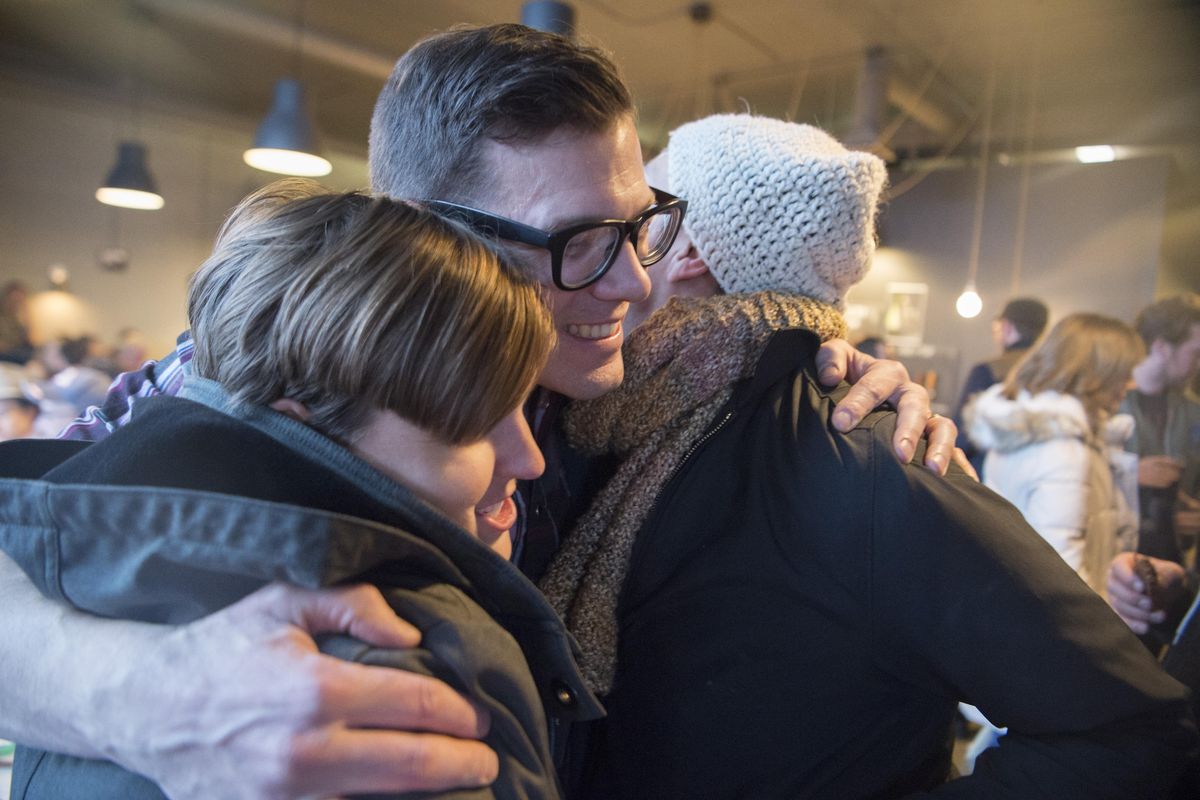 Dave Musser, an owner at Bellwether Brewing, welcomes friends inside the brewery's tasting room Sunday, Dec. 24, 2017. A singer led patrons and friends in caroling from 3 to 5 p.m., a tradition for the last few years. (Jesse Tinsley / The Spokesman-Review)
The wassailing was well underway at Spokane's Bellwether Brewing Co. on North Monroe when Wes Davidson stopped his strumming and questioned the crowd's choice in the little extra lyrics to "Rudolph the Red-Nosed Reindeer."
"Like 'Monopoly?' " he said. "Where I grew up it was 'like basketball,' but it's OK."
The singing began again, and it was "like Columbus," not "George Washington," but the 70 people who came to drink beer and sing all shouted with glee when the time came.
Krista Peterson and Brian Woodward walked over from their nearby home in the Emerson-Garfield neighborhood for the two hours of Christmas Eve Carols and Cheer, as the third-annual event was called.
"And the beer," said Peterson, who recently moved from Seattle with Woodward. She was inspired to carol after going to some beer choir events, most recently at downtown's Black Label Brewing Company. "You just drink beer and sing. It made us want to come down and wassail."
The two couldn't settle on a favorite carol, but Woodward said Bing Crosby's "Happy Holidays" has become an ear worm during his recent morning commutes. He hopes it's out of his head by May.
At the mic, Davidson began "Angels We Have Heard on High," which got everybody singing together, "Glooooooria."
Dana and Matt Comi, Whitworth University alumni, sipped on Hygge Mulled Ale. They were in town for the holidays from Kansas City, where they attend graduate school.
"I like 'Little Drummer Boy,' which is unpopular," she said. Unpopular? She pointed to her husband. "He doesn't like it."
His favorite then?
"Do you know Bruce Cockburn?" he asked. It was silent, except for the dozens of people singing. "His version of 'Mary Had a Baby.' "
The brewery had a Christmas tree by the door, and a spread of cookies and bread for all to enjoy. Most stuck to the beer.
Nick Lundback had driven in from Spokane Valley with his wife, Sarah, and two boys, Gabe, 8, and Rowan, 4.
It was Lundback's first time in Bellwether, and he was impressed.
"The space is nice. It's nice and clean," he said. "They tapped into a large community."
Lundback couldn't think of a favorite carol, but he took a guess for his boys. "Maybe 'Frosty the Snowman?' "
As the minutes flew by, one of Bellwether's owners, Dave Musser, shuttled around in a plaid shirt and dark vest, trying to keep up with the drink orders. Hugs came first, though.
Each year Bellwether has held a caroling party, it grows.
"We had no idea what to expect," he said, a bit overwhelmed but with a broadening smile. "But these are the festivities I had as a kid. I wanted to share it."
Musser is pastor of his church, Alter, which meets in the brewery. He said part of the reason for the brewery was to "bring the church into the neighborhood."
"This building sat empty for 10 years. When we see life in it, we see our Christian faith," he said. "Seeing people drinking and laughing and singing. That's bringing life."
Musser's wife, daughter and son sat nearby, his daughter's large glasses similar to his own oversized frames. Musser sang with them for a minute before running off to pour more pints, embrace more friends and urge more bellowing.
"Christmas is about being with family, and celebrating Jesus become flesh. That's a reason to party and celebrate, if any other reason," he said. "That's a reason to drink and sing."
Local journalism is essential.
Give directly to The Spokesman-Review's Northwest Passages community forums series -- which helps to offset the costs of several reporter and editor positions at the newspaper -- by using the easy options below. Gifts processed in this system are not tax deductible, but are predominately used to help meet the local financial requirements needed to receive national matching-grant funds.
Subscribe now to get breaking news alerts in your email inbox
Get breaking news delivered to your inbox as it happens.
---