Sports > Seattle Seahawks
Playoff hopes still alive for Seahawks after 21-12 win over Cowboys
UPDATED: Sun., Dec. 24, 2017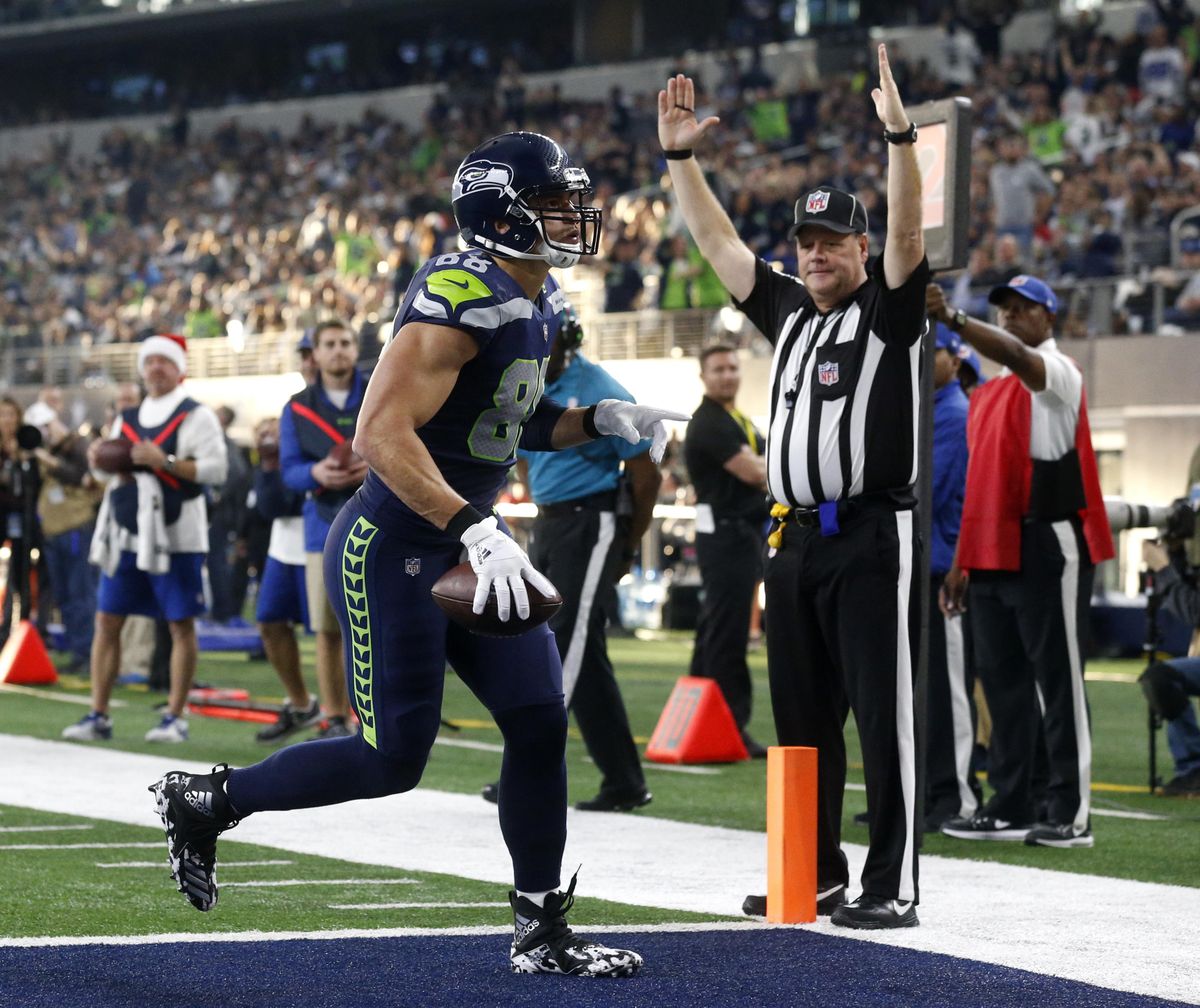 Seattle Seahawks tight end Jimmy Graham (88) celebrates his touchdown catch in the first half of an NFL football game against the Dallas Cowboys on Sunday, Dec. 24, 2017, in Arlington, Texas. (Michael Ainsworth / AP)
ARLINGTON, Texas – On Christmas Eve, when they absolutely had to be, the Seahawks were lit.
On defense. On point. Finally.
Justin Coleman picked off the key pass. He scored the touchdown that gave the Seahawks the lead they had to have. Then he jumped into the Salvation Army kettle behind the end zone. Frank Clark pounded the prop to punctuate Coleman's sparking, saving play.
"He was the kettle," Clark said. "I was the drum.
"Merry Christmas."
Coleman's ringing interception and 30-yard return for the score early in the second half put Seattle ahead 14-9 – despite its again-sputtering offense having just 53 total yards at that point into the third quarter.
Doug Baldwin's exquisite move off the line for a 3-yard touchdown pass from Russell Wilson in the fourth quarter and the Seahawks' patched-together defense turned Dallas away six times without touchdowns while in Seattle territory to seal the Seahawks' 21-12 victory on Christmas Eve at AT&T Stadium that kept their playoff hopes alive – and eliminated the Cowboys from playoff contention.
Seattle (9-6) followed its worst margin of defeat in the Pete Carroll era with one of its most reassuring victories, doing it their old way. With defense.
The Seahawks won despite just 136 yards of offense, their lowest total since 2013. Russell Wilson's 93 yards passing was the fewest of his career.
"It felt like we weren't even out there a lot of the time," Wilson said of his side of the ball.
No one's feelings were worse than those on the Seahawks' defense after the 42-7 home loss to the Rams the previous week that had most of the football country writing off Seattle as finished – maybe for an era.
"It felt like we had hit rock bottom last week," Clark said. "You lose that bad at home you feel the momentum of the whole season go the other way.
"It felt like we had nothing to lose, that we only had one direction to go. And that was up."
Now, they've resurfaced, needing a win on New Year's Eve at home over Arizona plus a Carolina win at Atlanta the same day to make the playoffs for the sixth consecutive January.
They are even back to having their usual Seahawks sideshow.
After the game, three-time All-Pro safety Earl Thomas added some holiday spice to the Seahawks' victory by going into the Cowboys' locker room, he said to talk to good friend and Dallas receiver Dez Bryant. Thomas saw Cowboys coach Jason Garrett and told him to have his team "come get me."
Bah humbug.
Thomas, a native of Orange, Texas, five hours southeast of Dallas, said he was a Cowboys fan growing up – and that he was informing his boyhood team he wanted to play for it when "Seattle kicks me to the curb."
Thomas' contract ends after next season. It's obvious he feels slighted the Seahawks, the only NFL team he's known, haven't yet offered to extend it for a second time.
As has happened throughout much of this season, the Seahawks defense kept Seattle in the game – then gave them the lead in the third quarter.
The Seahawks gained a season-low 136 yards, their fewest since 2013. Wilson threw for just 93 yards – the lowest of his six-year career. Yet the Seahawks revived their season and playoff hopes, anyway.
Seattle benefited from Dallas going away from Ezekiel Elliott's running. Elliott gained 61 yards on 13 carries over Dallas' first 25 plays in his return from a six-game suspension. He romped for 51 yards in the first quarter – and looked to be on his way to an epic return. But the 2016 NFL rushing champion carried it just 11 times over the Cowboys' final 43 plays.
Elliott finished with 97 yards on 24 carries, well short of the 200 yards he had bet Hall of Fame rusher Eric Dickerson a game jersey he'd get in his return.
"Oh, yeah, we heard about that," Clark said.
Dallas managed just four field goals by Dan Bailey against Seattle's defense that got linebacker K.J. Wright back from a concussion, had a healthier All-Pro linebacker Bobby Wagner, and looked nothing like the unit that folded in a blowout loss to the Rams the previous week.
Seattle's offense was doing its usual, first-half thing – zero – until cornerback Bryon Maxwell stripped the ball from Dallas' Dez Bryant after a catch. Wright recovered the fumble at the Cowboys 43, and the offense had its first spark.
A catch and juke by lead running back Mike Davis and pass-interference penalty on Dallas cornerback Jourdan Lewis in the end zone grabbing at Jimmy Graham's torso on Wilson's pass far over the 6-foot-7 tight end's head put the Seahawks at the 1-yard line. Then Wilson, who has struggled with his passing accuracy for weeks, made his best play in a month. Davis dropped his handoff, but Wilson alertly dived on the ball before any Cowboys defender noticed it laying there.
Seattle retained possession, and on the next play Graham simply jogged a few yards into the end zone, turned around and walled Lewis onto his back then caught Wilson's 3-yard pass that put Seattle ahead 7-6.
It was Graham's 10th touchdown catch this season, his most since his final season with New Orleans in 2014. That was just before the Saints traded him to Seattle.
But the Seahawks gave away that lead at the end of the half with a poor defensive series of gifts that could have saved Santa a trip to the Metroplex.
Seattle defensive end Michael Bennett jumped offside on third-and-2 at the start of Dallas' 2-minute drill, handing the Cowboys a first down. Then Bennett just missed grabbing Cowboys quarterback Dak Prescott by his shoes as Prescott escaped pressure. That turned into a 13-yard run and first down at midfield. One pass, for 17 yards to Terrance Williams, set up Bailey's second field goal from 51 yards of the half, and Dallas had the lead back, 9-7 at halftime.
Elliott had 73 yards on 15 carries in the first half. Seattle got outgained 179-44 in the half, but thanks to Maxwell's forced fumble to set up Graham's touchdown trailed by just that 9-7 score.
Then Coleman went into the kettle, and the Seahawks' season was back on.
Seattle turned all three of Dallas' turnovers into not just points but touchdowns. Prescott was mostly awful: 21 for 34 for 182 yards passing and two interceptions. The one to Coleman sailed far over Elliott's head.
The Seahawks didn't commit a turnover.
That was the game. And the season revived.
"A huge day turning the football over," Carroll said. "When you get three turnovers, you are supposed to win. We know that."
Local journalism is essential.
Give directly to The Spokesman-Review's Northwest Passages community forums series -- which helps to offset the costs of several reporter and editor positions at the newspaper -- by using the easy options below. Gifts processed in this system are not tax deductible, but are predominately used to help meet the local financial requirements needed to receive national matching-grant funds.
Subscribe to the sports newsletter
Get the day's top sports headlines and breaking news delivered to your inbox by subscribing here.
---