News > Spokane
100 years ago: Accused German 'master spy' allegedly tried to create colony of Hindus to spy on Canadians from north Spokane
Tue., Dec. 26, 2017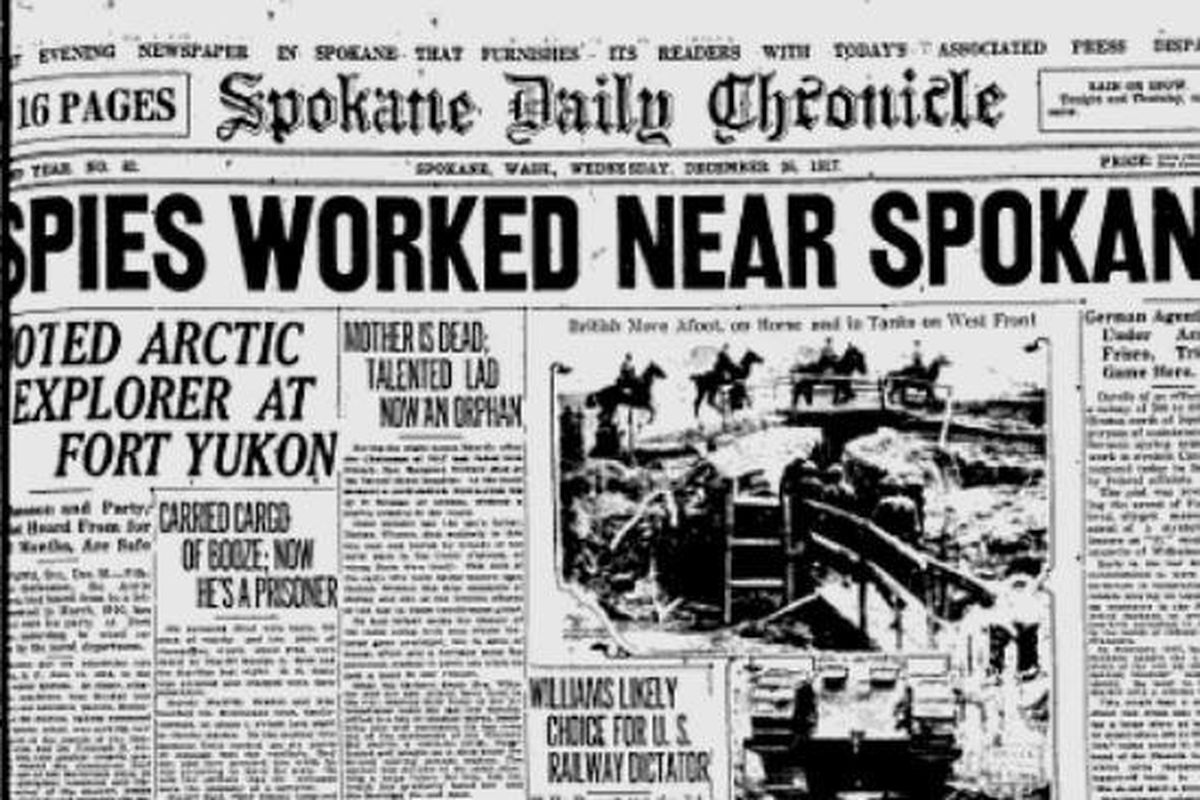 After a German "master spy" was arrested in San Francisco, and officials believe he previously attempted to establish "a gigantic German spying organization" north of Spokane, the Spokane Daily Chronicle reported on Dec. 26, 1917. (Spokesman-Review archives)
After a German "master spy" was arrested in San Francisco, the Spokane Daily Chronicle breathlessly broke the story that he had previously attempted to establish "a gigantic German spying organization" north of Spokane.
Franz Schulenberg was arrested for allegedly planning to blow up industrial plants and bridges in Canada. He was working with a mysterious female spy known only as "H" or "Madame H."
However, federal officials also uncovered evidence of a failed Spokane operation in 1915. That year, Schulenberg took out an ad in the Spokane papers seeking a tract of land north of the city in which "200 to 300 Spanish families might establish a colony."
Federal officials believed that he was not actually trying to establish a Spanish colony. Instead, they claimed that he intended to plant a colony of Hindus, who would then use the colony as a "spy center to work in western Canada." They would be close to the border and have easy egress and ingress into Canada, where they would obtain military information about the arrival and departure of military vessels in the Pacific.
Why Hindus? Because they were anti-British (thus anti-Canadian) because of their own struggles for independence from Britain. Officials said that Schulenberg had been working with a "prominent Hindu revolutionist," currently on trial in California on charges of conspiring with Germans.
This colony plan never reached fruition because Schulenberg was unable to buy the necessary land.
Local journalism is essential.
Give directly to The Spokesman-Review's Northwest Passages community forums series -- which helps to offset the costs of several reporter and editor positions at the newspaper -- by using the easy options below. Gifts processed in this system are not tax deductible, but are predominately used to help meet the local financial requirements needed to receive national matching-grant funds.
Subscribe now to get breaking news alerts in your email inbox
Get breaking news delivered to your inbox as it happens.
---