A&E > Food
Fresh sheet: Culture Breads hits Kickstarter goal for brick-and-mortar location
Tue., Dec. 26, 2017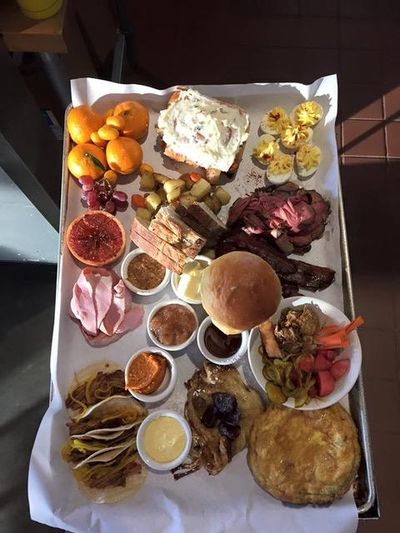 Culture Breads raised more than $20,000 in a successful Kickstarter campaign to open a brick-and-mortar location in Spokane's South Perry District.
In all, 131 backers supported the project, raising a total of $21,746. The all-or-nothing campaign needed $20,000 to succeed.
Proprietor Shaun Thompson Duffy plans to open his shop in early 2018. It will feature a custom-built wood-fired oven and walk-up counter where customers can buy bread by the pound as well as flat breads and other baked goods.
Thompson Duffy specializes in baking bread with ancient, heritage or landrace grain, such as spelt, einkorn, rye, Egyptian barley and Turkey Red wheat. He gets his grain from within about an hour's drive from Spokane.
For more information, reach Thompson Duffy at culturebreads@gmail.com.
Platter, please
You don't have to be hungover to enjoy the New Year's Day Brunch Platter at Central Food in Kendall yards. But the expansive offering just might help cure what ails you after a night of revelry and imbibing bubbly.
Served on baking sheets so large they have to be wheeled to tables, the specialty platters typically include a smorgasbord of house-made bread, pickled vegetables, fresh fruit, deviled eggs, sliced meats, a variety of fruit and other spreads, bacon, tacos, an oversize cinnamon roll and more.
Platters are $60 each and are meant to serve four "hungry hungover people," said chef-owner David Blaine. But a couple could share it and bring home leftovers to enjoy later in the day. Larger groups – of seven or eight – might want to split two.
Central Food will also be serving its full brunch menu from 8 a.m. to 3 p.m. New Year's Day at 1335 W. Summit Parkway. Call (509) 315-8036. On the web: eatcentralfood.com.
Have a '90s New Year
The Coeur d'Alene Casino is hosting a throwback New Year's Eve celebration with a 1990s theme.
Don your best '90s attire and start the night with a special menu at Chinook Steak, Pasta and Spirits. Dinner for $65 features three courses: grilled flat bread with pear, prosciutto and pesto; a surf-and-turf entree with top sirloin steak and Maine lobster tail with whipped potatoes and vegetables; and eggnog pie with apple-cider syrup for dessert. Reservations are recommended.
At 10:30 p.m., prizes will be given for best '90s couple, group and individual as well as two runners-up in each category.
The Coeur d'Alene Casino is at 37914 S. Nukwalqw Road in Worley. Call (800) 523-2464. On the web: cdacasino.com.
Hair of the Dog New Years' Day Party
Community Pint welcomes customers to celebrate the first day of the new year by having a beer – in their pajamas.
To start 2018, the tap house is tapping Founder's Canadian Breakfast Stout. Guests are welcome to wear their pjs or clothes from the night before. Community Pint is also hosting a potluck, and guests are invited to bring their favorite hangover cure dish to share.
The fun starts at 10 a.m. at 120 E Sprague Ave. Call (509) 953-8266.
Quail at Clover
One of the most popular items on Clover's new winter menu is stuffed quail, which owner Scott McCandless is calling an unexpected hit.
The dinner entree features cedar-roasted, bacon-wrapped quail stuffed with chicken-apple sausage, fennel and brioche and served with creamy polenta and grilled broccolini.
For starters, there's cream of mushroom soup, poured tableside over chevre-and-wild-mushroom duxelles and truffle creme fraiche, or pomegranate salad with chili, lime, basil, feta, candied pumpkin seeds and avocado. Another option: Scott's Cupcake Au Gratin Potatoes with sliced potatoes, truffle oil, and Gruyere and Gorgonzola cheeses, all layered in a cupcake tin.
For lunch, try the Hot Brown open-face sandwich with house-brined turkey breast, bacon mornay, pancetta, preserved tomato and Emmenthaler Swiss cheese.
And save room for dessert. Liz's Chocolate Cheese Cake features dark chocolate cake features a chocolate wafer crust, candied cocoa nibs and, for balance, white chocolate crème anglaise.
Clover is at 913 E. Sharp Ave. Call (509) 487-2937. On the web: cloverspokane.com.
Customize meals with new app
Innit can help you decide what's for dinner.
The new app, launched in early December, suggests meals based on personalized requirements that take into account food allergies or preferences, such as vegan or vegetarian foods – or a dislike of bananas – as well as what's in your fridge.
It also generates a shopping list and describes how to make dinner in as few steps as possible, so all dishes are done at the same time. And, it connects with GE appliances and Bosch with Home Connect technology to turn smart ovens on and off at the appropriate time, send custom instructions and notify home cooks when their meals are ready.
The Innit app is now available at the Apple App Store for free. On the web: www.innit.com.
2018 Lentil Family of the Year
The National Lentil Festival gave Bill Newbry the 2018 Lentil Family of the Year award at the Western Pulse Growers Association's annual meeting.
Newbry has served as president and CEO of the Pacific Northwest Farmers Cooperative since 1996. He was given the award in mid December.
PNW is a 1400-member agricultural cooperative which exports pulses to more than 40 countries world-wide. The National Lentil Festival has celebrated one particular pulse since 1989. The fest takes place in Pullman in August. On the web: lentilfest.com.
Local journalism is essential.
Give directly to The Spokesman-Review's Northwest Passages community forums series -- which helps to offset the costs of several reporter and editor positions at the newspaper -- by using the easy options below. Gifts processed in this system are not tax deductible, but are predominately used to help meet the local financial requirements needed to receive national matching-grant funds.
Subscribe to the Spokane7 email newsletter
Get the day's top entertainment headlines delivered to your inbox every morning.
---