A&E > Beer/Drinks
Good cheer: Warm up with these winter sips at Spokane-area bars
UPDATED: Fri., Jan. 5, 2018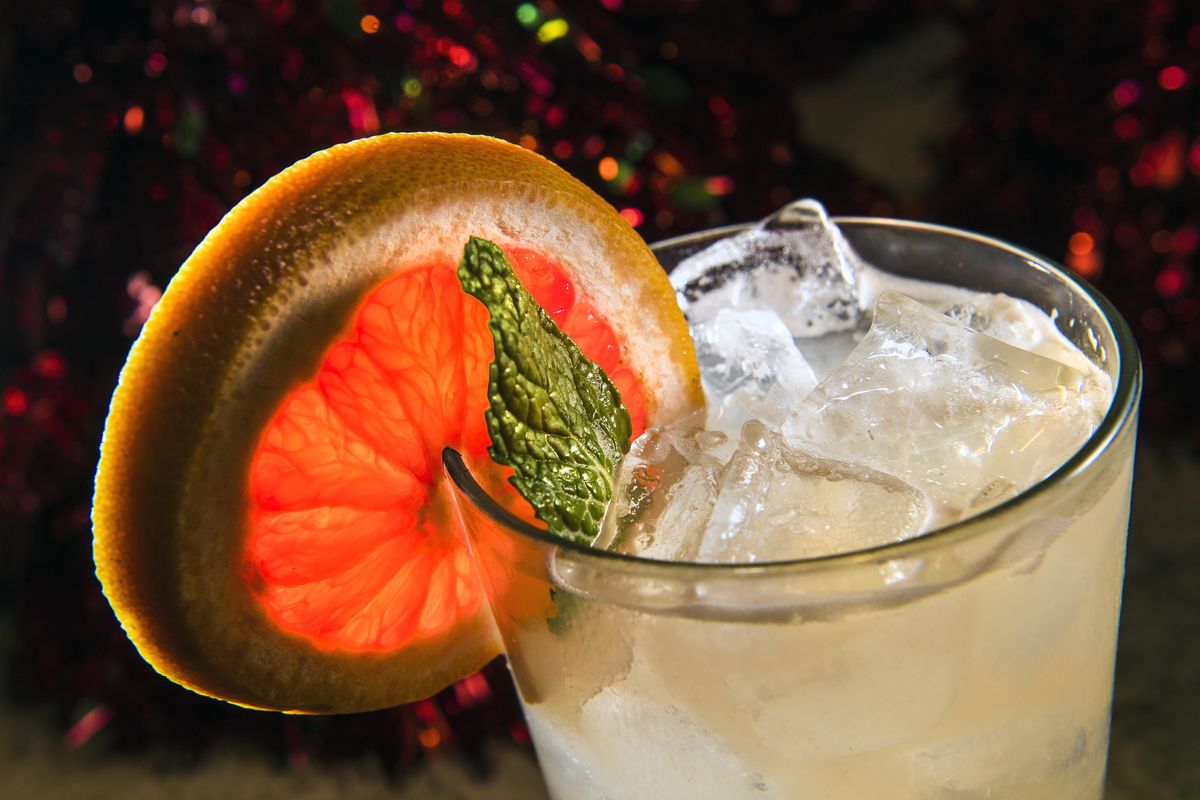 The Carda-Bomb at Bon Bon in the Garland Distirct is exotic, comforting, spicy, refreshing features the distinctive flavor of cardamom, but it isn't overpowering. This vodka-based libation is made with grapefruit, lemon, simple syrup and ginger beer, which balances out the warming spice. It's slightly sweet, but not too sweet. The Peary Manilow pear gin, lemon, ginger, simple syrup and ginger beer also goes down easy. (Colin Mulvany / The Spokesman-Review)
Winter officially started last week.
These dark and dreary days – and long, icy-cold nights – call for special kinds of sips. They warrant cocktails that are a bit stronger.
Whiskey, perhaps?
Brown or amber spirits – whiskey, brandy, bourbon, dark rum, rye, Scotch – are an obvious option. But that doesn't have to mean you're limited to hot toddies, spiked cider, Irish coffee and eggnog.
During the next three months, look for libations made with spiced, herbal, nut and coffee liqueurs or bitters, or drinks enhanced with hints of apple, pear, orange, cranberry, rosemary or smoke.
Classics – such as an Old-Fashioned or Manhattan – are always a good choice. For fetes, such as New Year's Eve, bubbly is required.
Then, think outside of your go-to bottles and opt for plum bitters, apple brandy, smoked honey, charred apple wood-infused mezcal, and Yellow or Green Chartreuse – or both.
Of course, if you're in the mood for decadence, there are rich and creamy chocolate concoctions – think dessert in a glass – with whipped cream, toasted marshmallows, and caramel or fudge drizzles.
Here are 10 places to go for specialty drinks to help you hunker down and face the darkness this winter, starting with recommendations for New Year's Eve.
Clover
For New Year's Eve – whether you're at Clover or home or elsewhere – consider a classic French 75 or Champagne cocktail for your midnight toast. These bubbly beverages will add sparkle to any occasion – or afternoon or evening. Clover makes its French 75 with 1/2 ounce each London dry gin, triple sec and lemon juice, topped with Segura Viudas Brut Cava and garnished with a lemon twist. It's crisp, tart and effervescent, and looks elegant in a flute. Don't be deceived by this circa World War I drink. It takes its name from a French 75mm field gun after all – and can leave you feeling battered, especially if you overdo it. It's best served cold.
Bartenders at Clover are generous when it comes to Angostura bitters in their classic Champagne cocktail, also best served chilled. The quaff starts with two sugar cubes in the bottom of a flute or coupe, followed by six to eight dashes of Angostura bitters which add a lovely orangey-red color to this cocktail. Once the sugar cubes are thoroughly soaked, the flute or coupe is filled with Clover's choice of bubbly, that Segura Viudas Brut Cava again. But you could use your favorite Champagne, Prosecco or sparkling wine, if you're making it at home.
To celebrate the holidays and help beat the winter blahs, Clover bartender Chad Keller created the Aperol-iday Sour, garnished with a sprig of fresh rosemary as well as ground cinnamon and nutmeg. It features 1 ounce Aperol, 1/2 ounce Genever gin, 1/2 ounce lime juice, a barspoon of Velvet Falernum, a dash of plum bitters, and egg white. This cocktail is appropriately festive for the holidays, and can help beat the blues through January, February and mid March. 913 E. Sharp Ave. (509) 487-2937. cloverspokane.com.
Casper Fry
Casper Fry bartender Cody Winfrey suggests two cocktails for facing this winter: one he created and another he didn't.
The one he didn't is Louder Than Bombs, named for the 1987 Smiths' B-sides compilation and based in apple brandy, such as Laird's Apple Brandy. Winfrey starts with Calvados, mixing 1 1/2 ounces of the French apple brandy with 1/2 ounce Yellow Chartreuse and 1/2 ounce lemon juice, then 1/4 ounce grenadine and two dashes allspice dram. Give it all a good shake, then double strain it into a Nick and Nora glass. The lovely pink color is reminiscent of spring, but the appley-allspice flavor evokes autumn and winter. It's so gorgeous in the glass that there's "no garnish needed," Winfrey said, adding, he's "a sucker for Chartreuse and allspice."
One for the Honey, Winfrey's concoction, is rye-based. Its secret ingredient: house-made smoked honey syrup, which lends a smoky sweetness to this flavorful libation. Winfrey starts with 2 full ounces of rye – he uses Rittenhouse – then 1 ounce of that smoked honey syrup, six dashes of Angostura bitters and three dashes of orange bitters. "It's a Manhattan build but instead of sweet vermouth I use smoked honey," said Winfrey, noting the same smoked honey is used on the restaurant's slightly smoky buttermilk fried chicken. This particular cocktail is one of the most popular on the fall/winter menu at Casper Fry. Winfrey serves it in a coupe glass, garnished with an orange wedge. "It's not overly sweet," he said. "I like the silkiness of it." 928 S. Perry St. (509) 535-0536. casperfry.com
Blackbird Tavern and Kitchen
Bar manager Alex Rivard created his Whiskey Tango when he came to Blackbird about a year ago. "It's very seasonal," he said. "It tastes like winter" – fall, too. It starts with house-infused cinnamon whiskey, which is built upon by house-infused apple gin. Ginger syrup – also house-made – and freshly squeezed lemon juice round it out. "That one is especially good," Rivard said. "It's probably my favorite on (the menu)." The drink is tart and crisp, sweet but not cloying, and reminiscent of a boozy apple cider.
For a very different wintertime option, Rivard offers his charred apple wood-infused mezcal Old Fashioned. Pinenut-and-walnut-infused simple syrup adds an undertone of earthiness to this otherwise smoky cocktail. And Angostura bitters add aromatics and complexity. "The charred apple wood gives it that nice smokiness," Rivard said, noting, "Mezcal, of course, is normally smoky," too. 905 N. Washington St. (509) 392-4000. theblackbirdspokane.com.
Volstead Act
A dozen drinks grace the winter sips menu at this contemporary downtown cocktail lounge, and any would do the trick. There are options for all palates – from gin- or rum-based beverages to tequila-, brandy- and Scotch-based sips. And it's difficult to choose just one or two. Really, you can't go wrong here. Price points range from $9 to $24 – for the Notorious P.I.G. "Piggy Smalls" drink with 12-year-old Whistlepig World Marriage Rye Whiskey, Remy Martin 1738 Accord Royal Cognac, Licor 43, Peychaud's bitters and flamed orange peel. But most fall in the $10 or $11 range. The $9 Rye Not? is a fine place to start. It features Old Overholt Rye Whiskey, black walnut bitters, Angostura bitters, a splash of simple syrup and orange peel. And it's served on the rocks. For something also strong but a little more exotic, opt for the gin-based Raj Against the Machine with Hendrick's gin, Cynar, Strega, curry bitters and flamed orange peel. It's served without ice. Take note: Happy hour here runs from 3 to 7 p.m. and again from midnight to 2 a.m. Monday through Saturday and all day Sunday. 12 N. Post St. (509) 808-2516. volsteadactspokane.com.
Bon Bon
This film-themed eclectic gem of a cocktail lounge, located at the historic Garland Theater, can make all of the classics. But this time of year, opt for pear and spice. The Carda-Bomb – exotic, comforting, spicy, refreshing – features the distinctive flavor of cardamom, but it isn't overpowering. This vodka-based libation is made with grapefruit, lemon, simple syrup and ginger beer, which balances out the warming spice. It's slightly sweet, but not too sweet. The Peary Manilow – pear gin, lemon, ginger, simple syrup and ginger beer – also goes down easy. Consider the Honeycrisp or Ursa Minor cocktails, too. And note that happy hour is 4 to 7 p.m. Monday through Thursday, 10 p.m. to close Friday and Saturday, and all day Sunday. 926 W. Garland Ave. (509) 413-1745. garlandtheater.com/bon-bon.
Boots
This vegan and gluten-free bakery does double duty as a cocktail lounge with whimsical vibe, and this time of year, vegan hot "buttered" rum is a specialty. It starts with a coconut base. "That way soy-free people can have it," said proprietor Alison Collins. The base is whipped with brown sugar and warming spices – ginger, cinnamon, clove, nutmeg, cardamom – as well as fresh orange peel. They add two tablespoons to hot water and two kinds of rum, spiced and golden, "just because it makes it more robust," Collins said. It's garnished with a cinnamon stick and orange zest and served in a mug. Collins also recommends Boots' Boozy Chai, which starts with honey-free vegan chai concentrate from Oregon. Scotch – or whiskey or bourbon, if you prefer – is added to that base, along with your choice of milks: soy, rice, almond, hemp, coconut or – for Boots' non-vegan customers – cow. Any of those milks is also available for what Collins calls "Grown-Up Steamers," made with chocolate vodka, almond liqueur, caraway liqueur and steamed milk of your choice. 24 W. Main Ave. (509) 703-7223. bootsbakery.com.
Peacock Room Lounge
There are four $12 seasonal sips on the winter menu at this peacock-themed lounge in the Historic Davenport Hotel. It's open seating in the lounge, and this time of year – when people come home for the holidays – it especially tends to fill up for happy hour, which runs 4 to 6 p.m. daily. The Coconut Snowball, pale blue in color and topped with a frothy white cap and sprinkling of shredded coconut, embodies ski season but hints – with its flavor – at the tropics. There's coconut vodka and rum as well as that shredded coconut and coconut syrup. But the coconut flavor isn't overwhelming, but balanced with Blue Curacao and a splash of cream. Don't be fooled by the Cinnamon Sugar Cookie: spicy, creamy, sweet but not too sweet, and reminiscent of exactly what the name suggests. It is boozy, too. 10 S. Post St. (509) 789-6848. www.davenporthotelcollection.com.
Twigs
This growing Spokane-based bistro-and-martini-bar chain – it recently opened a location in Fort Worth, Texas – has several nearby locations. The flagship, on the third floor of River Park Square, features a 1,200-square-foot landing overlooking the mall's atrium and – this time of year – enormous Christmas tree. Martinis on the permanent menu have names such as Razitini and Kinky-G. If you're in the mood for something on the sweet side that evokes the season – caramel apple, cinnamon, chocolate – there are plenty of options. Try the Caramel Appletini, which comes in a caramel encrusted glass full of vanilla vodka, butterscotch schnapps, sour apple liqueur and a splash of sour mix. The Cable Car features spiced rum, triple sec and citrus in a cinnamon-sugar-rimmed glass. And the Chocolate Kiss, garnished with shaved chocolate, includes vanilla vodka, Irish cream, coffee liqueur, creme de cocoa. Find a location at twigsbistro.com.
Bardenay
The cocktail list is extensive at this restaurant and distillery overlooking Riverstone Pond in Coeur d'Alene, where many drinks are made with Bardenay's own vodka, gin, rum or lemon vodka. Dozens would make great winter sips. Consider the Stormcloud with Kahlua, Bardenay vodka, Frangelico hazelnut liqueur, Baileys Irish Cream, light creme de cocoa, cream and peppermint schnapps. Or, Nuts and Berries (couldn't they have come up with a better name?) with Frangelico, Chambord raspberry liqueur and cream. Chocolate martinis include the Chocolate Smash with chocolate vodka and whipped cream vodka shaken over ice and garnished with chocolate and the classic Chocolate Martini with chocolate liqueur and vanilla vodka, served in a chocolate-rimmed glass. There are a dozen hot toddies on the menu, too – from a classic coffee nudge and traditional hot toddy to Spanish coffee, a honey hot toddy and Bardenay Peppermint Patty with peppermint schnapps, chocolate liqueur, hot chocolate and cream. For something cold, crisp and not as heavy, try the Harvest Pear with pear brandy, pear liqueur and sweet-and-sour. Or, opt for the Ginger Rum Cocktail, with Bardenday's own ginger-spiced rum, vanilla, triple sec and sweet-and-sour, served in a glass rimmed with ginger sugar. The Bad Apple is served with an apple slice in a glass with a salted rim; it features apple brandy, sour apple schnapps and sweet-and-sour. 1710 W. Riverstone Drive, Coeur d'Alene. (208) 765-1540. bardenay.com.
Bistango
Let bar manager Ryan Crow indulge you with two decadent drinks at this intimate martini lounge, where – this time of year – the S'mores martini and Hazel Eyes coffee drink are oft-ordered offerings. Hazel Eyes, served in an oversize snifter, is hot coffee spiked with Baileys Irish Cream and Frangelico hazelnut liqueur then topped with a cap of whipped cream and drizzled with caramel and chocolate sauce. It's one of the signature drinks at Bistango, where Crow has worked since the bar opened 12 years ago. Hazel Eyes is on the permanent menu, but, Crow, said, "It's pretty popular right now." So is the vodka-based S'mores martini, which comes in a chocolate-and-graham-cracker-rimmed martini glass. It features both marshmallow and Godiva chocolate liqueurs and looks particularly impressive. Crow toasts three marshmallows with a butane torch and sets them across the mouth of the glass on a skewer just before serving. "It's definitely a dessert cocktail," he said. If that doesn't appeal to you, ask him for a classic Old-Fashioned or pear-spiced Manhattan, but replace the ice with a sphere of frozen espresso. 108 N. Post St. (509) 624-8464. bistangolounge.com.
For 15 of Spokane's best cocktail bars, click here.
Local journalism is essential.
Give directly to The Spokesman-Review's Northwest Passages community forums series -- which helps to offset the costs of several reporter and editor positions at the newspaper -- by using the easy options below. Gifts processed in this system are not tax deductible, but are predominately used to help meet the local financial requirements needed to receive national matching-grant funds.
Subscribe to the Spokane7 email newsletter
Get the day's top entertainment headlines delivered to your inbox every morning.
---